San Francisco DSA is funded and managed by our members. Our chapter structure consists of a Steering Committee made up of seven elected officers, and numerous committees, working groups and caucuses focused on various types of work both internal and external. We also vote on chapter priorities each year.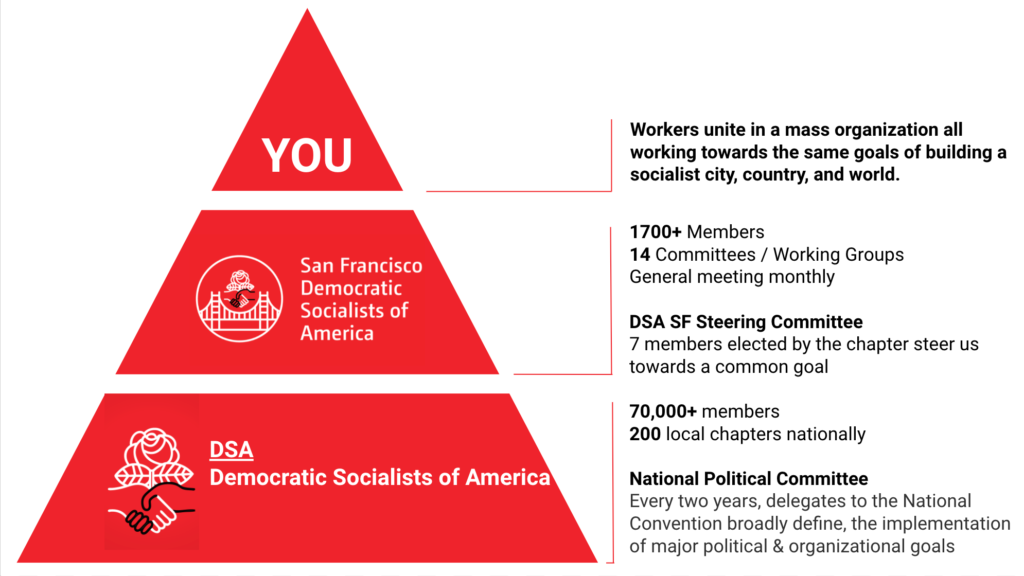 AfroSocialist Committee
It is the local chapter of the National AfroSocialists Caucus. It is majority Black, Indigenous, and People of Color. All are welcome.
Chapter Coordination
The Chapter Coordination Committee (CCC) is dedicated to helping grow and mobilize the membership of the chapter; from the person on the street to activist. We do this by onboarding new members, provide tech and administrative support, and work with all committees on various projects.
If you care about how DSA is run and your fellow comrades, or just want to learn how to be a better organizer please contact us to get involved.
The Ecosocialist Committee seeks to build a socialist future that is free from oppressive capitalist and colonialist systems of exploitation that harm human and environmental health. We reject the idea that green capitalism will solve current or future environmental crises, and strive to decarbonize, decommodify, decolonize, and demand a radical Green New Deal.
Current priorities include:
Free Muni Full Service – promoting an accessible, sustainable, and just public transit system (sign up here!)
Green Buildings For All – supporting work to make healthy, sustainable, and affordable housing for the working class, including developing a ballot measure to decarbonize buildings in SF
Indigenous Sovereignty – working to write a local land acknowledgement and engage in material decolonizing work related to it
Political Education – leading book clubs, making zines, and other poli-ed to benefit the chapter, new members, and Bay Area communities who are curious about ecosocialism
Utility Justice – fighting PG&E and supporting Reclaim Our Power, a utility justice and frontline-led public power coalition democratizing control over major energy systems and resources and building a climate resilient energy system.
Read more about our guiding principles here.
The Labor Working Group (LWG) is a DSA SF formation with the goal of raising class consciousness through agitative means and shop floor struggle. The end goal of this group is to build a democratic and militant labor movement in San Francisco that has the ability to win material gains for the city's working class. The LWG recognizes the need for a diverse set of tactics and so is dedicated to a variety of labor organizing strategies including but limited to solidarity organizing, direct organizing, and educational trainings.