San Francisco DSA is funded and run by our members. Our chapter structure consists of a Steering Committee made up of seven elected officers, and numerous committees, working groups and caucuses focused on various types of work both internal and external.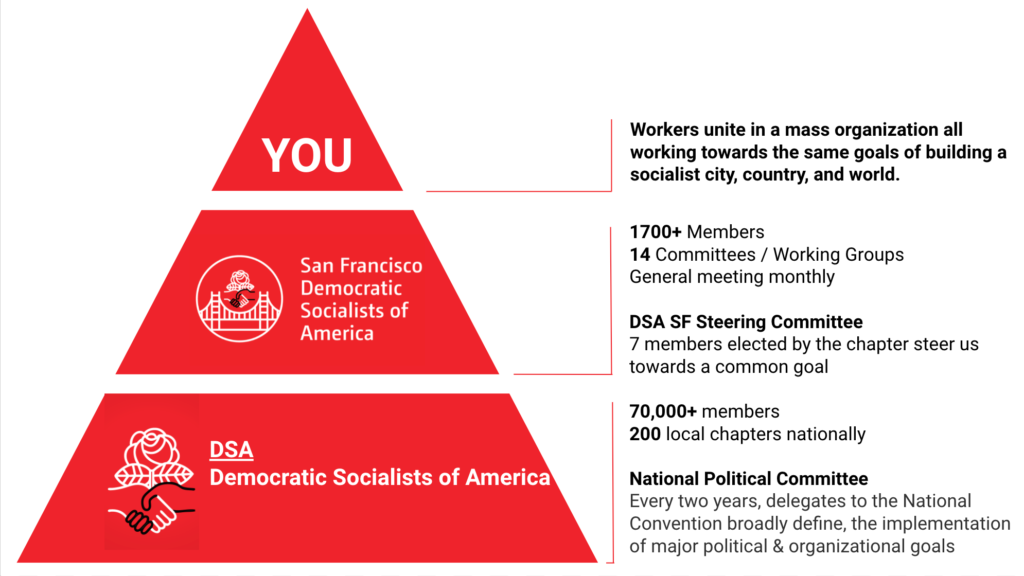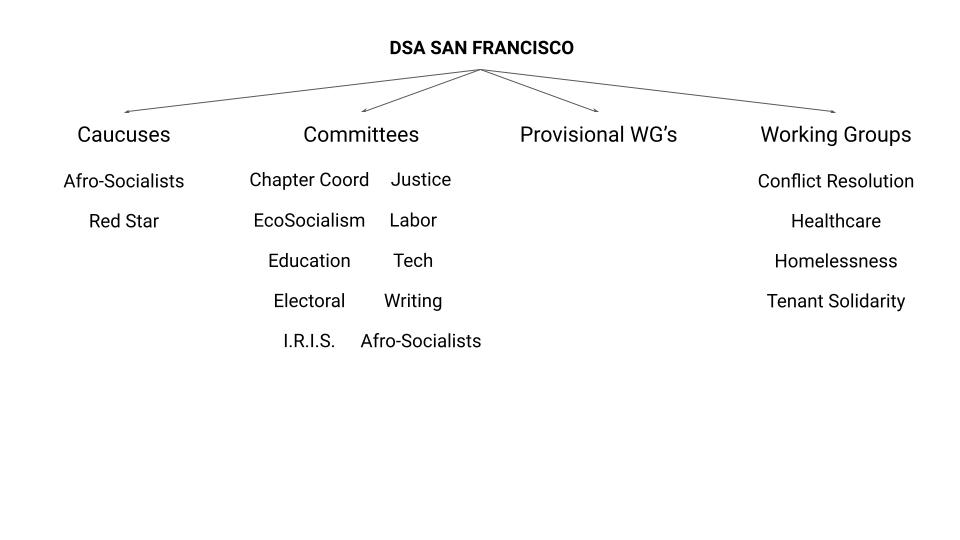 AfroSocialist Committee
It is the local chapter of the National AfroSocialists Caucus. It is majority POC, all are welcome.
Chapter Coordination
The Chapter Coordination Committee (CCC) is dedicated to helping grow and mobilize the membership of the chapter; from the person on the street to activist. We do this through:
Outreach: Newsletter, social media, events, calendar
Onboarding: Setting up every new member with an active member and getting them plugged into projects
Community: Running Intro to DSA, General Meetings, and creating spaces for comrades to get to know each other and interact
Democracy: Making sure elections are run fairly and that the chapter is informed
If you care about how DSA is run and your fellow comrades, or just want to learn how to be a better organizer please contact us to get involved.
Conflict Resolution
The purpose of the Conflict Resolution (CR) committee is to offer structured, informal paths to de-escalation and resolution of conflict within the DSA SF chapter. We provide facilitated mediations as well as individual meetings with members who request support. CR works to promote the development of stronger interpersonal relations and healthy communication strategies vital for building a peaceful, socialist community. Please note – we are not associated with or involved with any grievance or disciplinary processes.
The CR group is comprised of volunteers with various levels of experience in counseling. We are engaged in ongoing education around restorative and transformative justice, conflict de-escalation and general counseling best practices so we can learn how to best support our community. Those interested in joining the Conflict Resolution team are encouraged to email us and/or attend our monthly meetings to learn more about how to join our team and become a CR counselor.
To learn more about our services please visit our webpage: https://dsasf.org/conflict-resolution/
To receive support in resolving a conflict or addressing an issue, please submit a request for a meeting with our CR counselors by visiting this webpage: https://dsasf.org/request-conflict-resolution/
Ecosocialism
DSA-SF's Ecosocialist committee believes we must fight for a just and equitable society that provides everyone with the right to a clean, healthy, and democratically-controlled environment: an ecosocialist society.
Advise the DSA-SF chapter and committees on environmental issues at the city, regional, state, national, and international level, and collaborate with them to ensure DSA actions and policies advance a climate and environmental justice agenda.
Prioritize and support marginalized communities in their/our fight for environmental justice, as climate & environmental justice must include racial and economic justice.
Prioritize workers' power and control over the means of production so that no one must choose between their livelihood and the health of their environment.
We're currently working on supporting divestment by joining the SF Public Bank Coalition and pressuring the SF Retirement Board; fun, outdoor mutual aid projects; housing and environmental contamination in Bayview, and other projects. Join us!
Education
The role of the Education Committee is to help guide members of DSA SF and the public in learning about the history of socialism, socialist ideologies, and how socialism applies to the concerns of our community. Our projects include:
Holding short presentations / discussions ("Red Talks") at monthly meetings on topics of interest. If you are interested in presenting a topic for one of our Red Talks, fill out our Red Talk proposal form.
Facilitating reading groups that meet regularly to discuss socialist readings as chosen by the group.
Curating electronic resources and a physical lending library for our membership and the public.
Organizing educational events which engage our membership and the public in conversations about capitalism and socialism.
Electoral
The committee's mission shall be to implement DSA SF's chosen electoral strategy and coordinate its work in electoral politics:
Provide recommendations to the chapter on electoral endorsements and other matters concerning electoral strategy (with decisions to be made by an in-person vote of the chapter in accordance with the bylaws).
Build systems and capacity to support ballot initiatives and eventually leftist candidates.
Healthcare
The mission of this committee is to support the DSA's goals by agitating, advocating, and organizing for a comprehensive universal healthcare system that is accessible to all, regardless of employment, income, or immigration status.
Homelessness
The DSA's Homelessness Working Group has three goals: outreach to those in need, research-led direct action, and public education. Please join us in lending assistance to people without homes, determining ways to help them get permanently housed, and combating the capitalist ideology of poisonous individualism and lower-class oppression.
Immigrants' Rights & International Solidarity
The Immigrant Rights and International Solidarity committee, or IRIS will work to end the imperialist notion of national borders and fight against the imperialist and capitalist causes of immigration. We will work towards this goal by:
Organizing and working with coalition partners against all oppressive federal, state and local agencies (including, but not limited to ICE) which enforce national borders, and also against the private interests which profit off of them.
Organizing and working with other committees and working groups within DSA when our interests and goals intersect.
Working with our partners to provide assistance and aid to those often called "immigrants" who are the victims of these systems of oppression, centering members of DSA SF that are directly affected.
Educating ourselves and others on free movement of all people as a human right and that all people, regardless of where they were born, deserve to have equal access to the resources they need to thrive.
Producing outreach material explaining why borders are oppressive institutions constructed by capitalism and imperialism.
Justice
Justice Committee seeks to reduce and replace the current system of criminalization, policing, judgement, and incarceration with alternatives that recognize our common humanity and equality. Join us as we organize various legislative and mutual aid projects in furtherance of these goals, including:
Bay Area wide brake light fixing events in heavily policed communities to both provide a service to our neighbors and to limit interactions between our communities and the police
Organizing to keep SFPD from adding Tasers to their deadly arsenal
Organizing against a bicycle chop-shop bill that would further the oppression of the unhoused and marginalized population in SF
Mutual aid direct actions at jails
Legislative and direct action bail reform
Anti-death penalty work
Labor
The Labor Organizing Committee is dedicated to supporting and building the workers' movement in the Bay Area. Our objectives are:
To build coalition with and defend existing labor unions
Support democratic and leftist rank-and-file movements within workers' organizations
To train DSA SF members to organize their own workplaces and carry out campaigns to build the labor movement.
Tenant Solidarity
The COVID-19 pandemic highlights the urgency of supporting tenant organizing. Across the country, tenants are facing the prospect of being evicted during a pandemic as unemployment applications spike in historic numbers. States and cities have announced eviction moratoriums, but even the most expansive moratoriums only prevent eviction during the crisis; at some point, those moratoriums will end. We must promote and support all tenants' efforts to stay in their homes even after the state of emergency has ended. Capitalism is the cause of our housing issues. Mass organizing is the way forward. Help DSA SF organize to build and leverage tenant power!
Writing
The Writing Committee's mission is to amplify socialist voices, viewpoints and opinions within the political discourse and debate of San Francisco. Its initial objectives are: (1) to serve as a research, writing, and editing resource or "hub" for DSA SF members on topics affecting or touching upon socialist politics; (2) to operate and edit the Fog City Rose as an independent publication, a platform for a diverse set of socialist viewpoints and opinions; and (3) to monitor the wide variety of non-socialist publications within San Francisco for matters of interest to the chapter.
An important part of this strategy is working with chapter members to facilitate writing by those who may not have experience writing for larger audiences, but who wish to have their voices heard.