Dear comrades,

As AAPI Heritage Month comes to a close, we acknowledge the exacerbated anti-Asian sentiments that are deeply rooted in white supremacy, leading to violence, imperialism, and colonialism that are still pervading the Asian diaspora today.

Unfortunately, the violence is ongoing. But we can't fight racism with carcerality. We believe in fighting against violence through continuous organizing outside of the carceral system. The system itself was designed to make marginalized communities more vulnerable, not safer.

Part of the ongoing violence also stems from the US exploiting Asian women and immigrants while excluding them from participating in Western society and maintaining the status quo under the guise of a "free market".

That is why we can't just demand to #StopAsianHate, especially when it comes to hate crime laws. We can't dismantle racism with more criminalization while also maintaining racial capitalism. The antiquated approach to criminalization will not heal the pain, trauma, and violence that communities are coping with. That is why we support prison and police abolition, and more investment in our communities.

To learn more about this historical context, join us for DSA SF's reading group, "Making Asian America", for the last session (Empire) this Saturday, May 29 at 2:30 p.m.

We must end racism through collective solidarity for liberation and healing from all forms of violence.

Sincerely,
DSA SF Communications Team

Upcoming Events
Neighborhood Outreach to Renters in District 5
Join us this week for neighborhood organizing in District 5! Electoral Committee is working with Neighbors United, a new community group, to connect renters in District 5 with resources available to them for rent relief, eviction protection, and more. We are hosting a phonebank tonight from 5:30 to 7:30 p.m. to reach out to renters in the Fillmore and would love to have you join us. Also, if you're interested in helping plan these phonebanks and other events, join us for our weekly organizing meeting on Sundays at 12 p.m.
Intro to DSA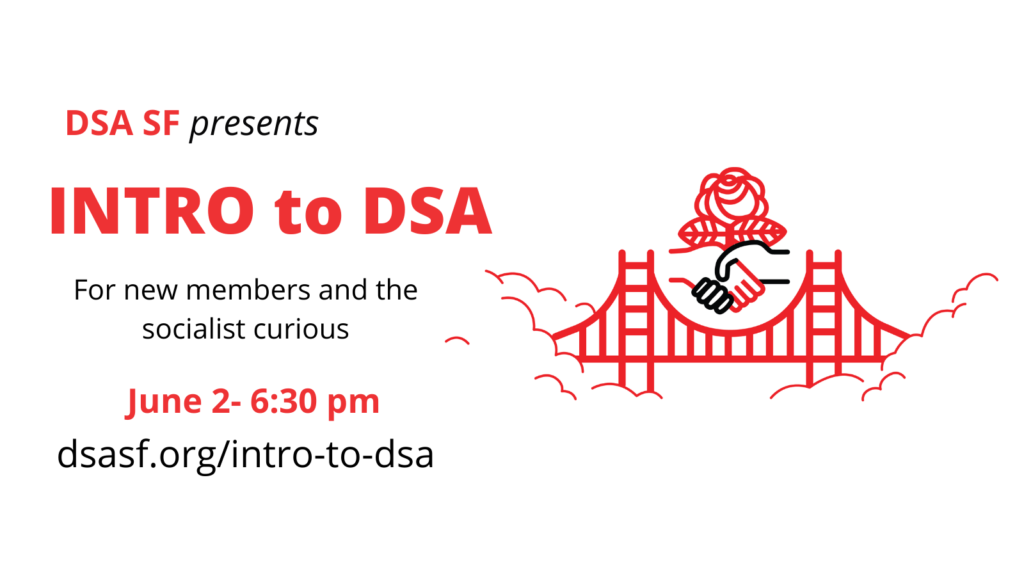 Ready to get started with DSA SF? Have questions about socialism or our organization? Whether you have been a member for 4 years or 4 weeks, Intro to DSA is a great way to become more active in our organization. Register here.
BAAQMD Board Call-In
Join us to call in on June 2nd! On this day, the BAAQMD Board is having a critical vote on refinery pollution. The largest industrial source of pollution, particulate matter (PM) in the Bay Area comes from refineries' Catalytic Cracking Units (also known as "Cat Crackers"). PM pollution is estimated to kill up to 3,000 Bay Area residents every year mainly in working class areas near the refineries. There is no safe level of PM exposure. This common-sense rule will set a standard to reduce the dangerous particulate matter from Chevron's and PBF's "Cat Crackers" by 70%. This standard would require pollution control technology already in use at the majority of refineries around the US, including at Valero in Benicia. Sign up to get call-in information and talking points for this meeting.
Next EWOC Training Series Starts Next Week
The fifth series of the Emergency Workplace Organizing Committee's Organizer Training Series starts on June 2. This is a foundational course in organizing in the workplace (your own workplace or others) and recommended for DSA SF members looking to expand their capacity as labor organizers. You will receive the Zoom registration links once the organizers have reviewed your response.
Announcements
This Week on SFIJ
Hi there, comrades!
We think the following pieces of news from the San Francisco Independent Journal (SFIJ) may be of interest to you:
?First, the San Francisco Board of Supervisors unanimously voted to support a state bill to help convert abandoned, tax delinquent properties into affordable homes.
?Second, Supervisors Dean Preston and Budget Chair Matt Haney overwhelmingly passed their Free Muni Pilot in a 4-1 vote at the Budget and Appropriations Committee, the final hearing before a vote at the full board of supervisors last Tuesday.
?Finally, climate activists gathered for an 8th annual Anti-Chevron Day in front of the Richmond refinery to call for an end to fossil fuels and Chevron's mass pollution in the Bay Area.
If you have committee work or another story you want to be publicized by a friendly outlet, please submit tips to writing@dsasf.org.
DSA SF Membership Drive
Consider becoming a member of National DSA or making sure your membership is up-to-date, so you can participate in the member forums and stay informed about what the National Organization is doing. Becoming a member also counts towards DSA SF's delegate count for the August National Convention! As always, no one will be turned away for lack of funds; all you need to do is fill out the dues sponsorship form. If you have any other questions or hurdles on membership, feel free to email steering@dsasf.org and we'll figure something out together.
Reading Groups
The Antonio Gramsci Reader
The 21st Century Socialism Reading Group will reach back into the second millennium to look at Antonio Gramsci tonight from 6:30 p.m to 8 p.m. We will be reading chapters 7, 8 and the Glossary. Register here!