Dear comrades,

Last week at our chapter meeting, we voted on a statement to show our solidarity for Palestine, marched along with over 10,000 demonstrators in the Mission District on the 73rd anniversary of the Nakba, organized an event featuring Ben Fletcher's biographer Peter Cole and Clarence Thomas of the ILWU, and many more.

However, the work is only the beginning. Yesterday, the Biden administration just approved $735 million in arms sales to Israel, deepening complicity in the right-wing regime's continuing onslaught towards Palestinians. While this issue is gaining momentum in mainstream media and especially in San Francisco, we must continue to work towards liberation and support the Palestinians and the BDS movement.

That is why we'll be joining demonstrators today, May 18 at 4:00 p.m. for another day of actionto show our continued solidarity. We must resist until there's liberation for our Palestinian neighbors. The intifada must live on.

Sincerely,
DSA SF Communications Team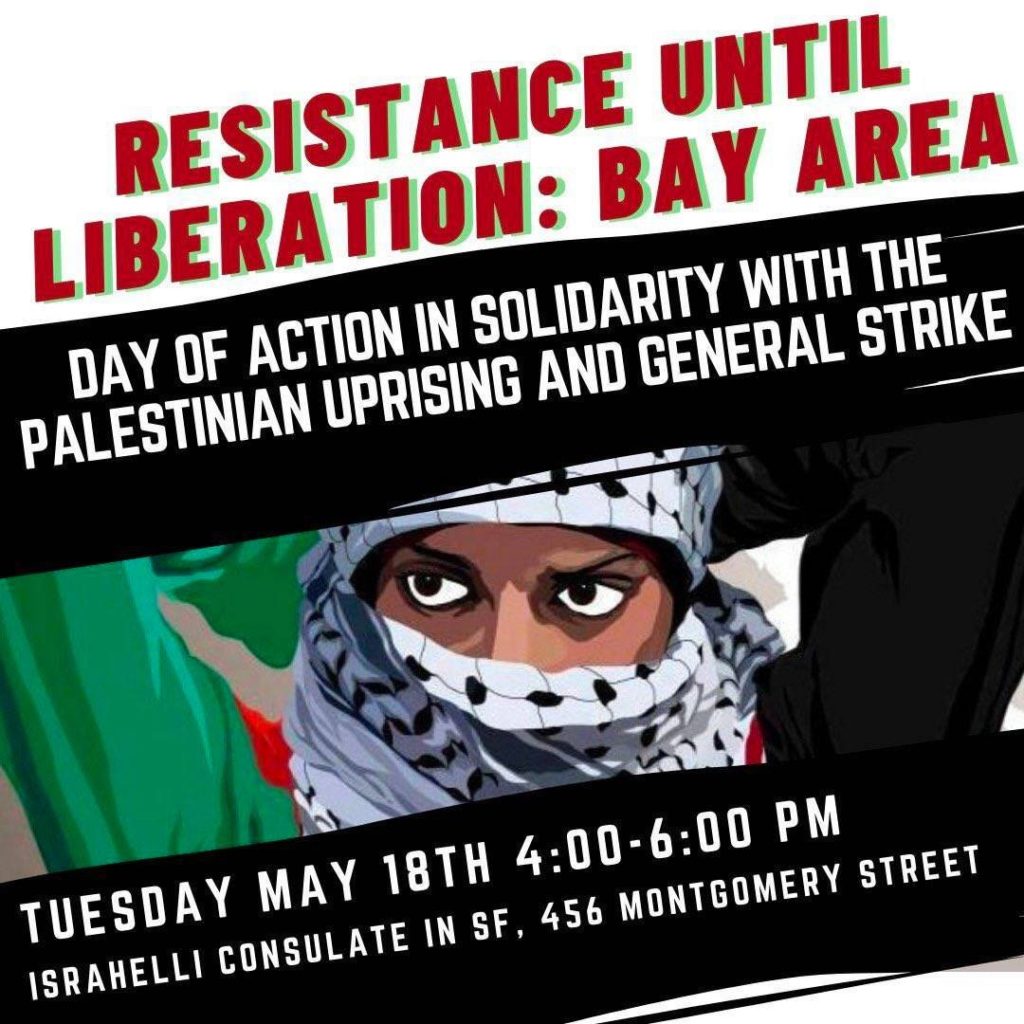 Upcoming Events
Today: #30RightNow Rally
Today in front of City Hall, there will be a rally for the #30RightNow campaign, endorsed by the Homelessness Working Group. Too many formerly unhoused tenants are paying over half of their income towards rent—a burden not imposed by private landlords, but by the City and County of San Francisco.
At 12:45 p.m., we will be meeting in front of the steps at City Hall for a rally to demand that the mayor fully fund and implement #30RightNow this year, which would only cost $6.1 million per year. There will be several speakers, including rent burdened tenants, community advocates, Supervisor Matt Haney, and our comrade, Supervisor Dean Preston.
The rally begins at 1:00 p.m., and we need people to be there in order to send a message to the mayor that our most vulnerable tenants, many of whom are Black, will not be left behind."
For more information, check out the Facebook event.
Read the #30RightNow policy statement here.
Neighbors United Tenant Phonebank
Join Neighbors United for a tenant rights phonebank tonight, May 18 from 5:30 to 7:30 p.m.We'll be calling District 5 tenants and providing information on rent relief and the eviction moratorium. Contact Pat at pcochran.media@gmail.com for more information. Zoom link here!
Budget Townhall with Supervisors Matt Haney and Dean Preston
Have questions about how the city spends its money? Even better, have ideas about how the city SHOULD spend it? Join us at a Budget Townhall on Monday, May 24 from 5:00 to 6:00 p.m. with Supervisors Matt Haney and Dean Preston! This is an important opportunity for us to be heard by the city government! Register here.
Announcements
Interview with Jackie Fielder on SFIJ
Recently, the San Francisco Independent Journal had the chance to speak with former State Senate candidate Jackie Fielder to find out what she's been up to. Learn more about her exciting developments for a progressive incubator in California through our latest interview here.
Dean Preston Office Update
Dean's office is helping lead the fight in SF to make MUNI fare-free for the summer. However, they're facing pushbacks and need your help. Please write to either Supervisor Peskin (D3) or Supervisor Melgar (D7) and tell them to support Free MUNI for the Summer. Tell your friends and neighbors to reach out to the supervisors too!
Recently, Mayor London Breed refused to commit to using Prop I funds for rent relief and social housing. This is clearly contrary to the will of both the voters and the Board of Supervisors. Sign this petition to stand with hundreds of others in demanding that Breed respect the will of the voters and properly fund Prop I. You can also reach out to Mayor Breed directly here so she knows exactly how we feel about her selfishness.
Neighbors United is having a phonebank TONIGHT at 5:30 p.m. (see above).
Have an idea or want to schedule a meeting with your caucus or committee with Dean's office? Write either PrestonStaff@sfgov.org or lexvonklark@gmail.com with details, mention you're with DSA, and we'll schedule a day!
DSA SF Membership Drive
Consider becoming a member of National DSA or making sure your membership is up-to-date, so you can participate in the member forums and stay informed about what the National Organization is doing. Becoming a member also counts towards DSA SF's delegate count for the August National Convention! As always, no one will be turned away for lack of funds; all you need to do is fill out the dues sponsorship form. If you have any other questions or hurdles on membership, feel free to email steering@dsasf.org and we'll figure something out together.
Reading Groups
The Antonio Gramsci Reader
The 21st Century Socialism Reading Group takes a dip back into the 20th Century. There will be four sessions every other Tuesday, continuing with our third session tonight from 6:30 to 8:00 p.m. Register here!
Making Asian America: Brief Excerpts on Labor, Belonging, and Empire
Join us for DSA SF's newest reading group to commemorate AAPI Heritage Month, "Making Asian America." There will be three sessions (Labor, Belonging, and Empire), each of which will examine a different aspect of Asian American political organizing within its historical context. The last two sessions were on Sunday, May 2 and Saturday, May 15, and the last session will take place next Saturday, May 29, at 2:30 p.m.Sign up here.