Events
🌹Thursday, 6/8 (6:00 p.m. – 7:30 p.m.): Ecosocialist Monthly Meeting (Zoom)
🌹Friday, 6/9 (12:00 p.m. – 5:00 p.m.): Office Hours (In person at the DSA SF office, 1916 McAllister)
🌹Friday, 6/9 (6:30 p.m.): Revolutionary Selfie: The Red Battalion Film Screening (In person at the DSA SF office, 1916 McAllister)
🌹Saturday, 6/10 (11:45 a.m. – 4:00 p.m.): 2023 Chapter Convention (Day 1) (Register on Zoom and in person at 518 Valencia St)
🌹Sunday, 6/11 (11:45 a.m. – 4:00 p.m.): 2023 Chapter Convention (Day 2) (Register on Zoom and in person at 518 Valencia St)
🌹Tuesday, 6/13 (6:00 p.m. – 8:00 p.m.): Strike Ready Phonebank (In person at the DSA SF office, 1916 McAllister)
🌹Wednesday, 6/14 (6:00 p.m. – 7:30 p.m.): What is DSA? (In person at the DSA SF office, 1916 McAllister)
🌹Friday, 6/16 (7:00 p.m. – 8:30 p.m.): Labor 101: Strike Solidarity (Zoom and in person at the DSA SF office, 1916 McAllister)
Announcements
RESCHEDULED! Revolutionary Selfie: Red Battalion Film Screening on June 9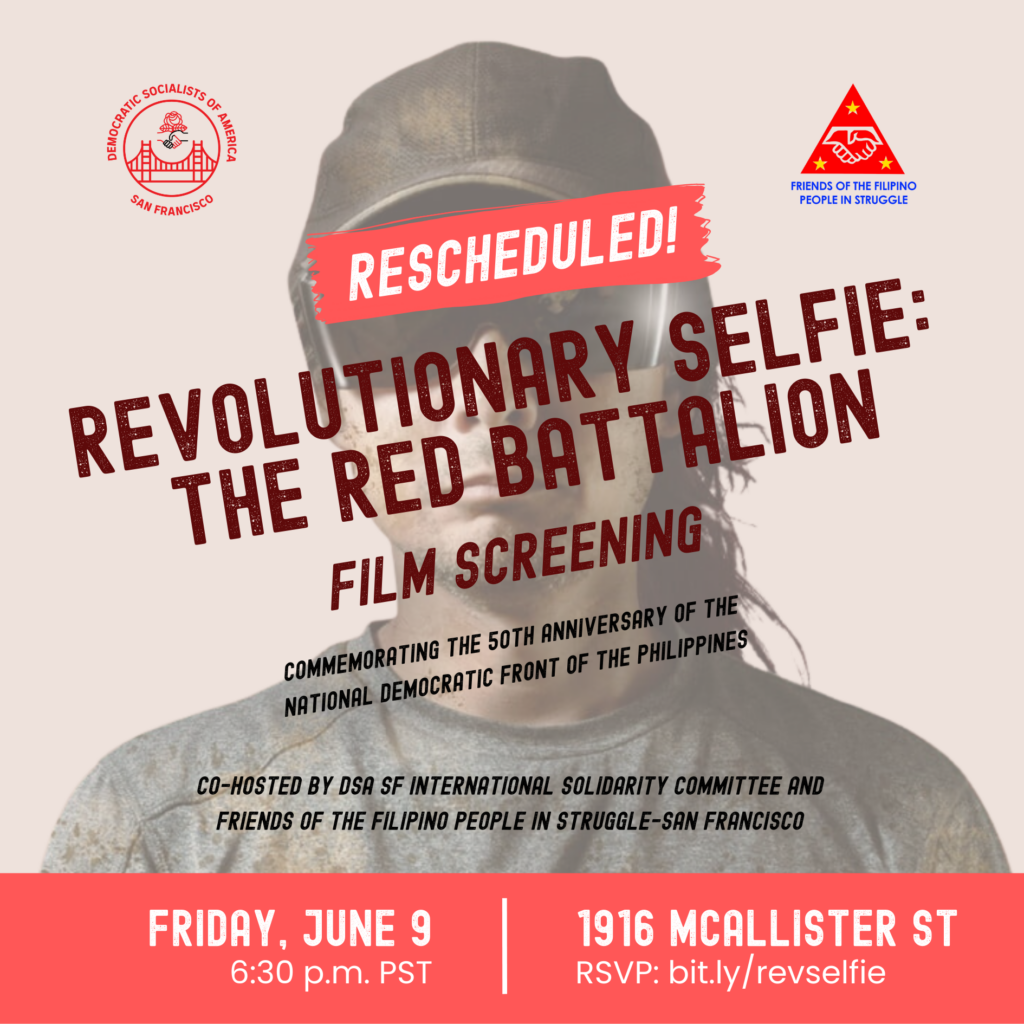 Join DSA SF International Solidarity Committee and Friends of the Filipino People in Struggle-San Francisco on Friday, June 9, at 6:30 p.m. at the DSA SF office (1916 McAllister St) for a rescheduled film screening of Revolutionary Selfie: The Red Battalion, which is a mock video game film that shows us face to face with the armed warriors of the New People's Army, which the CIA dubs a foreign terrorist organization in the Philippines.
Chapter Convention June 10-11th!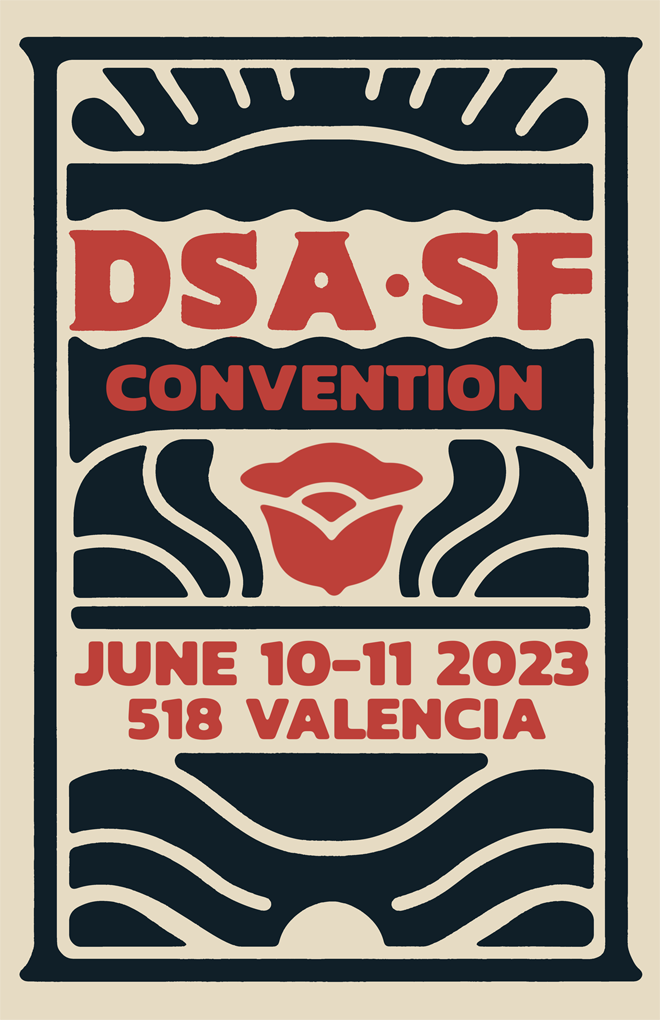 We're back with a 🌹 Convention Update 🌹 – your easy guide to what's happening with convention this week!
Chapter Convention is this weekend on June 10-11!
❗ Check your email for more details on the convention. Subject line: "2023 Chapter Convention Info and Packet." Find the convention packet (on our new wiki): https://wiki.dsasf.org/s/conventionpacket/
Clear your calendar for June 10-11!!! This will be The. Most. Fun. Convention in our chapter's history. There will be guest speakers and musical acts and 🍞 food and 🍾 drinks and a 🍪 bake sale and hanging out at 🏞️ Dolores Park 🌳 and a 🎉 fundraiser party 🍹 at Bar Part Time and limited edition merch and posters and more!
June 22: Labor Logistics 101
Join the DSA SF Labor Working Group at the DSA SF office or over Zoom to learn from labor organizers on how you can help organize the logistics industry!
7/19 Free Outdoor Screening of the Documentary Live Nude Girls Unite! in Kerouac Alley
Join DSA SF Labor and Vesuvio for a free outdoor screening of Live Nude Girls Unite!, about the 1996 unionization effort at The Lusty Lady. Come watch this iconic labor film in Kerouac Alley, right across the street from where it all happened!
Sign Up to Distribute Socks with Homelessness Working Group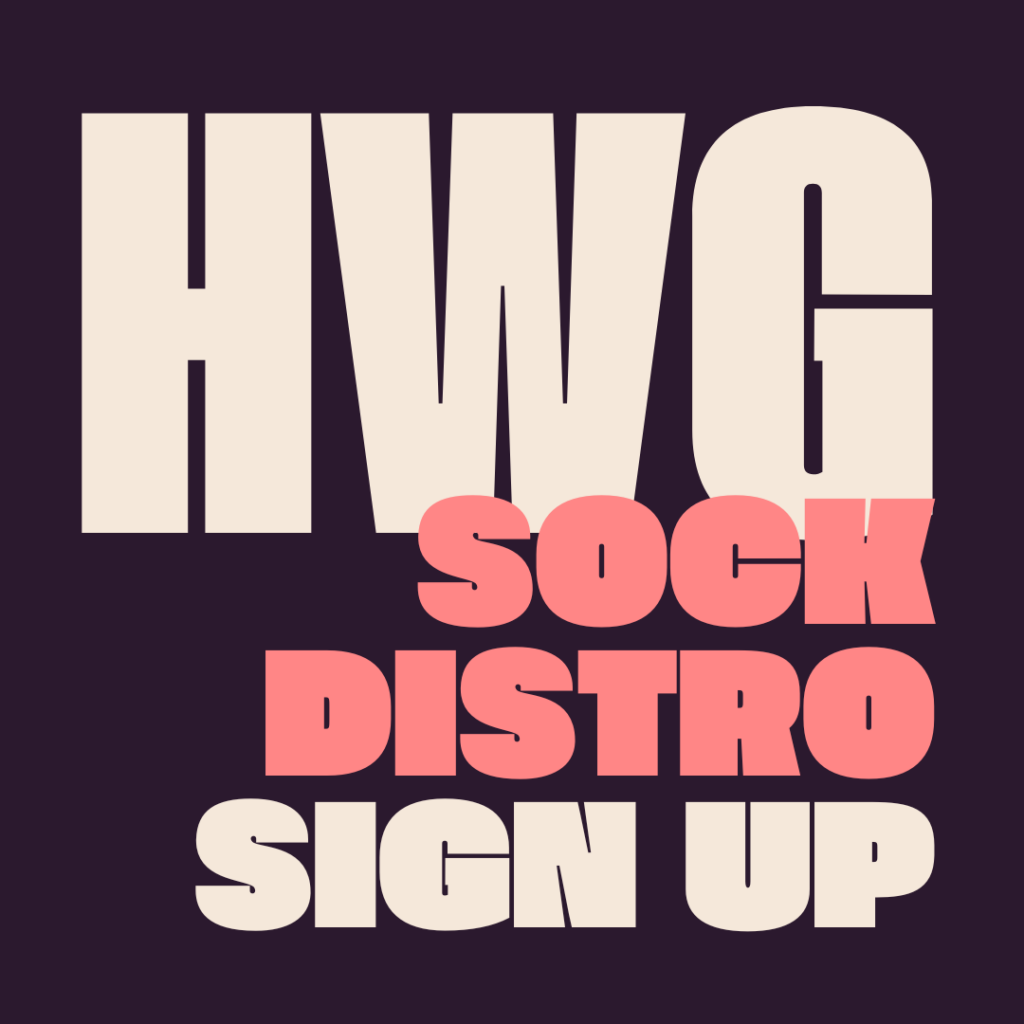 Come do sock distro with HWG! DSA SF's Homelessness Working Group is currently organizing a sock distribution, and restarting our chapter's efforts directed toward connecting with our homeless neighbors. We'll be low-key training chapter members about our specific approach to mutual aid and street solidarity, as well as building capacity for this and, potentially, more expansive mutual aid projects in the future! Sign up here!