Events
🌹Tuesday, 6/13 (6:00 p.m. – 8:00 p.m.): Strike Ready Phonebank (In person at the DSA SF office, 1916 McAllister)
🌹Wednesday, 6/14 (6:00 p.m. – 7:30 p.m.): What is DSA? (In person at the DSA SF office, 1916 McAllister)
🌹Friday, 6/16 (7:00 p.m. – 8:30 p.m.): Labor 101: Strike Solidarity (Zoom and in person at the DSA SF office, 1916 McAllister)
🌹Saturday, 6/17 (6:00 p.m. – 8:00 p.m.): Socialist Housing Organizing Project (SHOP) Organizing Training (Session 3) (Zoom and in person at the DSA SF office, 1916 McAllister)
🌹Tuesday, 6/20 (6:30 p.m. – 9:00 p.m.): Homelessness Working Group Sock Distribution (In person at the DSA SF office, 1916 McAllister)
🌹Sunday, 6/25 (2:00 p.m. – 4:00 p.m.): AfroSocialists Book Club: Black Marxism (Chapter 4)(Zoom and in person at the DSA SF office, 1916 McAllister)
🌹Thursday, 6/29 (2:00 p.m. – 4:00 p.m.): Tech Worker Meetup (In person at the DSA SF office, 1916 McAllister)
🌹Sunday, 7/9 (Time TBD): Solidarity Softball – Teamsters vs. DSA SF (Location TBA)
🌹Wednesday, 7/19 (8:00 p.m. – 10:00 p.m.): Free Outdoor Screening of Live Nude Girls Unite! (Kerouac Alley, next to Vesuvio & City Lights Bookstore)
Announcements
Socialist Housing Organizing Project (SHOP) Workshop #3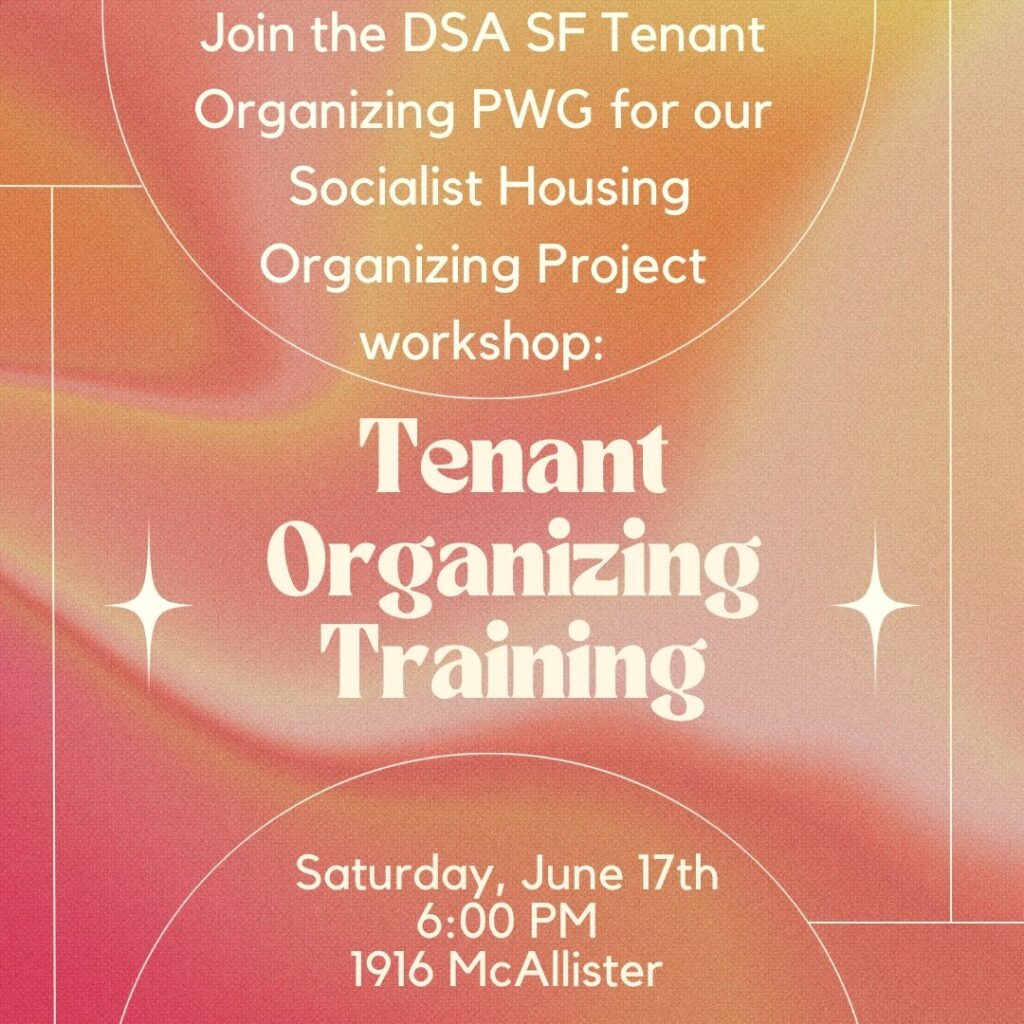 Join the Tenant Organizing PWG this Saturday, June 17th at 6:00 p.m. for the third session of our Socialist Housing Organizing Project (SHOP). Hybrid on Zoom and DSA Office (1916 McAllister St).
Our goal with this 3-part workshop is to build DSA SF's tenant organizing capacity and plug folks into autonomous tenant organizing efforts in the city. We will discuss a socialist perspective on housing, current tenant rights in the city, and collaborate with seasoned TANC (Tenant and Neighborhood Councils) organizers on learning direct action strategies. 

The third session captures how to have a one-on-one organizing conversation with your neighbor to get them to join a tenant union or association. These conversations are also building blocks for all kinds of organizing, from building labor unions to community groups, helping turn DSA into the organization of organizers we aspire to become.
June 22: Labor Logistics 101
Join the DSA SF Labor Working Group at the DSA SF office or over Zoom to learn from labor organizers how you can help organize the logistics industry!
AfroSocialist Slow Book Club: Black Marxism (Chapter 4)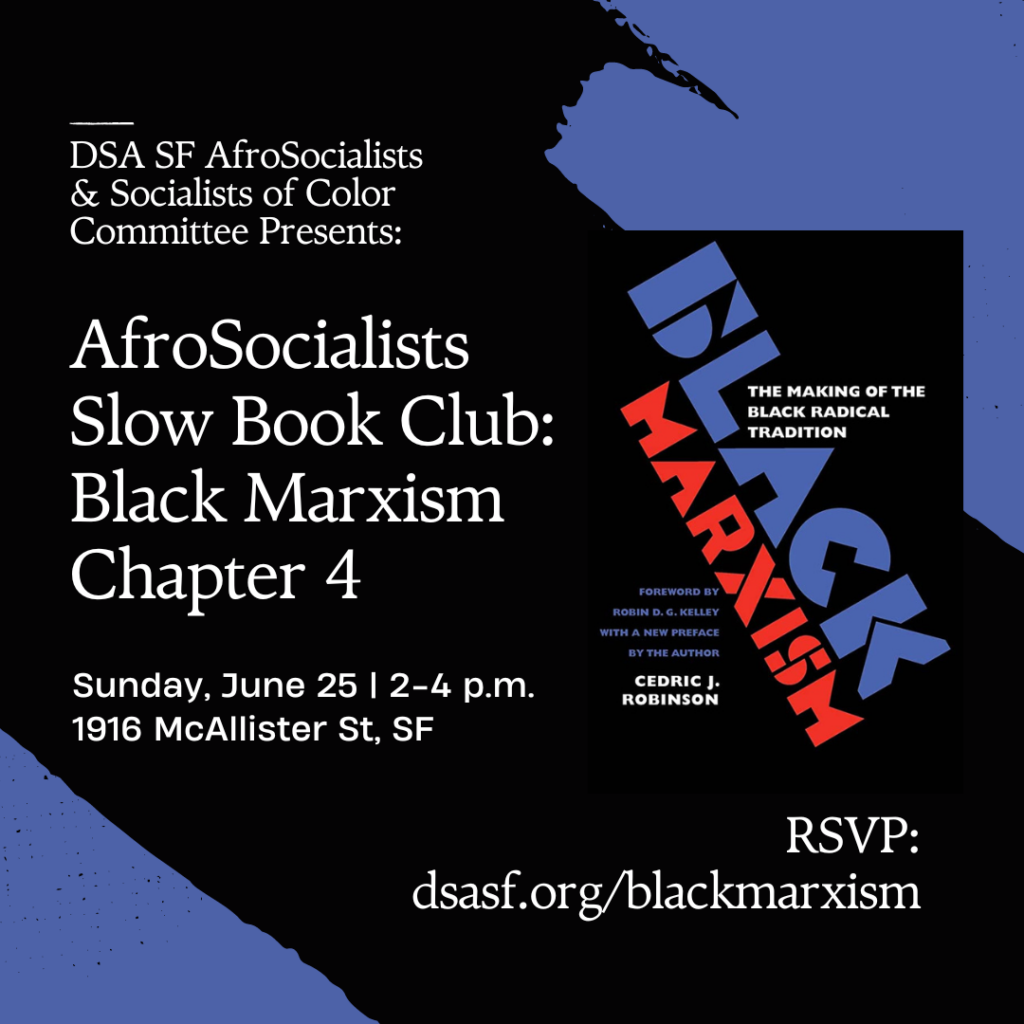 Please join DSA SF's AfroSocialists and Socialists of Color Committee on Sunday, June 25, at 2:00 p.m. at the DSA SF office (1916 McAllister St) for one of our Slow Book Club gatherings. We will be covering Chapter 4 of Black Marxism by Cedric Robinson, and intend to cover approximately one chapter per month.
7/19 Free Outdoor Screening of the Documentary Live Nude Girls Unite! in Kerouac Alley
Join DSA SF Labor and Vesuvio on July 19 at 8:00 p.m. for a free outdoor screening of Live Nude Girls Unite!, about the 1996 unionization effort at The Lusty Lady. Come watch this iconic labor film in Kerouac Alley, right across the street from where it all happened!
Sign Up to Distribute Socks with Homelessness Working Group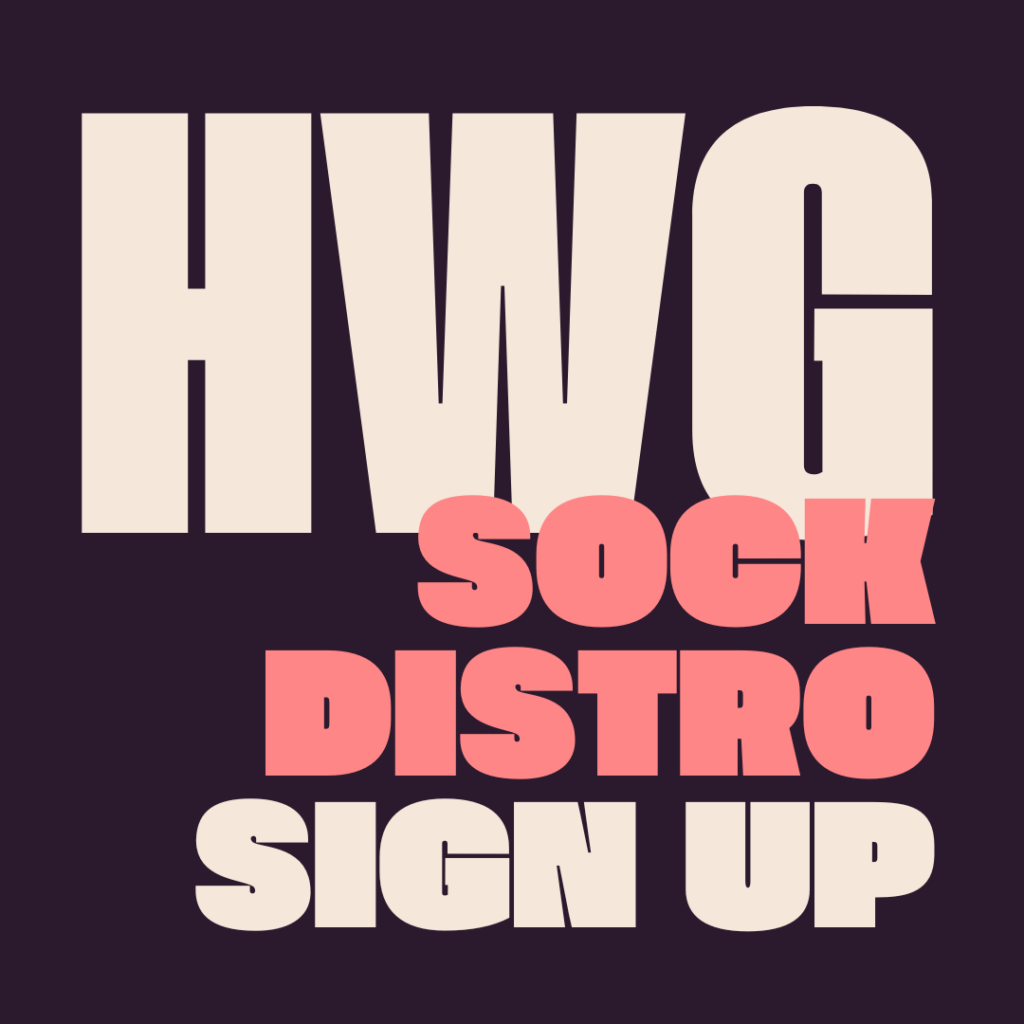 Come do sock distro with HWG! DSA SF's Homelessness Working Group is currently organizing a sock distribution, and restarting our chapter's efforts directed toward connecting with our homeless neighbors. We'll be low-key training chapter members about our specific approach to mutual aid and street solidarity, as well as building capacity for this and, potentially, more expansive mutual aid projects in the future!