Events
🌹Wednesday, 8/16 (6:00 p.m. – 7:00 p.m.): PWG Fundraising (Zoom)
🌹Thursday, 8/17 (6:00 p.m. – 7:00 p.m.): Mutual Aid Priority Meeting (Zoom)
🌹Friday, 8/19 (12:00 p.m. – 5:00 p.m.): Office Hours (In person at the DSA SF office, 1916 McAllister)
🌹Saturday, 8/19 (11:00 a.m. – 1:00 p.m.) Homelessness Working Group Office Hours (In person at the DSA SF office, 1916 McAllister)
🌹Wednesday, 8/23 (6:00 p.m. – 7:30 p.m.) What is DSA? (In person at the DSA SF office, 1916 McAllister)
🌹Saturday, 8/26 (12:00 p.m. – 2:30 p.m.): Finishing the Crosstown Trail Hike (Meet at the 43 bus stop at Laguna Honda, across the street from Forest Hill Station)
Reportbacks
August Chapter Meeting Recap
At last Wednesday's chapter meeting, we heard updates from across the chapter:
Emily presented a new expense policy
Edna, Joseph, Will, and Gwen presented updates on our chapter priorities
Faye reported on our chapter's delegation to the recent DSA National Convention
After the break, attendees heard a first reading of a bylaws amendment regarding corporate donations and debated whether to charter a healthcare committee.
Our next chapter meeting will be Wednesday, September 13th at 6:45 p.m. Stay tuned for more details.
Socializing for Socialism
Join us on August 26th to hike the last leg of the Crosstown Trail!
Folks will be meeting up to hike the rest of the Crosstown Trail next week on Saturday, August 26th at 12:00 p.m. at the 43 bus stop across from Forest Hill station. We'll be hiking the second half of the Crosstown Trail from Laguna Honda to Land's End. Bring water and wear comfy shoes!
Congratulations to the DSA SF Orcas on their 2-0 win!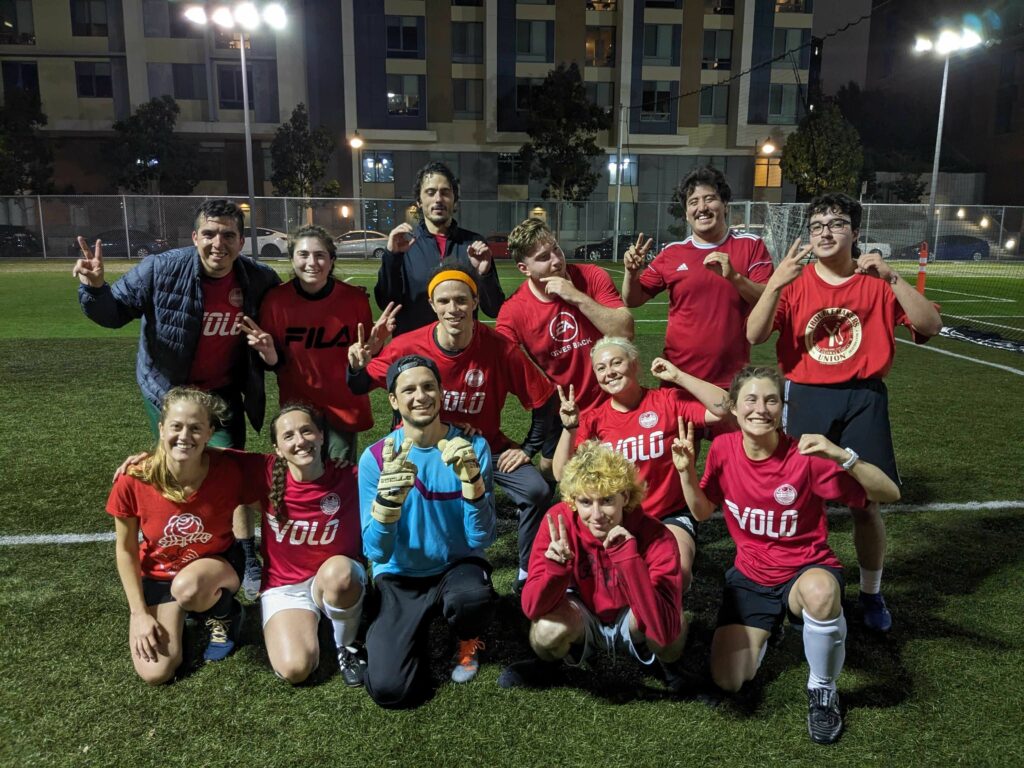 This past Friday, the DSA SF Orcas, the chapter's soccer club, won their match 2-0! Congrats, Orcas!
If you're interested in supporting the team, check out the #orca-comrades channel on Slack. 
Chapter Coordination Committee Rotations
The Chapter Coordination Committee (CCC) regularly rotates duties among different chapter members. This allows us to train new members in key duties that help keep the chapter running like organizing chapter meetings, keeping records updated, office cleanup, updating the DSA SF website and newsletter, etc.
You can view the current CCC rotation sheet and see who is doing what here. If you're interested in helping out with the day-to-day tasks that help keep the chapter running, fill out this form and let us know what you're interested in!