Events
🌹Tuesday, 4/4 (6:00 p.m. – 8:00 p.m.): Turnout Tuesday for Recommitment Drive (In person at the DSA SF office, 1916 McAllister)
🌹Wednesday, 4/5 (6:00 p.m. – 7:30 p.m.): What is DSA? (In person at the DSA SF office, 1916 McAllister)
🌹Thursday, 4/6 (6:00 p.m. – 7:30 pm.): Ecosocialist Monthly Meeting (Zoom)
🌹Friday, 4/7 (12:00 p.m. – 5:00 p.m.): Office Hours (In person at the DSA SF office, 1916 McAllister)
🌹Sunday, 4/9 (6:00 p.m. – 7:00 p.m.): DSA SF Labor Logistics Presentation (In person at the DSA SF office, 1916 McAllister)
🌹Tuesday, 4/11 (6:00 p.m. – 8:00 p.m.): Turnout Tuesday for Recommitment Drive (In person at the DSA SF office, 1916 McAllister)
🌹Wednesday, 4/12 (6:45 p.m. – 9:00 p.m.): April Chapter Meeting (In person at 518 Valencia St or on Zoom)
🌹Sunday, 4/16 (4:00 p.m. – 7:00 p.m.): CCC Game Night (In person at the DSA SF office, 1916 McAllister)
🌹Wednesday, 4/19 (6:00 p.m. – 7:30 p.m.): Free Muni Full Service Priority Monthly Meeting (In person at the DSA SF office, 1916 McAllister)
🌹Wednesday, 4/19 (6:00 p.m. – 7:30 p.m.): What is DSA? (In person at the DSA SF office, 1916 McAllister)
Announcements
DSA SF Labor Education and Training Interest Survey
Want to learn how to organize your workplace? Support workers' fights against Amazon and Starbucks? Understand the importance of labor as a key to winning socialism? Complete the 2-minute DSA SF Labor Education and Training Interest survey to let the DSA SF Labor Working Group know what training and education you're interested so we can tailor labor education and training events to your interests.
Upcoming Chapter Elections!
👋 Some important chapter business is coming up in the next few months as we near our chapter's annual convention in June and national DSA's biennial convention in August.🌹 Steering will be following up every week or so with updates/reminders.
This week, we're highlighting the upcoming elections. At the April chapter meeting, in addition to other reportbacks, business, and fun group discussion, we will:
Elect delegates to California DSA. Nominate a comrade or yourself here: dsasf.org/cadsa-delegate
Start to collect nominations for delegates to National DSA convention. Elections will be held at the May general meeting.
Start to collect nominations for Steering and Grievance Officers. Nominations will close at the May general meeting and elections will be held at convention in June.
April Chapter Meeting
The April chapter meeting will be taking place on Wednesday, April 12th from 6:45 p.m. to 9:00 p.m. Attendees have the option to register for the meeting through Zoom or to attend in person at 518 Valencia. For those who choose to attend in person, masks are required. The meeting will consist of updates about what is currently happening within the chapter, as well as report backs from members on recent actions.
We look forward to seeing you there!
Sign Up to Distribute Socks with Homelessness Working Group
Come do sock distro with HWG! DSA SF's Homelessness Working Group is currently organizing a sock distribution, and restarting our chapter's efforts directed toward connecting with our homeless neighbors. We'll be low-key training chapter members about our specific approach to mutual aid and street solidarity, as well as building capacity for this and, potentially, more expansive mutual aid projects in the future!
Labor Working Group Logistics Presentation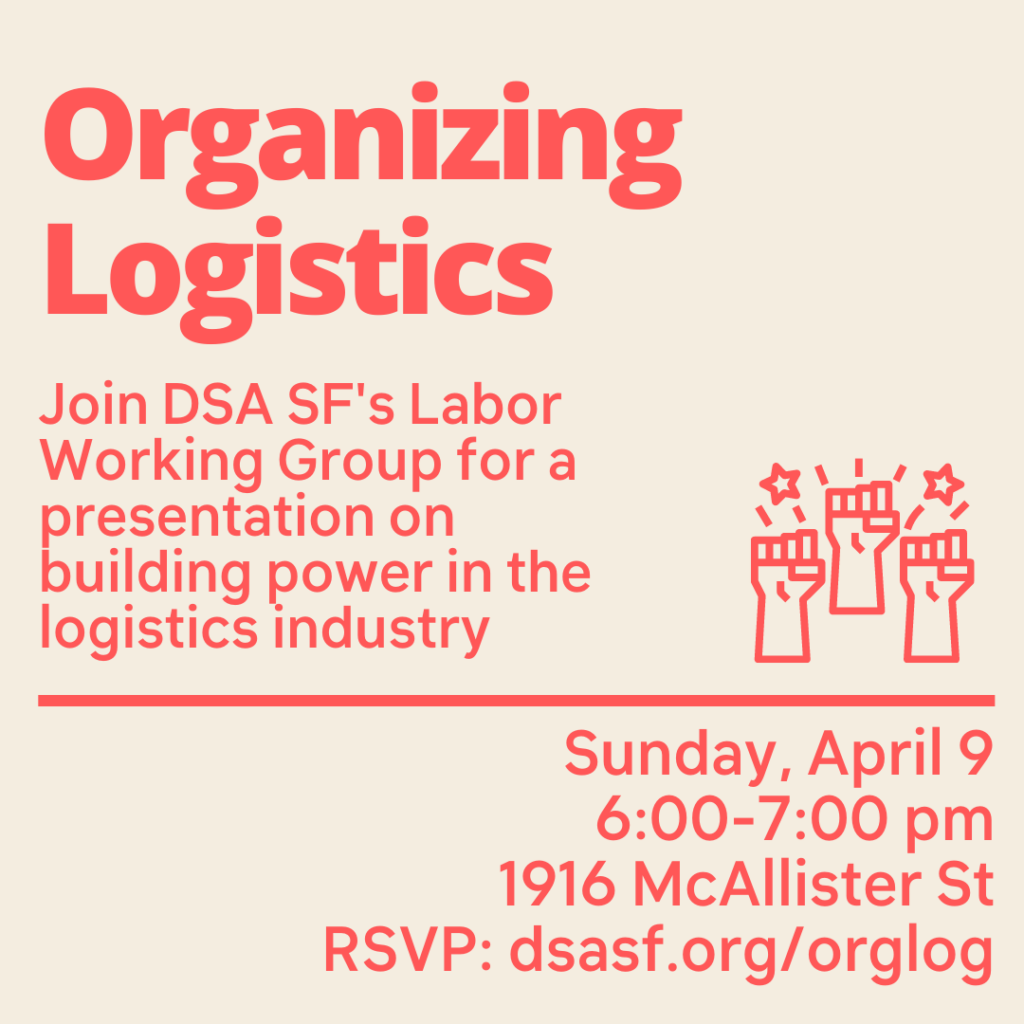 Are you inspired by the successful labor organizing at Amazon, Starbucks, and many other workplaces that unionized recently? Wondering how you can get directly involved and join the historic effort to rebuild the US labor movement? DSA SF is working to build power in the logistics industry, and we need your help. Join us for a presentation on Sunday, April 9th from 6:00 to 7:00 p.m. at 1916 McAllister St.
CCC Game Night
Come to the DSA SF office to enjoy an evening of fun and games for another CCC Game Night! We'll have chess, tons of board games, snacks, and drinks. Feel free to bring your own games, consoles, or comrades! Join us at the DSA SF office at 1916 McAllister on Sunday, April 16th from 4:00 p.m. to 7:00 p.m. and have fun with comrades!