Events
🌹Tuesday, 4/11 (6:00 p.m. – 8:00 p.m.): Turnout Tuesday for Recommitment Drive (In person at the DSA SF office, 1916 McAllister)
🌹Wednesday, 4/12 (6:45 p.m. – 9:00 p.m.): April Chapter Meeting (In person at 518 Valencia St. or on Zoom)
🌹Thursday, 4/13 (6:00 p.m. – 6:45 p.m.): Pushing for State Transit Funding with Free Muni Full Service and the Transbay Coalition (Zoom)
🌹Friday, 4/14 (12:00 p.m. – 5:00 p.m.): Office Hours (In person at the DSA SF office, 1916 McAllister)

🌹Saturday, 4/15 (1:00 p.m. – 4:00 p.m.): Sock Distro with the Homelessness Working Group (Meet in person at the DSA SF office, 1916 McAllister)
🌹Sunday, 4/16 (4:00 p.m. – 7:00 p.m.): CCC Game Night (In person at the DSA SF office, 1916 McAllister)
🌹Wednesday, 4/19 (6:00 p.m. – 7:30 p.m.): Free Muni Full Service Priority Monthly Meeting (In person at the DSA SF office, 1916 McAllister)
🌹Wednesday, 4/19 (6:00 p.m. – 7:30 p.m.): What is DSA? (In person at the DSA SF office, 1916 McAllister)
🌹Sunday, 4/23 (2:00 p.m. – 4:00 p.m.): AfroSocialists Slow Book Club: Black Marxism, Chapters 1-2 (In person at the DSA SF office, 1916 McAllister)
🌹Wednesday, 4/26 (7:00 p.m. – 8:30 p.m.): Labor 101 Training Session (Zoom and in person at the DSA SF office, 1916 McAllister)
🌹Thursday, 4/27 (6:30 p.m. – 8:00 p.m.): Tech Worker Meetup (In person at the DSA SF office, 1916 McAllister)
Announcements
April Chapter Meeting
The April chapter meeting will be taking place tomorrow, April 12th from 6:45 p.m. to 9:00 p.m. Attendees have the option to register for the meeting through Zoom or to attend in person at 518 Valencia. For those who choose to attend in person, masks are required. The meeting will consist of updates about what is currently happening within the chapter, as well as reportbacks from members on recent actions.
We look forward to seeing you there!
DSA SF Labor Education and Training Interest Survey
Want to learn how to organize your workplace? Support workers' fights against Amazon and Starbucks? Understand the importance of labor as a key to winning socialism? Complete the 2-minute DSA SF Labor Education and Training Interest survey to let the DSA SF Labor Working Group know what training and education you're interested so we can tailor labor education and training events to your interests.
Upcoming Chapter Elections!
👋 Some important chapter business is coming up in the next few months as we near our chapter's annual convention in June and national DSA's biennial convention in August.🌹 Steering will be following up every week or so with updates/reminders.
This week, we're highlighting the upcoming elections. At the April chapter meeting, in addition to other reportbacks, business, and fun group discussion, we will:
Elect delegates to California DSA. Nominate a comrade or yourself here: dsasf.org/cadsa-delegate
Start to collect nominations for delegates to National DSA convention. Elections will be held at the May general meeting.
Start to collect nominations for Steering and Grievance Officers. Nominations will close at the May general meeting and elections will be held at convention in June.
Dusty Stax Presents Bacchus Rocchus Spring Dance
Want to have a wild night filled with singing, dancing, and partying with fellow DSA members? Come to the Dusty Stax Presents Bacchus Rocchus Spring Dance on Saturday, April 15th, at 2424 Mariposa St. in the Mission District at 8 p.m. DSA's very own Jen Snyder will be singing, along with many other talented performers. DSA members will get a 50% discount at the door so tickets will only be $22.50. This party is LEGENDARY and you do not want to miss it! You must be 21 or older to attend, and there is a dress code. You can check out more information about the event, including the list of performers and the dress code, here! Contact Jen Snyder on slack if you have any questions!
CCC Game Night
Come to the DSA SF office to enjoy an evening of fun and games for another CCC game night! We'll have chess, tons of board games, snacks, and drinks. Feel free to bring your own games, consoles, or comrades! Join us at the DSA SF office at 1916 McAllister on Sunday, April 16th from 4:00 p.m. to 7:00 p.m. and have fun with comrades!
Sign Up to Distribute Socks with Homelessness Working Group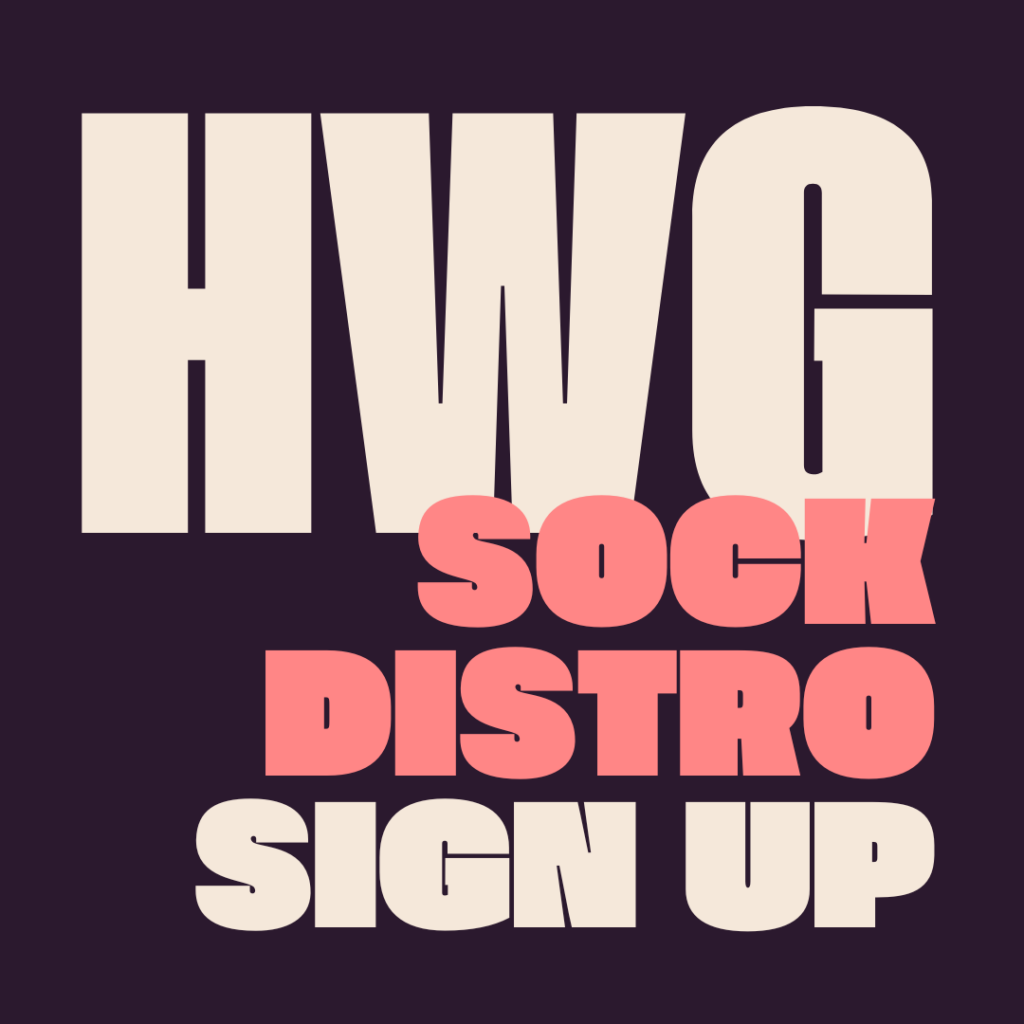 Come do sock distro with HWG! DSA SF's Homelessness Working Group is currently organizing a sock distribution, and restarting our chapter's efforts directed toward connecting with our homeless neighbors. We'll be low-key training chapter members about our specific approach to mutual aid and street solidarity, as well as building capacity for this and, potentially, more expansive mutual aid projects in the future!
Join the Tenant Organizing Provisional Working Group!
Overlapping TANC and DSA SF members have come together to start a Tenant Organizing Provisional Working Group! Our goal is to build a cadre of well-versed tenant organizers in DSA SF that will help us reach mass tenant organizing efforts in order to fight back the landlord class, in San Francisco and beyond. Join your neighbors in the tenant organizing movement by joining our slack channel #Tenant-Organizing!
We Mean to Make Things Over: A History of May Day Documentary Screening
We Mean to Make Things Over: A History of May Day is a half-hour documentary exploring how May Day became a workers' holiday all over the world, except in the United States—despite the fact that the events that inspired the holiday occurred here.
CCSF's Labor and Community Studies department is holding a screening of this timely documentary Monday, April 24th at 7:00 p.m. at the Mission Campus near 22nd and Valencia, Room 109. Writer/Director Fred Glass will introduce the documentary and answer questions afterward.
DSA SF Labor Tech Worker Meetup: Organize Your Colleagues!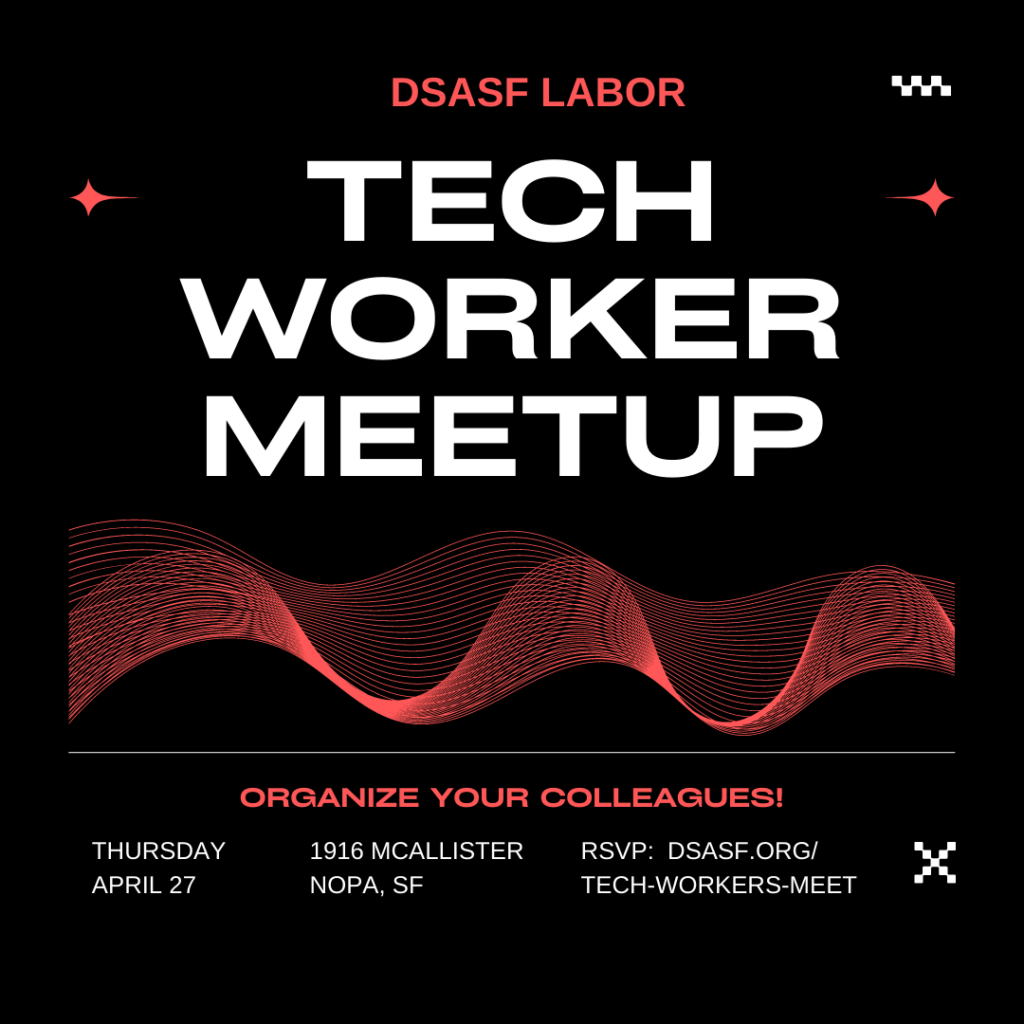 As the tech industry experiences upheaval after upheaval, what role can we play as workers in San Francisco, the heart of the international tech industry?
DSA SF is hosting a monthly series of in-person meetups for workers in tech and adjacent industries to come together, educate each other, and develop organizing strategies for the next phase of the tech worker movement. The first meeting will take place on Thursday, April 27th at the DSA SF office at 1916 McAllister. You can register to attend below!
Free Outdoor Screening of Harlan County, USA!
DSA SF's Labor Working Group is hosting a free outdoor screening of Harlan County, USA, Barbara Kopple's unforgettable documentary covering a 1973 coal miners' strike! Join us on Wednesday, May 31 at 8:00 p.m. in Kerouac Alley.