Events
🌹Tuesday, 4/25 (6:00 p.m. – 8:00 p.m.): Turnout Tuesday for Recommitment Drive (In person at the DSA SF office at 1916 McAllister)
🌹Wednesday, 4/26 (7:00 p.m. – 8:30 p.m.): Labor 101 Training Session (Zoom and in person at the DSA SF office, 1916 McAllister)
🌹Thursday, 4/27 (6:30 p.m. – 8:00 p.m.): Tech Worker Meetup (In person at the DSA SF office, 1916 McAllister)
🌹Friday, 4/28 (6:30 p.m. – 9:00 p.m.): The Guerilla is a Poet Film Screening (In person at the DSA SF office, 1916 McAllister)
🌹Saturday, 4/29 (11:00 a.m. – 1:00 p.m.): Homelessness Working Group Office Hours (In person at the DSA SF office, 1916 McAllister)
🌹Saturday, 4/29 (2:00 p.m. – 4:00 p.m.): Coordination + Communication: How to Gear Up for the Right Tools (In person at the DSA SF office, 1916 McAllister)
🌹Monday, 5/1 (11:00 a.m. – 3:00 p.m.): International Workers' Day March (Meet in person at the DSA SF office, 1916 McAllister)
🌹Friday, 5/5 (6:00 p.m. – 8:00 p.m.): Button and Sticker Making Workshop (In person at the DSA SF office, 1916 McAllister)
🌹Saturday, 5/6 (11:30 a.m. – 2:30 p.m.): Angela Davis OMCA Tour + Social (Oakland Museum of California, 1000 Oak Street, Oakland)
🌹Wednesday, 5/10 (6:45 p.m. – 9:00 p.m.): May Chapter Meeting (Zoom and in person at the DSA SF office, 1916 McAllister)
🌹Friday, 5/12 (6:30 p.m. – 9:00 p.m.): Revolutionary Selfie: The Red Battalion Film Screening (In person at the DSA SF office, 1916 McAllister)
🌹Saturday, 5/13 (11:00 a.m. – 1:00 p.m.): Homelessness Working Group Office Hours (In person at the DSA SF office, 1916 McAllister)
🌹Saturday, 5/13 (1:00 p.m. – 4:00 p.m.): Homelessness Working Group Sock Distribution (Meet in person at the DSA SF office, 1916 McAllister)
🌹Wednesday, 5/17 (6:00 p.m. – 9:00 p.m.): DSA SF + East Bay DSA Social (In person at Anchor Public Taps, 495 De Haro Street)
Announcements
Labor 101: Organizing Your Workplace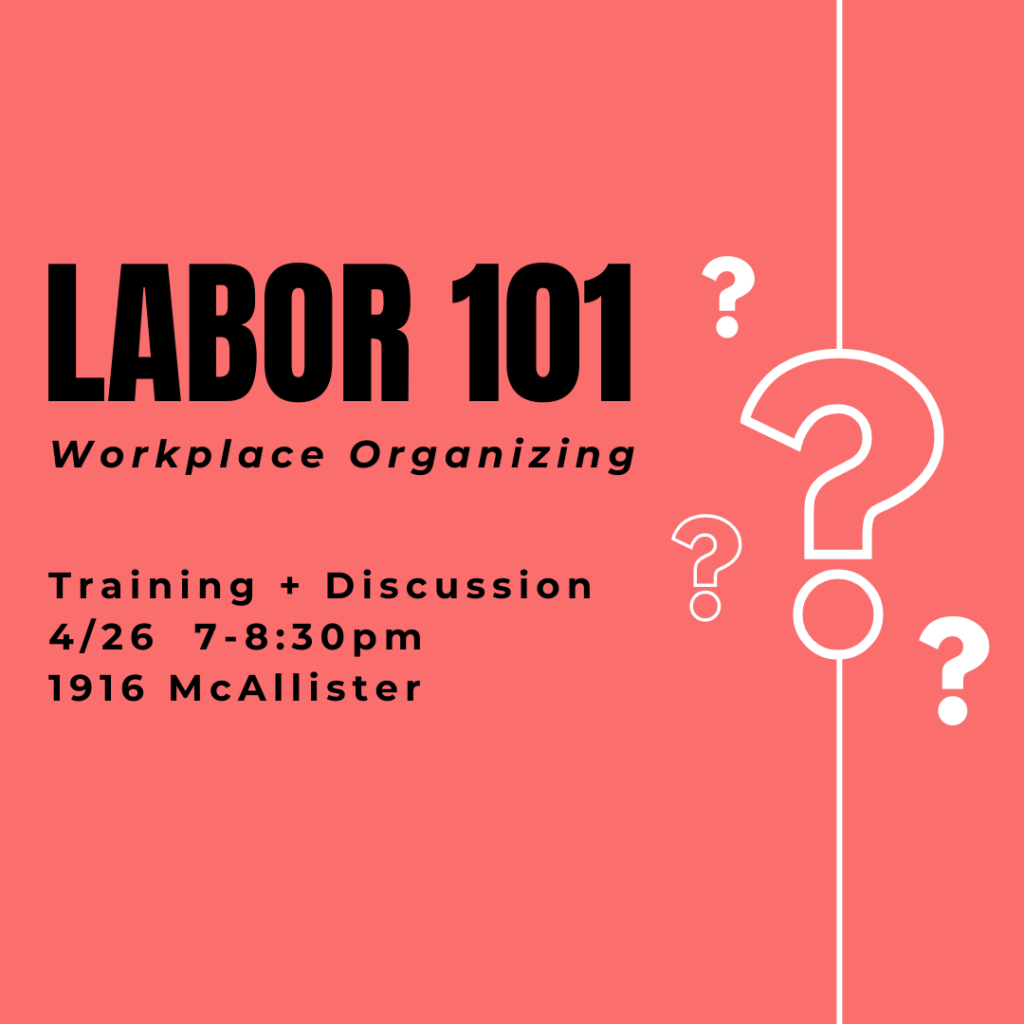 Join DSA SF Labor WG for a Labor 101 training session on April 26th from 7:00 p.m. to 8:30 p.m. to discuss new workplace organizing, exciting developments at places like Starbucks, share experiences and connect with your fellow socialist workers! This event is open to everyone of all levels and experience. This will also be a hybrid event, held both on Zoom and in person at the DSA SF office at 1916 McAllister. To attend the event, sign up at the link below.
Upcoming Chapter Elections!
👋 Some important chapter business is coming up in the next few months as we near our chapter's annual convention in June and national DSA's biennial convention in August.🌹 Steering will be following up every week or so with updates/reminders.
We're highlighting the upcoming elections. Currently, Steering is:
Collecting nominations for delegates to National DSA convention. Elections will be held at the May general meeting.
Starting to collect nominations for Steering and Grievance Officers. Nominations will close at the May general meeting and elections will be held at convention in June.
DSA SF Labor Education and Training Interest Survey
Want to learn how to organize your workplace? Support workers' fights against Amazon and Starbucks? Understand the importance of labor as a key to winning socialism? Complete the 2-minute DSA SF Labor Education and Training Interest survey to let the DSA SF Labor Working Group know what training and education you're interested so we can tailor labor education and training events to your interests.
Looking Ahead to National Convention
The deadline for rank and file members to endorse proposals for the 2023 DSA National Convention in Chicago, IL is this Friday, April 28th. Chapter member and alternate to the 2021 convention Ryan V. shared his perspective on the DSA SF forum. Check out the official convention website for more information and nominate delegates to the convention today.
Sign Up to Distribute Socks with Homelessness Working Group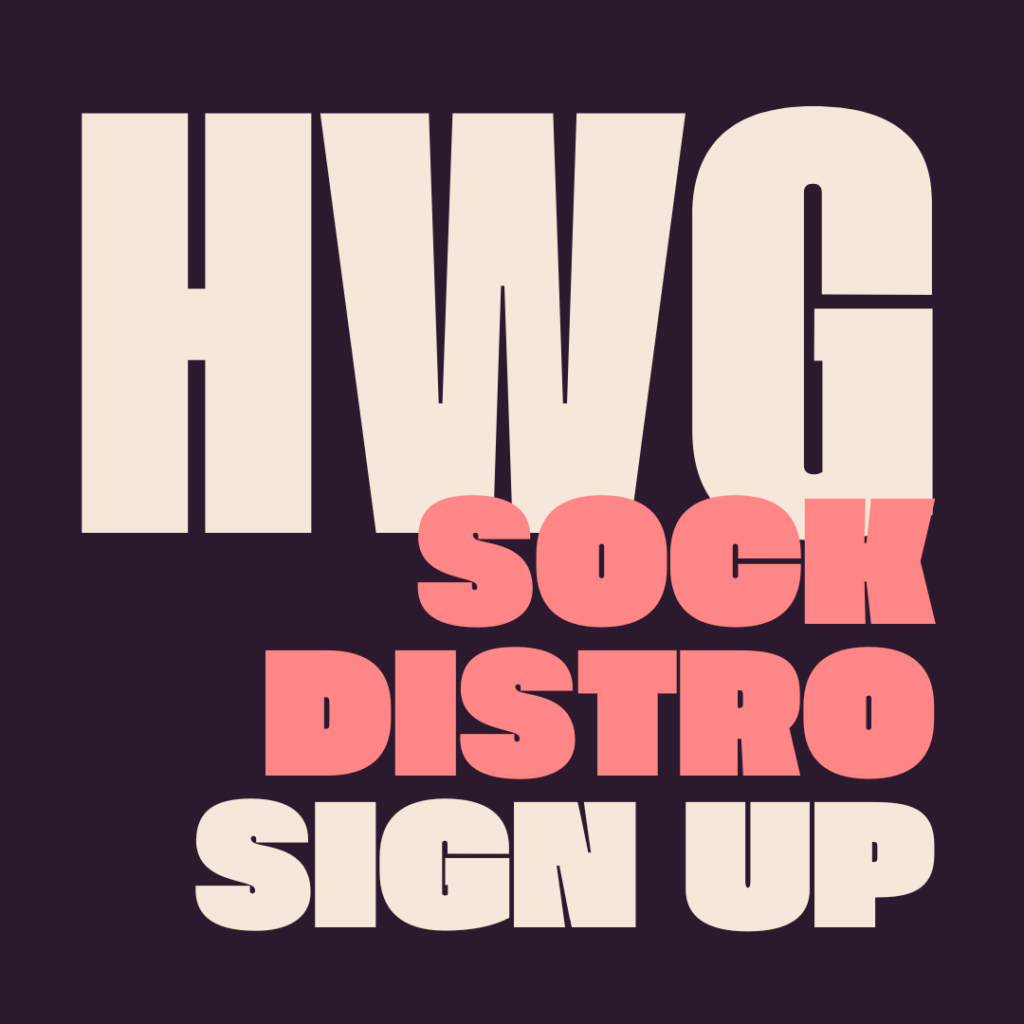 Come do sock distro with HWG! DSA SF's Homelessness Working Group is currently organizing a sock distribution, and restarting our chapter's efforts directed toward connecting with our homeless neighbors. We'll be low-key training chapter members about our specific approach to mutual aid and street solidarity, as well as building capacity for this and, potentially, more expansive mutual aid projects in the future!
Join the Tenant Organizing Provisional Working Group!
Overlapping TANC and DSA SF members have come together to start a Tenant Organizing Provisional Working Group! Our goal is to build a cadre of well-versed tenant organizers in DSA SF that will help us reach mass tenant organizing efforts in order to fight back the landlord class, in San Francisco and beyond. Join your neighbors in the tenant organizing movement by joining our slack channel #Tenant-Organizing!
DSA SF Labor Tech Worker Meetup: Organize Your Colleagues!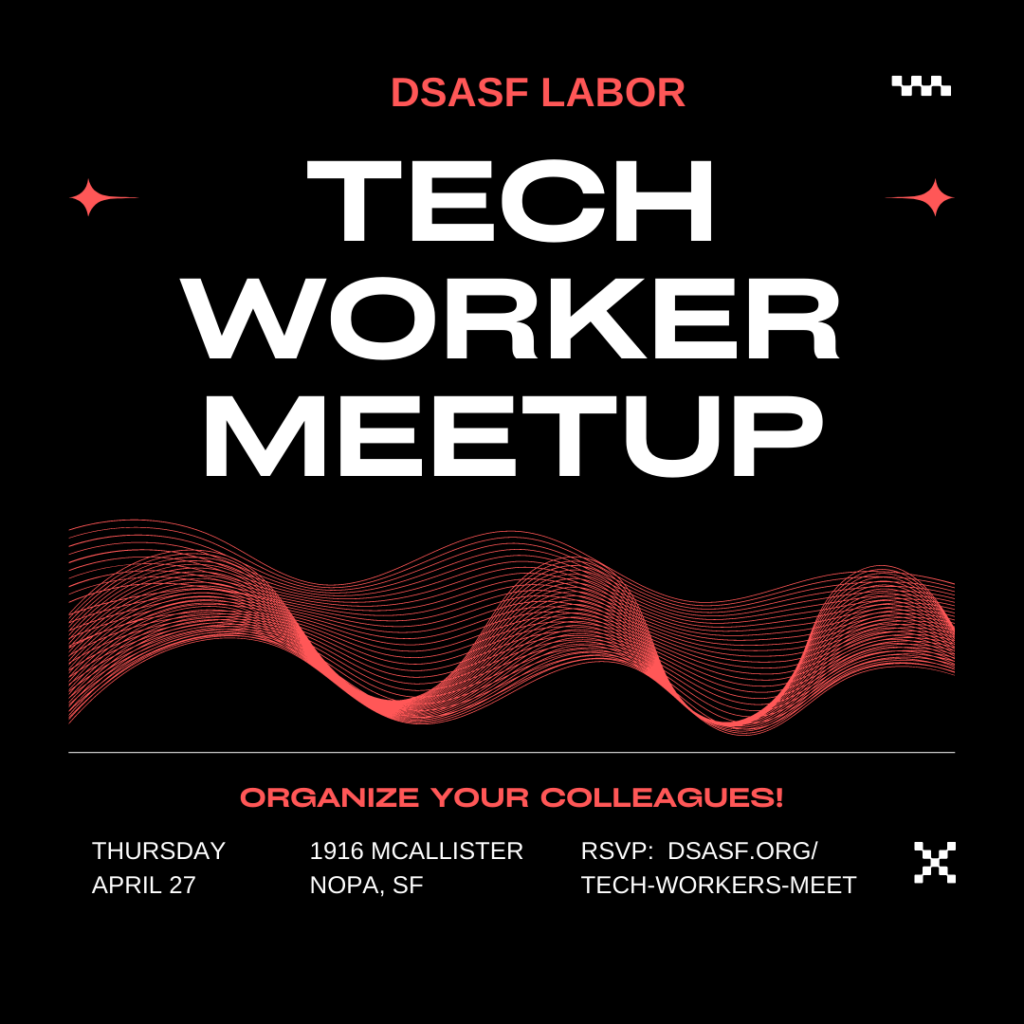 As the tech industry experiences upheaval after upheaval, what role can we play as workers in San Francisco, the heart of the international tech industry?
DSA SF is hosting a monthly series of in-person meetups for workers in tech and adjacent industries to come together, educate each other, and develop organizing strategies for the next phase of the tech worker movement. The first meeting will take place on Thursday, April 27th at the DSA SF office at 1916 McAllister. You can register to attend below!
The Guerilla is a Poet Film Screening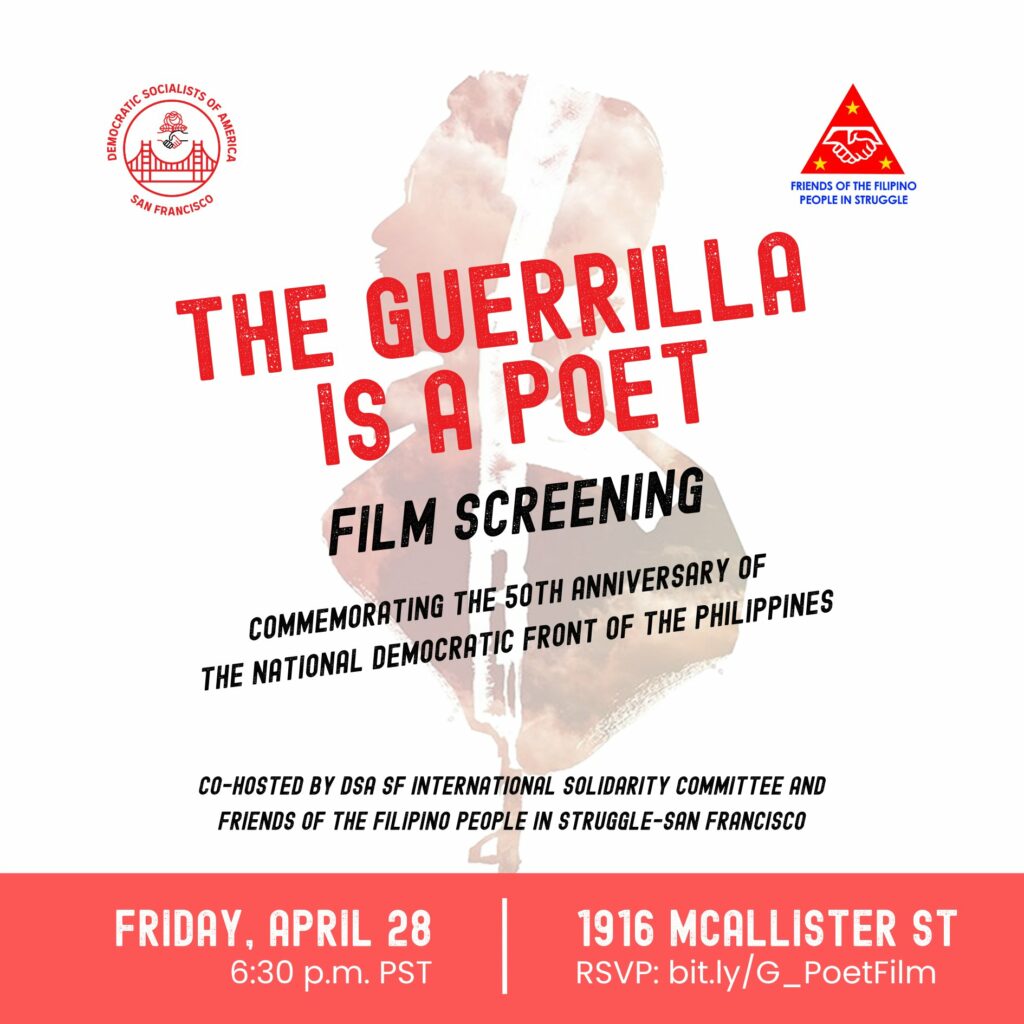 Join DSA SF International Solidarity Committee and Friends of the Filipino People in Struggle-San Francisco for a screening of the film The Guerrilla is a Poet on Friday, April 28th at 6:30 p.m. at 1916  McAllister St. Based on the life of Jose Maria Sison (or Joma), a legend in proletarian struggles and People's War in the Global South, the film depicts the resistance of Sison and other activists during Martial Law in the Philippines (which was silently supported by the US), as well as Sison's capture and imprisonment in the years that followed. There will be time afterwards to discuss the film and ways that we can support the ongoing national struggle taking place in the Philippines. Masks are required. Food and drinks will be provided! To learn more about Sison, check out this interview with the Guerrilla History podcast.
Join Us for International Workers' Day!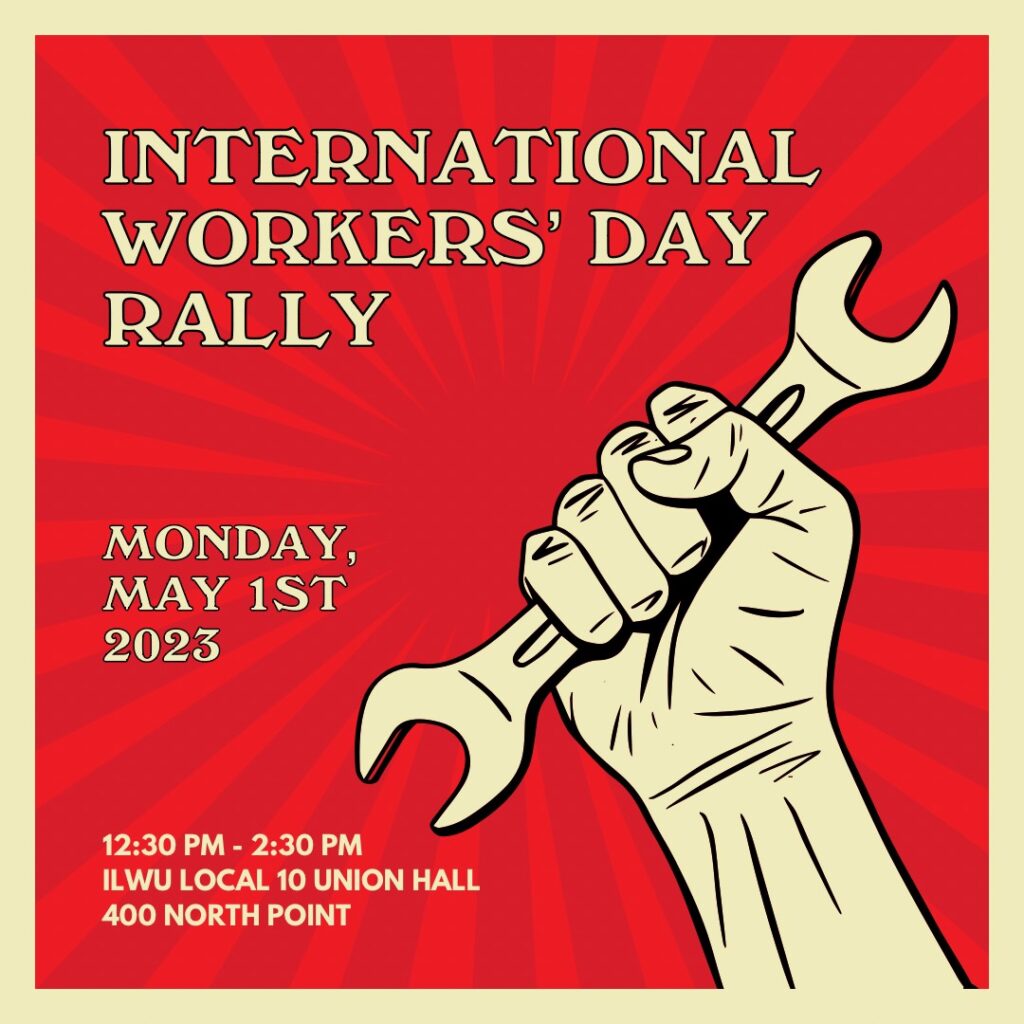 Join us as we prepare for the May Day rally and march this upcoming Monday, May 1st!
To make sure we're able to attend full force, be sure to attend our phone bank today, April 25th from 6:00 p.m. to 8:00 p.m., at 1916 McAllister. We will also be hosting a Sign Making event on Saturday, April 29th, from 5:00 p.m. to 6:00 p.m. at 1916 McAllister to prepare banners and signs to showcase at the May 1st rally and march!
Want to join the march? We're meeting up at the DSA SF office on 1916 McAllister at 11:00 a.m. Monday morning, so we can head over and march together – be sure to wear red! If you want to meet us at the ILWU Local 10 Union Hall, be sure to be there by 12:00 p.m. to make sure you march with the rest of the chapter. Just look for the red flags!
We will begin the march at the ILWU Local 10 Union Hall (400 North Point) at 12:30 p.m. where Angela Davis and other important labor organizers will rally us, and lead us into a march. DSA SF will be part of the International Workers' Day march, followed by a picnic at Coit Tower at 3:00 p.m.
Button and Sticker Making Workshop
Join DSA SF's Communications and Chapter Coordination Committees (CCC) on Friday, May 5th from 6:00 p.m. to 8:00 p.m. for a button and sticker making workshop at the DSA SF office at 1916 McAllister! No experience required.
We'll be making buttons and stickers with various designs, and will show you the step-by-step process on how to make each of them. We'll also have set designs ahead of time for you to choose from, but other designs that promote socialism are also encouraged.
Due to limited space at the office, registration is required below. We hope to see you there!
OMCA's Angela Davis Self-Guided Group Tour
Join DSA SF's Communications Committee and AfroSocialists and Socialists of Color Committee for a self-guided group tour of "Seize the Time" by Angela Davis exhibition at the Oakland Museum of California (1000 Oak St, Oakland, CA 94607) on May 6 at 11:30 a.m., followed by a social at Mad Oak Bar 'N' Yard. Spots are limited for the group tour, so please RSVP! All are welcome to join for this tour.
East Bay and SF DSA Social at Anchor Public Taps
DSA SF will be hosting a cross-bay social at the Anchor Stream Public Taps at 495 De Haro Street on May 17th at 6:00 p.m. with East Bay DSA! Come hang with your fellow comrades from the East Bay and enjoy some union-made brews. 
Free Outdoor Screening of Harlan County, USA!
Join DSA SF's Labor Working Group on May 31st at 8 p.m. in Kerouac Alley for a free outdoor screening of Harlan County, USA, Barbara Kopple's unforgettable documentary of a coal miners' strike! Register to attend below.