Events
🌹Tuesday, 9/12 (6:00 p.m. – 8:00 p.m.): Turnout Tuesday ☎️ (In person at the DSA SF office, 1916 McAllister)
🌹Wednesday, 9/13 (6:45 p.m. – 9:00 p.m.): September Chapter Meeting (Zoom and in person at the UNITE HERE Local 2 office, 209 Golden Gate Ave)
🌹Thursday, 9/14 (9:00 a.m. – 11:00 a.m.): Starbucks Solidarity Day of Action – Shift 1 (In person at 2727 Mariposa Street)
🌹Thursday, 9/14 (12:00 p.m. – 2:00 p.m.): Starbucks Solidarity Day of Action – Shift 2 (In person at 2727 Mariposa Street)
🌹Friday, 9/15 (12:00 p.m. – 5:00 p.m.): Office Hours (In person at 1916 McAllister)
🌹Monday, 9/18 (4:00 p.m. – 8:00 p.m.): UESF Picket with SF Teachers for a Fair Contract Now (In person at 555 Franklin Street)
🌹Tuesday, 9/19 (7:00 p.m. – 8:00 p.m.): Labor Reading Group: What the Hell Happened? Labor in the Neoliberal Era (Zoom)
🌹Wednesday, 9/20 (6:00 p.m. – 7:30 p.m.): What is DSA? (In person at 1916 McAllister)
🌹Friday, 9/22 (6:00 p.m. – 8:00 p.m.): DSA SF Soccer Club – Team Orcas (In person at 601 Mission Bay Blvd)
🌹Saturday, 9/23 (11:00 a.m. – 1:00 p.m.): Homelessness Working Group Office Hours (In person at 1916 McAllister)
🌹Saturday, 9/23 (1:00 p.m. – 4:00 p.m.): Homelessness Working Group Sock Distro (Meet in person at 1916 McAllister)
Events
DSA SF Orcas Soccer Club is Looking for Players!
The DSA SF Orcas are looking for players! The Orcas play in a friendly, recreational soccer league in Mission Bay. The upcoming 7-week fall season begins on September 22nd, with a match every Friday. It's a great way to connect with comrades.
The last day to register to be on the fall Orcas roster is this Thursday, September 14th! If you're interested in playing, even for just a few games, join the #orca-comrades Slack channel or message Katya on Slack. 
Leftist Queer Mixer on 9/27 at 5 p.m. at El Rio!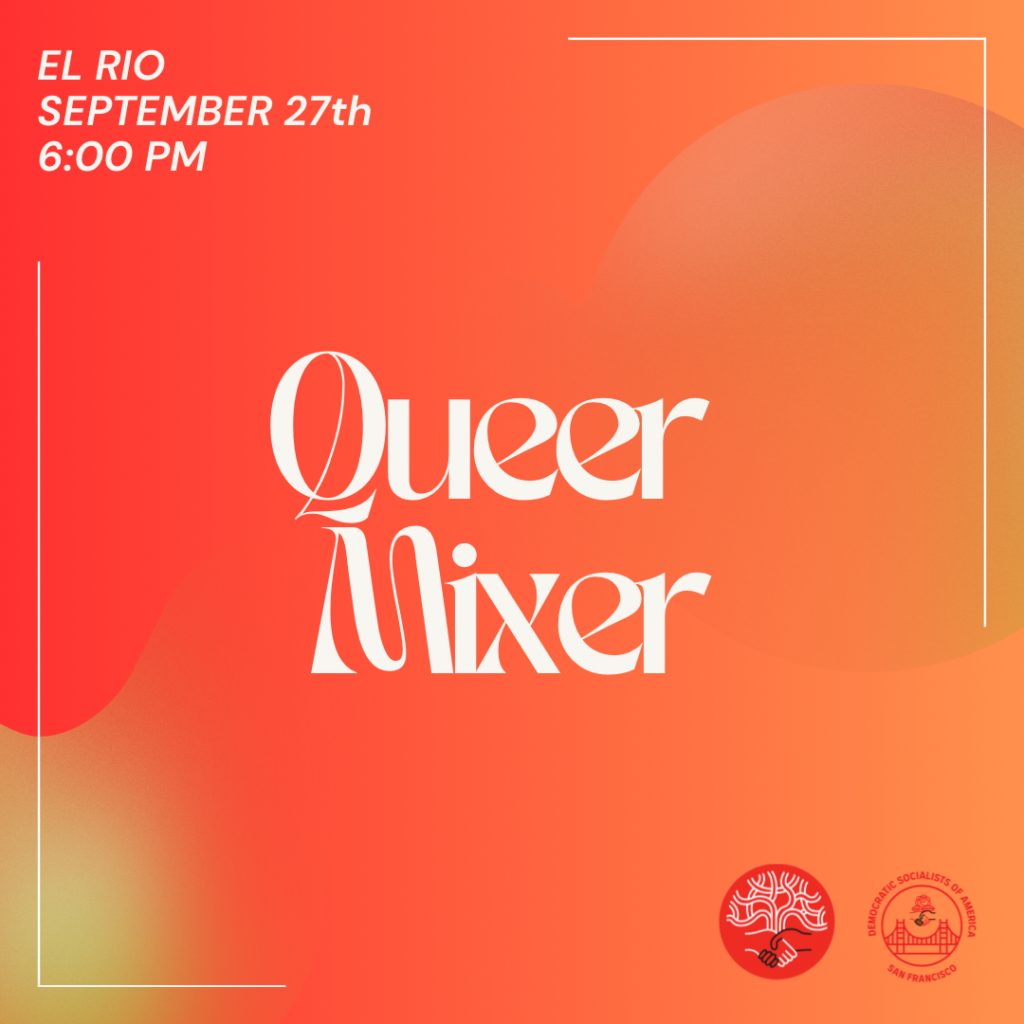 Come meet your local socialist sweeties, amorous anarchists, and commie cuties for a queer mixer on Wednesday, September 27th from 5:00 p.m. to 8:00 p.m. at El Rio at 3158 Mission Street, hosted by San Francisco and East Bay DSA!
We'll be out on the patio. There will be DJing and dancing all night 💃
Chapter Coordination Committee Rotations
The Chapter Coordination Committee (CCC) regularly rotates duties among different chapter members. This allows us to train new members in key duties that help keep the chapter running like organizing chapter meetings, keeping records updated, office cleanup, updating the DSA SF website and newsletter, etc. 
You can view the current CCC rotation sheet and see who is doing what here. If you're interested in helping out with the day-to-day tasks that help keep the chapter running, fill out this form and let us know what you're interested in!