Upcoming Events
🌹Wednesday, 11/1 (6:30 p.m. – 8:00 p.m.): HWG Reading Group: Mean Streets (In person at 1916 McAllister)
🌹Thursday, 11/2 (6:00 p.m. – 7:30 p.m.): Ecosocialist Monthly Meeting (Zoom)
🌹Friday, 11/3 (12:00 p.m. – 5:00 p.m.): Office Hours (In person at 1916 McAllister)
🌹Friday, 11/3 (5:00 p.m. – 7:00 p.m.): Mutual Aid Priority Potluck (In person at 1916 McAllister)
🌹Friday, 11/3 (7:00 p.m. – 8:30 p.m.): DSA SF Soccer League – Team Orcas (In person at 601 Mission Bay Boulevard North)
🌹Wednesday, 11/8 (6:30 p.m. – 8:45 p.m.): November Chapter Meeting (Zoom, in-person location TBD)
Check out https://dsasf.org/events/ for more events.
Events & Actions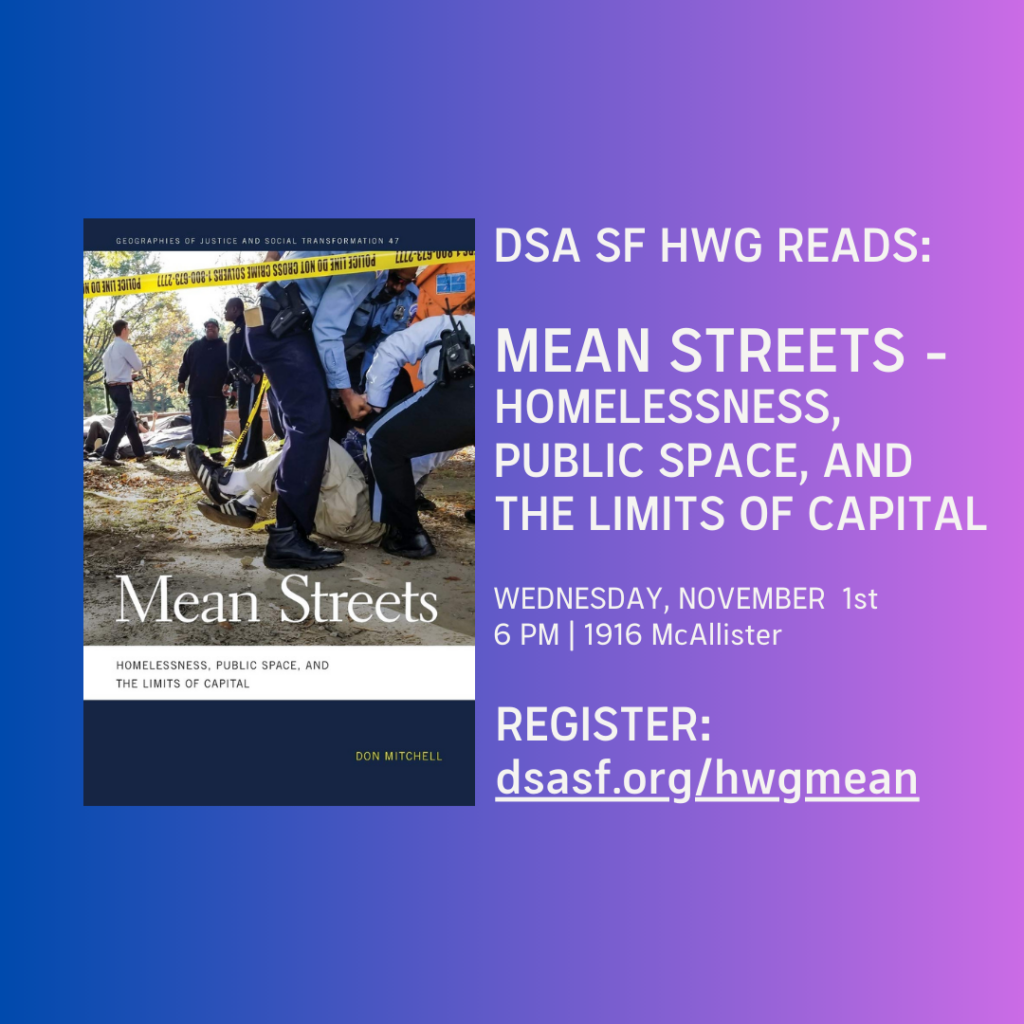 Homelessness Working Group Book Club: Mean Streets – Homelessness, Public Space, and the Limits of Capital
Homelessness Working Group is doing its first ever book club! We'll be reading Don Mitchell's Mean Streets: HOMELESSNESS, PUBLIC SPACE, AND THE LIMITS OF CAPITAL. The book discusses homelessness as a site of class struggle, and offers a general history of homelessness that includes some details about events in San Francisco through the era of Ed Lee.
Our first meetup will be Wednesday, November 1st, 2023 at 6:00 p.m. at the DSA SF office at 1916 McAllister Street. We'll discuss the preface and the first chapter. We'll meet more or less bi-weekly thereafter. Register he and learn more about the book and where you can find it at dsasf.org/hwgmean.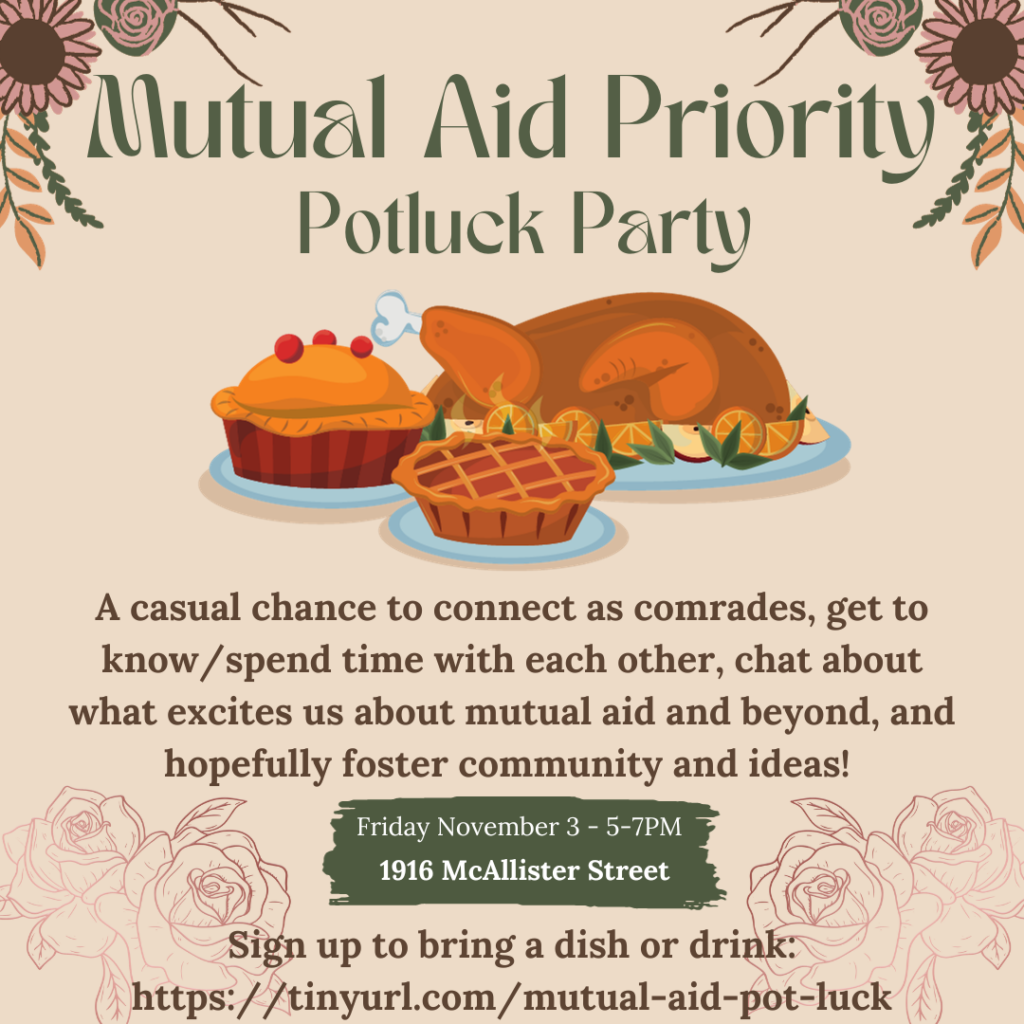 Mutual Aid Priority Potluck on November 3rd
Join the Mutual Aid Priority for our second potluck! Come learn about our upcoming aid projects and education courses, eat (and bring!) some homemade food, and get to know your fellow comrades this Friday, November 3rd at 5 p.m. at 1916 McAllister.
International Day of Solidarity for Palestine on November 4th
Join fellow workers all around the world as we rally in solidarity with the occupied Palestinian people to demand the US to stop aid to Israel and demand the Zionists' siege on Gaza end for a free Palestine on Saturday, November 4th!
This day of action is being coordinated across the entire country, with thousands planning to march in cities and towns all over the United States. In San Francisco, we'll be meeting at Civic Center at 1 p.m. If you'd like to join the DSA SF contingent at the march or find a buddy to attend with, join the #palestine-solidarity Slack channel.
Help Us Build Smolidarity!
The Mutual Aid Priority is working to build solidarity with the parents, caregivers, and kids in the chapter! If you are interested in helping with childwatch at monthly chapter meetings, or are a caregiver who would like to offer input on our smolidarity work, check out the #priority-mutual-aid channel on Slack!
Behind the Scenes
The Chapter Coordination Committee (CCC) regularly rotates duties among chapter members. This allows us to train new members in key duties that help keep the chapter running like organizing chapter meetings, keeping records updated, office cleanup, updating the DSA SF website and newsletter, etc. Members can view current CCC rotations.
To help with the day-to-day tasks that keep the chapter running, fill out the CCC help form.
Feedback? Questions? Something to add?
We're always looking for feedback. If you have comments or suggestions, feel free to send a message to the #newsletter channel on Slack.
For information on how to add content, check out the Newsletter Q&A thread on the forum.