Events
🌹Wednesday, 11/15 (7:00 a.m.): Mobilize Against the APEC CEO Summit (In person at Powell BART Plaza)
🌹Wednesday, 11/15 (6:30 p.m. – 8:00 p.m.): HWG Reading Group: Mean Streets (In person at 1916 McAllister)
🌹Thursday, 11/16 (10:00 a.m. – 12:00 p.m.): Labor Event: SBWU Red Cup Rebellion (In person at 4094 18th Street)
🌹Friday, 11/17 (12:00 p.m. – 5:00 p.m.): Office Hours (In person at 1916 McAllister)
🌹Saturday, 11/18 (11:00 a.m. – 1:00 p.m.): Homelessness Working Group Office Hours (In person at 1916 McAllister)
🌹Saturday, 11/18 (1:00 p.m. – 4:00 p.m.): Homelessness Working Group Sock Distro (Meet in person at 1916 McAllister)
🌹Saturday, 11/18 (5:00 p.m. – 7:00 p.m.): Film Screening: The Fall of the I-Hotel (In person at 1916 McAllister)
🌹Tuesday, 11/21 (7:00 p.m.): Labor and Tenant Organizing Discussion: Spadework – On Political Organizing ⛏ (In person at 1916 McAllister)
🌹Wednesday, 11/22 (6:00 p.m. – 7:30 p.m.): What is DSA? (In person at 1916 McAllister)
Check out https://dsasf.org/events/ for more events.
Events & Actions
Mobilize Against the APEC CEO Summit Tomorrow!
The Asian Pacific Economic Cooperation (APEC) brings together CEOs and heads of state yearly to build trade structures and agreements. This year, APEC is meeting in San Francisco November 11th through 18th, and a large coalition of progressive organizations (including DSA SF and EBDSA) have given them a robust reception.
Tomorrow (Wednesday, November 15th), we will be gathering at 7:00 a.m. at Powell Street BART Plaza for a mass non-violent direct action. Join us and take a stand for climate justice, worker power, and against a status quo of corporate greed and imperial violence!
Labor Event: SBWU Red Cup Rebellion
Starbucks partners across the country will be going on strike on Red Cup Day—Starbucks' biggest sales day of the year—to protest unfair labor practices, and are asking allies to stand alongside them in action.
DSA SF will be joining SBWU workers on Thursday, November 16th from 10:00 a.m. to 12:00 p.m. at 4094 18th Street. Come along and show your support for unionizing workers!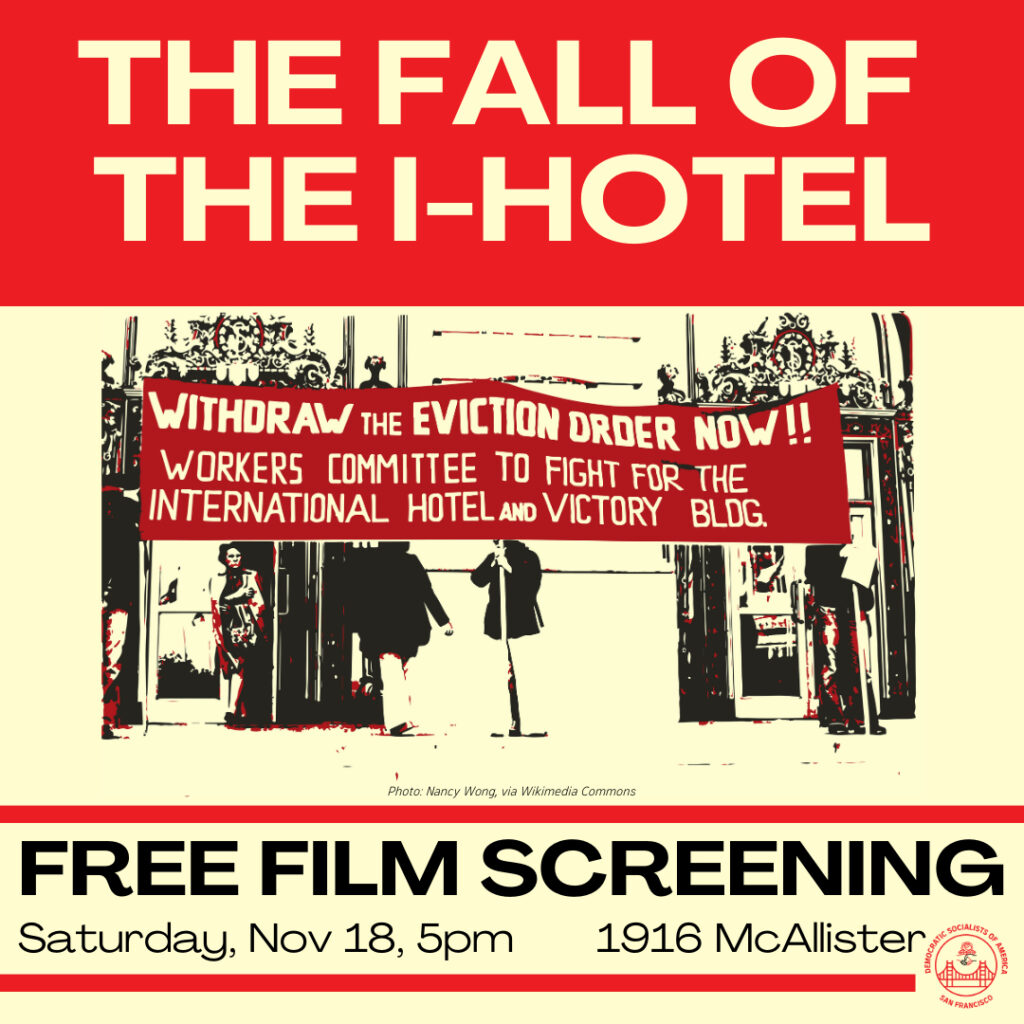 Film Screening: The Fall of the I-Hotel
Join the Tenant Organizing Working Group on Saturday, 11/18 at 5:00 p.m. at 1916 McAllister for a screening of The Fall of the I-Hotel.
"After a decade of spirited resistance to the razing of San Francisco's Manilatown, America's most dramatic affordable housing battleground ends in the August 4, 1977 brutal eviction of the elderly tenants of the International Hotel."
Come join us for the film, then discuss this seminal piece of San Francisco communities' fight against displacement, and what lessons we can draw from it today.
Labor and Tenant Organizing Discussion: Spadework – On Political Organizing
Hey comrades! 🌹
Labor and Tenant Organizing comrades will be hosting a discussion of the article "Spadework: On Political Organzing" by Allyssa Battistoni on Tuesday, November 21st at 7:00 p.m. at 1916 McAllister. ⛏
🍕Eat pizza, sip beverages, and talk about doing and sustaining "spadework:" the critical and meaningful, often difficult, generally unsexy, sometimes frustrating, day-to-day work of organizing! ☎️
How Do People Get Housed? 📚
Is San Francisco set up to actually help people exit homelessness and get into housing? What resources exist, and are they accessible? And how long does this whole process take? Join DSA SF member and City Hall worker, Jenbo, as she attempts to untangle the arcane bureaucracy of different city departments, nonprofits, outreach teams, shelter and housing systems that make up the City's response to the homelessness crisis.
Join this Homelessness Working Group-hosted event on Thursday, November 30th at 6:30 p.m. at 1916 McAllister. Dinner will be provided!
Register below!
Submit Your Nominations for Chapter Leadership!
Hello, comrades! We are now opening nominations for chapter leadership! Please fill out this form if you would like to nominate yourself or a comrade for a leadership position!
Leadership positions for the following chapter bodies are up for chapter-wide elections:
Labor Board (5 seats)
Electoral Board (5 seats)
Mutual Aid Priority Leadership (3 seats total, 1 vacant)
Chapter Coordination Committee Co-Chairs (2 seats)
Education Board (3 seats)
Ecosocialists Committee Co-Chairs (2 seats)
Tenant Organizing Working Group Co-Chairs (2 seats)
The following chapter bodies will be holding internal elections, which will be ratified by the chapter:
Homelessness Working Group Co-Chairs
AfroSocialists & Socialists of Color Committee Co-Chairs
Elections and ratification votes will be held at our December chapter meeting!
Behind the Scenes
The Chapter Coordination Committee (CCC) regularly rotates duties among chapter members. This allows us to train new members in key duties that help keep the chapter running like organizing chapter meetings, keeping records updated, office cleanup, updating the DSA SF website and newsletter, etc. Members can view current CCC rotations.
To help with the day-to-day tasks that keep the chapter running, fill out theCCC help form.
Feedback? Questions? Something to add?
We're always looking for feedback. If you have comments or suggestions, feel free to send a message to the #newsletter channel on Slack.
For information on how to add content, check out the Newsletter Q&A thread on the forum.