Events
🌹Thursday, 8/31 (6:30 p.m. – 8:30 p.m.): Tech Worker Meetup (In person at the DSA SF office at 1916 McAllister)
🌹Friday, 9/1 (12:00 p.m. – 5:00 p.m.): Office Hours (In person at 1916 McAllister)
🌹Saturday, 9/2 (11:00 a.m. – 1:00 p.m.): Homelessness Working Group Office Hours (In person at 1916 McAllister)
🌹Wednesday, 9/6 (6:00 p.m. – 9:00 p.m.): Homelessness Working Group Sock Distro (Meet in person at 1916 McAllister)
🌹Thursday, 9/7 (6:00 p.m. – 7:30 p.m.): Ecosocialist Monthly Meeting (Zoom)
🌹Wednesday, 9/13 (6:45 p.m. – 9:00 p.m.) September Chapter Meeting (Zoom and in person, location TBD)
Reportbacks
Stop the Sweeps Rally
August 23rd, DSA SF co-sponsored a counter-rally along with Harvey Milk LGBTQ Democratic Club to protest the criminalization of homelessness in San Francisco.
This counter-rally was organized in response to London Breed, Supervisors Mandelman and Dorsey, and others grandstanding in front of the San Francisco district court on the day of hearing regarding the court ordered injunction against indiscriminate sweeping of homelessness encampments, demanding a return to inhumane sweeps of homeless people.
The counter-rally was well-attended, with at least 25 members of DSA SF present. Speakers underscored the importance of housing for all and the ineffectiveness and cruelty of sweeps.
Thank you to the DSA SF comrades who turn
Thank you to the DSA SF comrades who turned up to this protest on such short notice!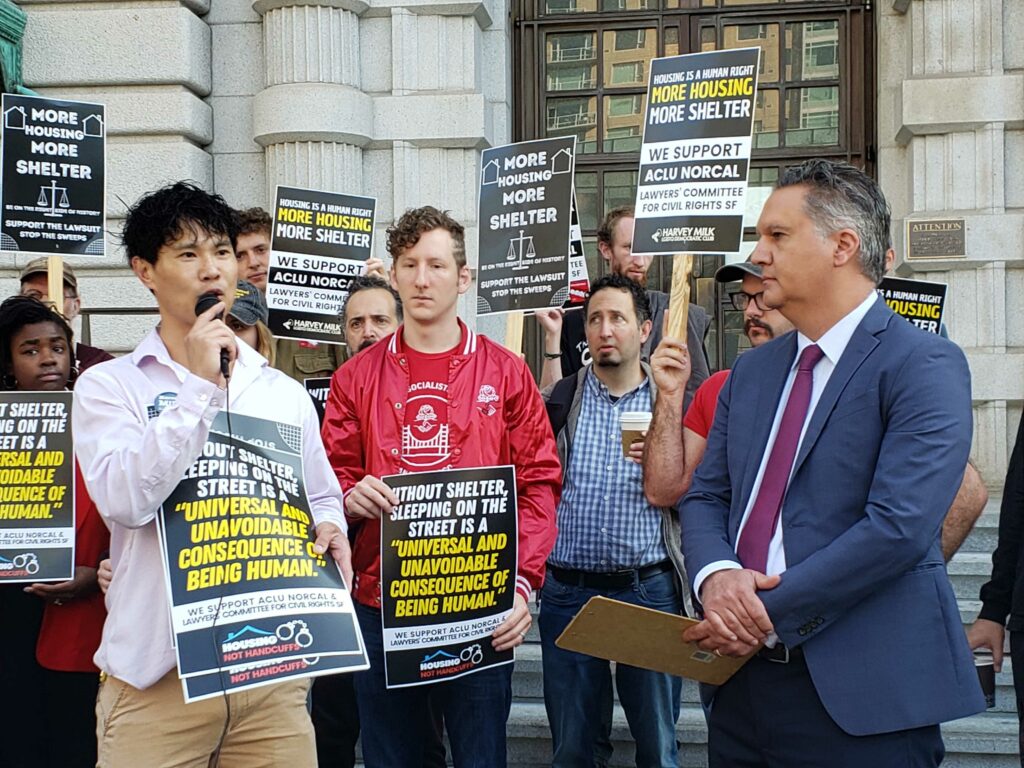 Chapter Coordination Committee Rotations
The Chapter Coordination Committee (CCC) regularly rotates duties among different chapter members. This allows us to train new members in key duties that help keep the chapter running like organizing chapter meetings, keeping records updated, office cleanup, updating the DSA SF website and newsletter, etc.
You can view the current CCC rotation sheet and see who is doing what here. If you're interested in helping out with the day-to-day tasks that help keep the chapter running, fill out this form and let us know what you're interested in!