Comrades,
Last week, we witnessed a fascist power grab that made the urgency of building an organized socialist movement ever clearer. Rightwing instigators stormed the nation's Capitol building, showing how emboldened they've become. Law enforcement at the Capitol also demonstrated that they at best enable and condone the white supremacist violence on display and at worst actively celebrate and participate in it. Check out DSA National's statement on the events.
Our response to fascism must be firm and swift, and it is clear that our elected officials are not sufficient to the task. We support our national organization's We support Congresswoman Cori Bush's action to expel GOP members who incited and encouraged right-wing violence, but these electoral changes are not enough. We want to be clear: The storming of the Capitol was not a unique aberration in American democracy – it was a bare expression of the white supremacist capitalism that lays at the foundation of our government.
It will not be enough to punish individual actors when the history of this nation was built upon the genocidal, settler colonialist dispossession of indigenous land and the exploitation of enslaved, immigrant, and waged labor. The entire structure of our political system encourages the inevitable capitalist consolidation of power and the inexorable slide towards fascism. The police do not protect us. They act as the enforcement arm of capital. Our government is not working for us. They serve at the behest of the ruling elite.
Power will not concede willingly. We must build a multiracial mass movement working together in order to win against these forces of capitalism. We must build alternative structures invested in our collective well being and not just the needs of the wealthy few. We must build a truly democratic future, which is necessarily a socialist future.
Society should reflect all our voices. To make that possible, we must meet our basic needs to create the freedom necessary for full political participation. We need food, housing, medical care, and a world without climate threat. Thank you for building with us. Thank you for standing with us against fascism, white supremacy, and capitalism. Thank you for being a part of our organization and working with us to make this future. We can win this world together.
-In solidarity-
Events & Actions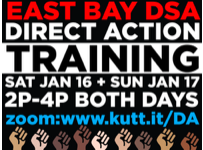 This Weekend: Direct Action Training
Want to learn how to plan and hold effective Direct Actions? Join our comrades at East Bay DSA on Saturday, January 16 and Sunday, January 17 from 2- 4:00 p.m. for a two-day direct action training. The content is spread across two days, so try to come to both. Register here. This event is open to all, so please invite your non-DSA friends from all over. If you have any questions, you can email Robb at robb@robb.cc.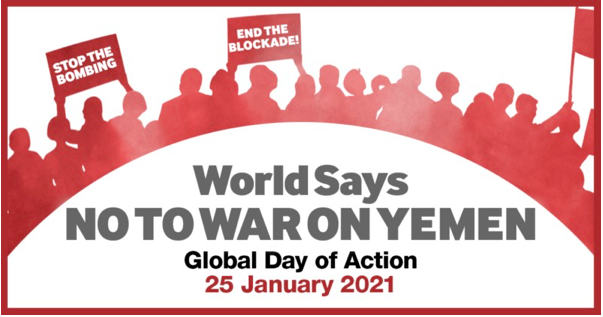 January 25th: Take Action to Stop the War in Yemen
With the war approaching its sixth year, we must hold Biden to his pledge to end U.S. support for the Saudi-led coalition in Yemen. Their blockade and bombing campaign have devastated the country, leaving over 200,000 dead and over 85,000 children starved due to famine.
The Saudis with US support are committing war crimes, including the deliberate targeting of civilians and civilian infrastructure. US corporations like Lockheed and Raytheon have made billions from the slaughter.
How you can help:
Support Emergency Workplace Organizing (EWOC)
The EWOC distributed organizing model relies on people like you who are fighting to win big demands right now. But if EWOC is to sustain this work over the next year, they need more than volunteers — they need to build a base of grassroots donors so that they can cover basic costs. If you've yet to share this campaign with friends, family, or colleagues, now's your chance. Together, let's bring in the resources we need so that we can head into 2021 stronger than ever. Emergency Workplace Organizing is a joint project between DSA's DSLC branch, and the UE. Contributions to EWOC are tax-deductible.
Press for Single-payer Healthcare in California
DSA SF, working with the Healthy California Now Coalition, is fighting to help win guaranteed comprehensive, high-quality healthcare for all Californians in 2021. The first tactic is calling upon Governor Newsom to fulfill his campaign promise to implement single-payer coverage in California by requesting federal funding for our state to do so. You can watch the "video petition," read the demands, and sign at www.petition.healthcare.
Education
Red Start Educational Series – Mao Zedong: On Practice and On Contradiction
Are we not reading enough? Or are we reading too much? What's the relation between theory and practice? What's the point of reading theory anyways? Mao Zedong has some ideas on how to answer these questions in his essay On Practice. In its companion piece, On Contradiction, Mao writes his major essay on dialectical materialism in order to challenge dogmatism within the Chinese Communist Party. We'll be using these two pieces to see how treating socialism as a science applies to the work we do as organizers in the US today.
Register at https://bit.ly/redstartreg.
Future Economies Reading Group
At the first meeting of the Future Economies Reading Group in January, we will be joined by Ra Criscitiello, deputy director of research at the Service Employees International Union-United Healthcare Workers West (SEIU-UHW), to discuss the Cooperative Economy Act (CEA). The CEA creates a new form of labor market intermediary, the Cooperative Labor Contractor (CLC). CLCs create a new employment paradigm where workers not only receive employment protections but also own and govern their workplaces. The CEA is a worker-centered response that offers both a sustainable long-term arrangement for formerly misclassified workers and accelerates their economic recovery during this difficult economic time.
The reading group will meet Tuesday, January 19 at 6 p.m. online. Details can be found at https://futureeconomiesreadinggroup.github.io/2021-january.
The Socialist Awakening by John Judis
"The Socialist Awakening" by John Judis is one of a number of a recent books considering the questions of imagining socialism in the modern world. We will take up this short book in three sessions on Tuesdays at 6:30 p.m., January 19th, February 2nd, &16th. If interested, please register in advance. The first session will discuss the preface and first chapter. Persons new to socialism and/or DSA welcome.