Phonebank for the PRO Act: Wednesday & All Week!
DSA's highest national priority is to pass the PRO Act (Protect the Right to Organize), which would strengthen unions, the power of the working class to organize on the job, and our collective capacity to win a just transition to a green economy for all. The priority for this week is to phonebank to rally support in key swing states. Register for the next one alongside DSA SF comrades on Wednesday, March 24 between 5 to 8 p.m. and other phonebank sessions here. Workers & the World Unite!
Upcoming Events
Help Vulnerable Seniors Get Vaccinated
As the city stumbles to vaccinate essential workers and vulnerable populations, our chapter, in conjunction with our comrade/District 5 Supervisor Dean Preston, is stepping in to make sure vulnerable seniors in D5 don't fall through the cracks. Many seniors are struggling to navigate the city and state's appointment system and we are stepping in to provide desperately needed mutual aid. Join comrades TONIGHT, Tuesday, March 23 from 6 to 8 p.m. to call seniors and help them make appointments for their vaccinations. Click here to join the Zoom. You can contact our comrade Ian James at ianhenryjames@gmail.com for more information.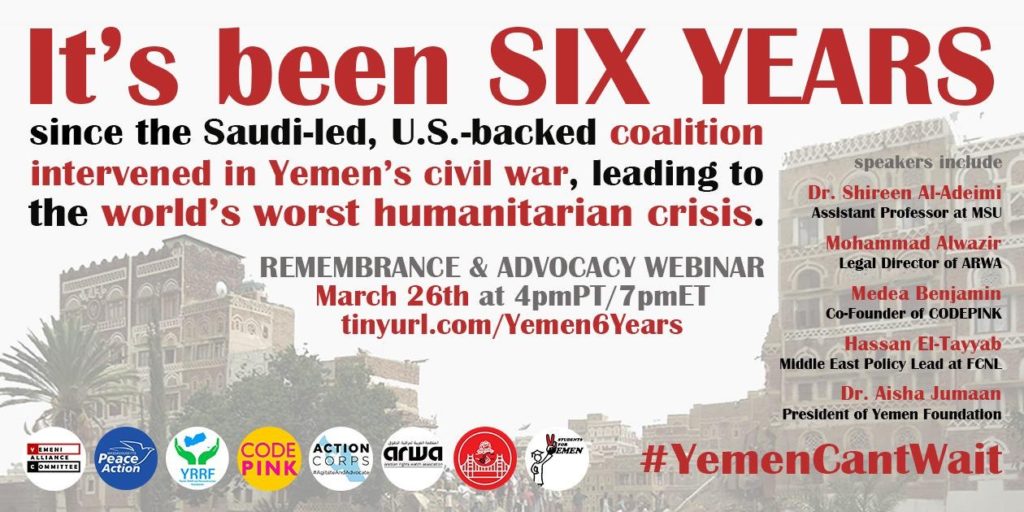 Remembering Six Years of War on Yemen
Join the Yemeni Alliance Committee, DSA SF, and other antiwar & solidarity groups for a webinar taking stock of the war on Yemen on Friday, March 26, at 4 p.m. This March marks six years since a U.S.-backed Saudi coalition intervened in Yemen's civil war. To understand this conflict, a range of speakers—activists, researchers, and elected officials— will be discussing the roots of this ongoing war, the impact on the Yemeni people, and how folks can join and build an effective anti-war movement.

Speakers:
Dr Shireen Al-Adeimi
Dr Aisha Jumaan
Madea Benjamin
Hassan El-Tayyab
Mohamed Alwazir, and more!
Intro to Socialist Feminism
How do we reconcile the socialist movement with the insights of liberal feminism? Join us Wednesday, March 31st at 6:30 p.m. for a lecture exploring capitalist patriarchy, misogyny, intersectionality, and social reproduction theory. There will be time set aside for questions and discussion at the end. Sign up here.
Announcements
This Week on SFIJ
Hi there, DSA SF!
We think the following pieces of news from the San Francisco Independent Journal (SFIJ) may be of interest to you:

?First, Salesforce has announced that it will allow its workers to work remotely indefinitely — what does this mean for San Francisco's working class?
?Second, despite California's commitments to reversing climate collapse, Governor Newsom continues to issue permits to the carbon industry. Nowhere is this contradiction more obvious than in Kern County, where 1/3 of the population lives by an oil well.
    ?Finally, Fresno has become the largest city in the U.S. to have free bus service, and Supervisor Dean Preston has been considering making San Francisco's MUNI system free as well.
If you have committee work or another story you want to be publicized by a friendly outlet, please submit tips to: writing@dsasf.org.
Dean Preston Updates
This week, our comrade Dean Preston's updates include:
Information about drop-in vaccines for all 65+ San Francisco residents;
The passage of Dean's resolution in support for Calcare (AB 1400)
A shoutout to DSA SF comrades for their organization in support of Prop I, which has already raised $20 million to fund social housing and rent relief.
Feel free to reach out to Dean's office by emailing prestonstaff@sfgov.org or lexvonklark@gmail.com if you have ideas about how DSA SF can collaborate with Dean's office. Read the full update here!
DSA SF Membership Drive!
Please consider becoming a member of National DSA, or making sure your membership is current, so you can stay up to date with what the National Organization is doing and participate in the member forums. Becoming a member also counts towards DSA SF's delegate count for the August National Convention! As always, no one is turned away from lack of funds, all you need to do is fill out the dues sponsorship form. If you have any other questions or hurdles on membership, feel free to email steering@dsasf.org and we'll figure something out together.

Electoral Strategy Commission
Come join our newly-elected comrades on the DSA SF Electoral Strategy Commission for their open meeting TODAY, Tuesday, March 23rd, from 7 to 8 p.m. to discuss how DSA SF should approach electoral work in the near future and long term. Register here.
Reading Groups
EcoSoc Book Club: Silvia Federici's Re-Enchanting the World
Join the Ecosocialist Committee's book club on bi-weekly Mondays in March, with the third session on Monday, March 29, from 6 to 7 p.m. We're reading and discussing Silvia Federici's Re-enchanting the World: Feminism & the Politics of the Commons. This reading group is open to all. Register here today!
21st Century Socialism Reading Group
Come join your comrades on Tuesday, March 30 at 6:30 p.m. for a discussion on The Old Is Dying and the New Cannot Be Born: From Progressive Neoliberalism to Trump and Beyond by Nancy Fraser! Register here.
Future Economies Reading Group: Commons-Based Peer Production
If, as Marx says, "slavery cannot be abolished without the steam-engine," what forms of domination can be ended with the advent of global communication networks? This month the Future Economies Reading Group will study new modes of production enabled by new technologies. Join us on Tuesday, March 30, from 6 to 7:30 p.m.
We will investigate a positive vision of a future centered around the redevelopment of the commons—imagine Wikipedia but for all of production. We'll also read an introduction to McKenzie Wark's theory of the Vectoralist Class, a new subset of the ruling class which draws its power from control overflows of information. Find the short readings and Zoom details here.