Defend Black Journalism – Rally to Free Malik and Get GEO Out of California!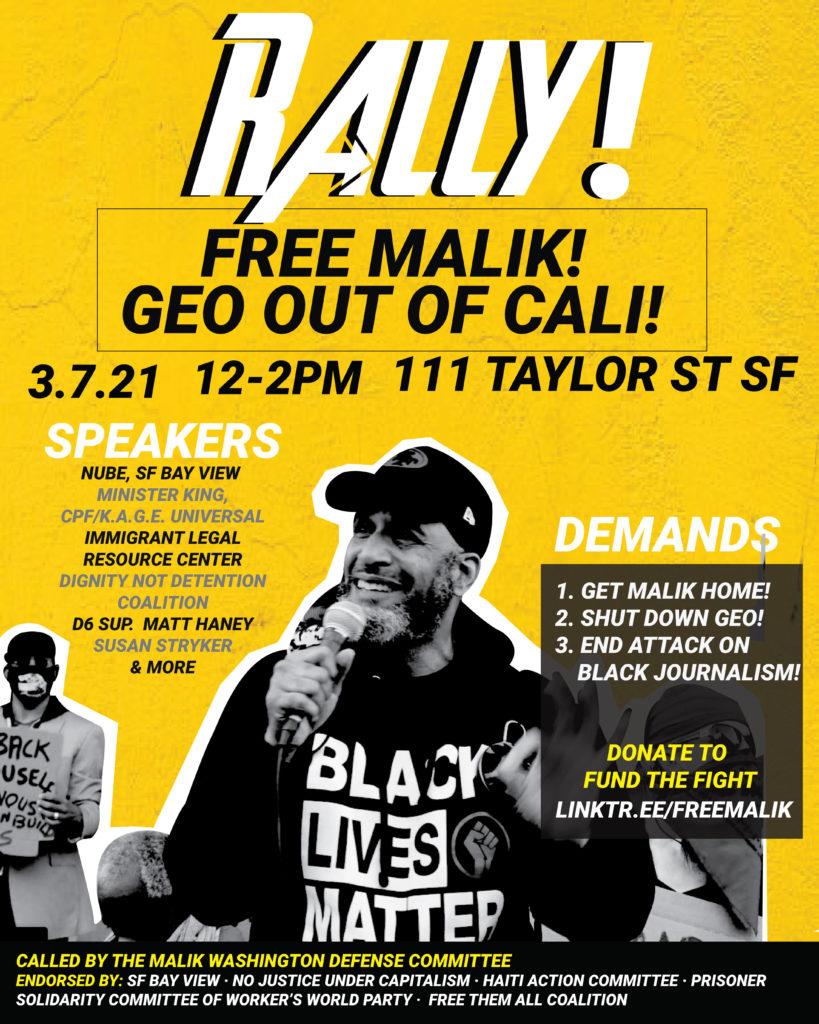 SF Bay View National Black Newspaper Editor Malik Washington is being severely retaliated against for releasing a public memo documenting a preventable COVID-19 outbreak at 111 Taylor, an enormous GEO Group-owned halfway house in San Francisco's Tenderloin District. The $2B+ for-profit prison company stole his phone and put a gag order on him in what is the most egregious attack on journalism and Malik's constitutional right to freedom of speech. They are now threatening to send him back to jail, and Malik has sued.
For more information, see below:
https://48hills.org/2021/01/covid-outbreak-and-media-crackdown-at-private-halfway-house-in-tenderloin/
https://48hills.org/2021/02/editor-sues-over-gag-rule-at-private-prison-in-tenderloin/
https://48hills.org/2021/02/bay-view-editor-wont-face-immediate-discipline-for-holding-press-conference/
For an excellent documentary exposé on the atrocious, dehumanizing conditions at 111 Taylor St, please view the 11- minute documentary put forth by SF Public Defender's The Adachi Project here.
GEO Group is fighting Malik, but they are also currently litigating against AB 32, which would ban private detention facilities in California, arguing that they would lose $15M per year in revenue, with a large portion coming from caging our siblings in abusive ICE Detention Facilities across the state. Well we say NO to PUTTING PROFITS OVER PEOPLE EVERY SINGLE TIME! For-profit prison companies have no place in California or anywhere!
Join us for a masked up, socially distanced rally at 111 Taylor Street, SF from 12:00 – 2:00 p.m. on Sunday, March 7 to demand Malik Washington's freedom, to stop the attack on Black journalism, and to shout to the rooftops: GEO Group – get out of California! More details here.
This rally is being organized by the Malik Washington Defense Committee. Please like their page to support them and help guarantee Malik's freedom. To donate to Malik's legal fees and to support radical, black journalism, please donate here. 
Upcoming Events
? Intro to DSA SF
Join us for our upcoming Intro to DSA event onWednesday, March 3, at 6:30 p.m. and hear what we're doing to build the socialist movement in San Francisco. Register here! There's no time like the present when it comes to fighting for our future and building working class power. Bring your questions and a friend!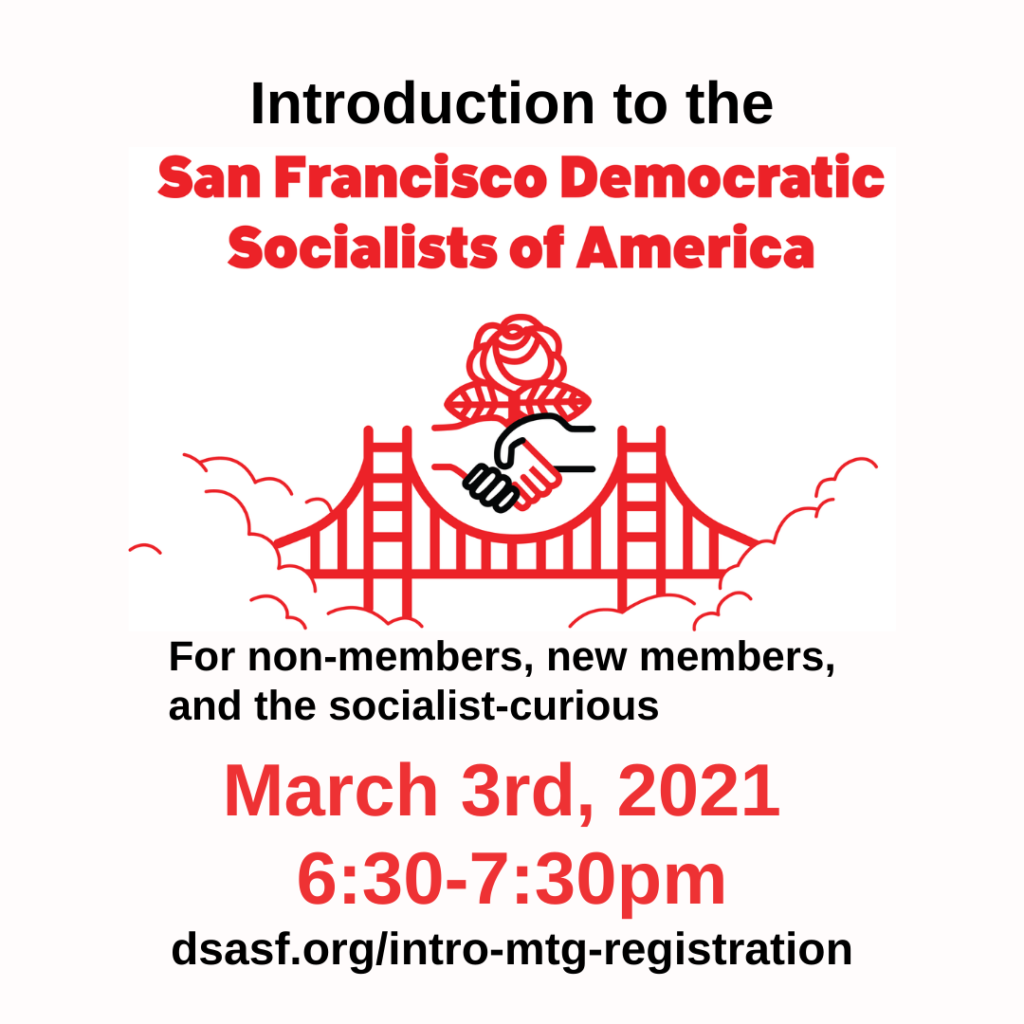 Labor Organizing Training (Begins Wednesday, March 3)
The next semester of organizer training will begin this Wednesday, March 3 at 5:00 p.m.PT and run for six weekly sessions, with alternate sessions on Sundays at 2:00 p.m. PT(the first alternate session is on March 7, session topic same as preceding Wednesday):
Session 1 – Leader Identification
Session 2 – Mapping and Charting a Workplace
Session 3 – The Organizing Conversation
Session 4 – Escalating Campaigns
Session 5 – Public Action and Engaging with the Boss
Session 6 – Inoculation and the Boss Campaign
If you want to learn more about how to organize at your own workplace or support others in doing so through EWOC, sign up for the training.
Everything You Wanted to Know About Marx But Were Afraid to Ask
Join the Education Committee on Thursday, March 11th at 6:30 p.m. for an interactive session and discussion of the ideas of Karl Marx. After a brief introduction, participants will choose short passages/quotations from Marx to analyze and discuss. This educational exercise is intended to make Marx more accessible and less intimidating, especially for newcomers, while also allowing those already familiar with Marx to dig deeper into his key texts. For access to the passages/quotations, as well as the Zoom link, please register here.
Announcements
Help Dean's Office Get Seniors in D5 Vaccinated
Seniors in District 5 need our help to get vaccinated. Join us tonight, March 2, from 6:00 to 8:00 p.m. to make these important calls. Navigating a confusing system is hampering efforts to make sure all seniors get their vaccines, so we are stepping in to provide mutual aid. This project is the first step in creating a new organization, Neighbors United, that will advocate for all the issues we care about like tenant rights, affordable housing, and improved public transportation in District 5. Click this link to join us on Zoom or contact Ian James at Ianhenryjames@gmail.com for more information. Thanks!

Demand That the City Fund #30RightNow
This Wednesday, March 3, at 1:00 p.m., the Board of Supervisors Budget and Appropriations Committee will be having two separate hearings related to homelessness and housing. Item #1 is a hearing on the budget for the Department of Homelessness and Supportive Housing. Please call in to urge the funding and implementation of #30RightNow, which would reduce rents to 30% of income for supportive housing tenants. For more information, click here. Item #2 is an overview of the budget of the Mayor's Office of Housing and Community Development. Please also call in to urge the implementation of Prop K and help to develop municipally owned social housing. For more information, contact lakshbhasindeveloper@gmail.com The call-in information is 415-655-0001 Meeting ID 187 516 8993 # # press *3 to speak
COVID-19 Relief In Navajo Nation Solidarity Phone Bank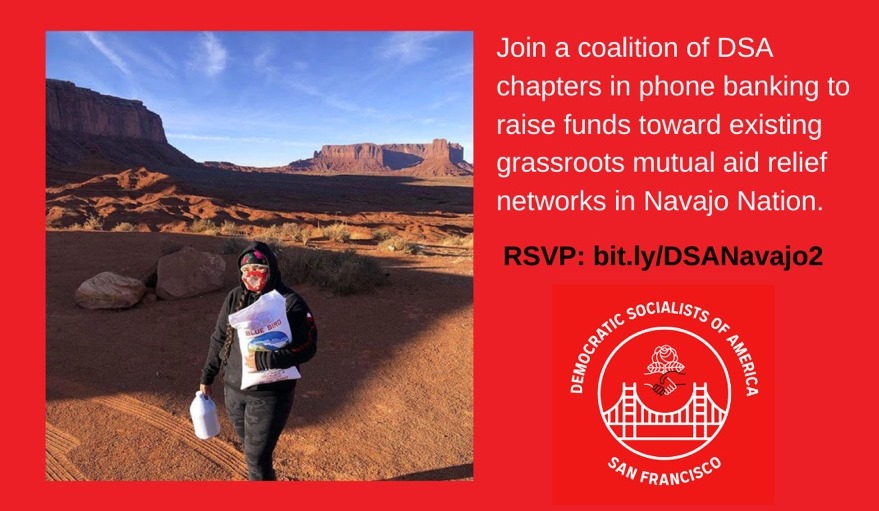 On Sunday, March 7 from 2:00 – 5:00 p.m. PT, join a coalition of DSA chapters in phone banking to raise funds for existing grassroots mutual aid relief networks in Navajo Nation. RSVP here!