DSA SF Weekly Roundup — Setting Priorities
Spotlight on: Striketober
Although you might not have heard about it, labor actions have been sparked all over the country and San Francisco is no exception. From the walk-in staged by UESF educators, to Giants concessions workers who threatened to strike to demand a fair contract, workers are turning up the heat — and bosses are feeling the burn.
Dandelion Chocolate is now unionized under ILWU — despite numerous challenges of the food and beverage industry during the pandemic.
At the University of California, student researchers voted to unionize under UAW — and are still fighting to be recognized.
And IATSE workers are planning a tentative strike for their working conditions in the entertainment industry.
Workers of San Francisco really deserve better.
Want to catch the wave? Keep reading to find out how you can gain skills to organize your workplace, and connect with others from your industry — right here in DSA SF.
Work on DSA SF's priority campaigns is under way.
Last week, Savannah K. (Comms) sat down with Alisha F. (BLIS) to discuss dismantling white supremacy in DSA SF.
This past weekend, DSA SF members joined Neighbors United and the Daybreak PAC in a rally at Alamo Square to declare D5 an eviction-free zone. The rally was then followed by a lit drop to all D5 residents to let them know about this initiative, and inform them of their tenants' rights.
The weekend concluded with the Labor Circles Kickoff, which included a brief introduction to organizing conversations, as well as an opportunity for members to connect briefly with others from their industry.
But the fun doesn't stop there. You too can join the fun of working on our three amazing priority campaigns. Check out the events below…
This Week on The Priority Podcast
Black Liberation and Indigenous Sovereignty: Our Work to Dismantle White Supremacy
To further anti-racism and dismantle white supremacy, DSA SF has committed ourselves to furthering Black liberation and Indigenous sovereignty. In this episode of The Priority, Alisha F. sits down with Savannah K. to discuss how we're working towards these goals.
Labor Circles: Critical Evaluation of Jane McAlevey's Organizing Model
Your comrades discuss the pros and cons of Jane McAlevey's organizing model in this installment of The Priority.
Labor Circles: Kickoff/ The Organizing Conversation
Hear about the basic unit of organizing — the organizing conversation — from the chapter's Labor Circles priority campaign. This was the first of what will be a series of lessons on how to organize your workplace.
Upcoming Events
🌹 Wednesday, 10/20 (5:00 p.m. – 7:00 p.m.): EWOC Organizer Training (Zoom)
🌹 Saturday, 10/23 (11:00 a.m.): Illegal Sanctions Against Venezuela: A Feminist Human Rights Perspective (Zoom)
🌹 Sunday, 10/24 (2:00 p.m. – 4:00 p.m.): EWOC Organizer Training (Zoom)
🌹 Sunday, 10/24 (2:00 p.m. – 4:00 p.m.): DSA SF Social, Dolores Park* (in-person) 
🌹 Wednesday, 11/03 (6:30 p.m. – 7:30 p.m.): Introduction to DSA (Zoom)
🌹 Saturday, 11/6 (2:00 p.m.): Labor Circle Priority Picnic, Panhandle (in-person)
Regular Chapter Meeting
The next regular DSA SF chapter meeting will be Wednesday, November 10th, at 6:45 p.m.
Stay tuned for updates on content!
Announcements
Join DSA SF's Fall Social!
Join us for our fall social from 2-4 p.m. on Sunday, October 24th! We will meet out by the tennis courts in Dolores Park*. Please feel free to bring an individual snack(s). We won't be bringing anything from the office — this is a BYOB (bring-your-own-blanket) event. Appropriate safety considerations will be observed.
Hosted by DSA SF Community Team. In the event of inclement weather this event will be relocated and updated location information will be sent via internal communication.
Illegal Sanctions Against Venezuela: A Feminist Human Rights Perspective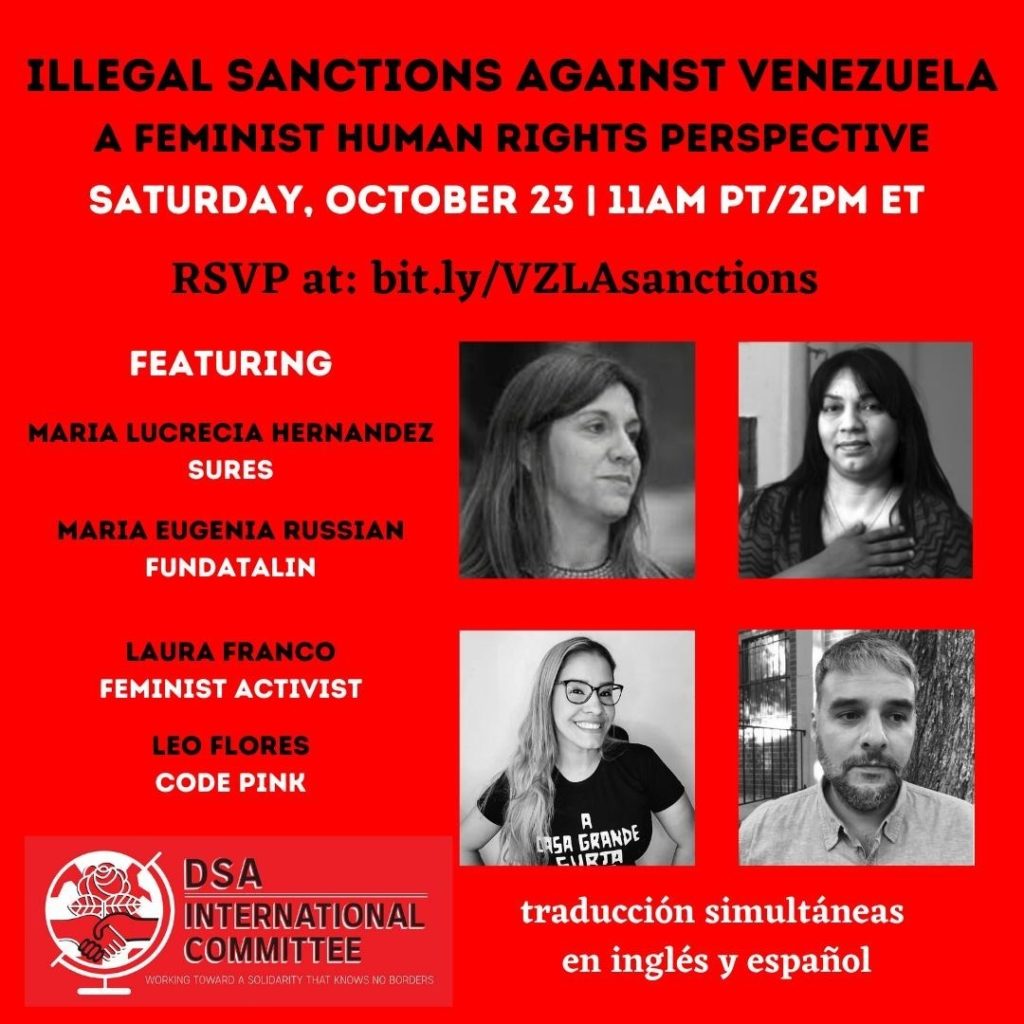 The DSA International Committee is hosting a panel this Saturday, October 23rd, at 11:00 a.m. on the US's illegal sanctions against Venezuela, which disproportionately affect women and children. Join us to learn from Venezuelan women human rights and feminist activists Lucrecia Hernandez of the human rights NGO Sures, Maria Eugenia Russian of Fundalatin, and Laura Franco, a well-known feminist activist with Quinta Ola, a Venezuelan feminist organization, and co-author of a rebuttal to a New York Times article about contraception in Venezuela that barely mentioned illegal sanctions. Moderated by Leonardo Flores of CODEPINK. Register now.
East Bay Socialist Housing Organizers Project (SHOP) Training
East Bay DSA is holding a training program called Socialist Housing Organizers Project (SHOP) along with Tenant and Neighborhood Councils (TANC), an autonomous tenants union. The SHOP program trains DSA members to become tenant organizers. It then helps them get plugged in to organizing in their own buildings or supporting others in doing so. The Tenant Solidarity committee hopes to get a group of DSA SF members to go through the trainings to develop tenant organizing skills. The committee also hopes to explore the possibility of expanding SHOP into a cross-chapter collaboration that can connect people with TANC's SF chapter. If you are interested in participating in a future training, please sign up via this form. Email tenantsolidarity@dsasf.org with any questions.
Labor Circles: Organizer Trainings
The Emergency Workplace Organizing Committee (EWOC) is holding its series of labor organizing trainings. The six-session program covers many fundamental workplace organizing practices. This week's session, Training 3: Inoculation and The Boss Campaign, will be held at two times (both times cover the same material): Wednesday, October 20th at 5-7 p.m. PT and Sunday, October 24th at 2-4 p.m. PT. Sign up here. You will need to note "DSA SF" as your referral source in order to register.
Volunteer for Single-Payer Healthcare Campaign
National Nurses United and the California Nurses Association has been ramping up the CalCare campaign as the bill for California state-level single-payer will return in January. They are focusing on priority districts, including AD 17 and AD 19 in San Francisco. For those areas, they are looking for District Leaders to lead locally. They'll provide extensive training and support to these leaders. If you are interested, you can sign up here. If you want to participate in the campaign but not be a District Leader, please reach out to DSA SF member Ellen Y (by emailing healthcare@dsasf.org), who is a District Leader for AD 19 – she can get you started on text-banking voters!
Labor Picnic
Organizing in the workplace is a crucial avenue for socialists to build power. However, if your workplace doesn't have a union, or if your union is between active campaigns, it can be difficult to know how to start. Labor Circles are designed to bring workers in similar industries together so they can share notes, build solidarity, and start thinking long term about the changes they'd like to see in their workplace. Join us for a picnic on Saturday, November 6th at 2 p.m., designed to introduce DSA members and interested parties to other people who work in their respective fields. RSVP here.
Reading Groups
21st Century Socialism Book Group reads Erik Olin Wright's Envisioning Real Utopias
Please join the Twenty-First Century Socialism Reading Group to continue reading along in Envisioning Real Utopias, by Erik Olin Wright (1947-2019). The next meeting will be Tuesday, October 19th at 6:30 p.m.
The new work of Wright—who was a preeminent figure in recent American socialist thought—is a comprehensive assault on the quietism of contemporary social theory. Envisioning Real Utopias lays the foundations for a set of concrete, emancipatory alternatives to the capitalist system through a systematic reconstruction of goals and values for Leftists thinkers. Wright diverges from classical Marxism with his classification of subgroups in the working class. He introduced novel concepts to adapt a changing perspective for ideas like deep democracy and interstitial revolution. Rigorous and engaging, this will become a landmark of social thought for the twenty-first century.
The Twenty-First Century Socialism Reading Group usually meets every two weeks and reads 25-50 pages per session. To join the reading group, please reach out to education@dsasf.org.
Ecosocialist Book Club: Jason Henderson's Street Fight: The Politics of Mobility in San Francisco
Join our DSA SF Ecosocialist Committee Book Club to discuss Jason Henderson's Street Fight: The Politics of Mobility in San Francisco. Open to all DSA members and DSA-curious! We'll meet for 3 sessions starting November 9th at 6:00 p.m. – register now! bit.ly/dsasfecobookclub [good for new people
]