Comrades,
One of the many ways capitalism has warped our world is by erecting barriers, physical and mental and emotional, between people. Reconnecting with each other on a human level is not just desirable – it is essential to the project of dismantling capitalism.
What we're saying is, come hang out with your comrades! DSA SF is launching Friday Socials – swing by the DSA SF office at 1916 McAllister every other Friday from 5:00 p.m. to 7:00 p.m. to catch up with other folks in the chapter, help tidy up the office, and grab some snacks and drinks. The first Friday Social is this Friday, August 26 at 5:00 p.m., and we'll be joined by a special guest – Amy Z, Organizing Manager for DSA National!
Members new and old are welcome – come by, catch up with old friends, meet new ones, and learn how we can all better organize together, both at the local and national level. See you there!
Solidarity,
DSA SF Comms Committee
Events
🌹 Wednesday, 8/24 (7:30 p.m.): California DSA's Organizing in Logistics Kickoff Meeting (Zoom)
🌹 Friday, 8/26 (5:00 p.m.-7:00 p.m.): Friday Social (in person at the DSA SF office at 1916 McAllister)
🌹 Saturday, 8/27 (11:00 a.m.-2:00 p.m.): Empty Homes Tax (Prop M) Mobilization (in person at Golden Gate Park, corner of 6th and Fulton)
🌹 Sunday, 8/28 (12:00 p.m.-2:00 p.m.): Rally to Support Alcatraz Cruises Workers (in person at Pier 33)
🌹 Saturday, 9/3 (11:30 a.m.-2:30 p.m.): People First San Francisco Electoral Slate Kickoff Mobilization (in person, corner of 9th and Irving)
🌹 Sunday, 9/4 (10:00 a.m.-12:00 p.m.): Rally to Support Tartine Workers (in person at 595 Alabama)
Announcements
Learn about labor organizing at UPS and Amazon with other California DSA chapters!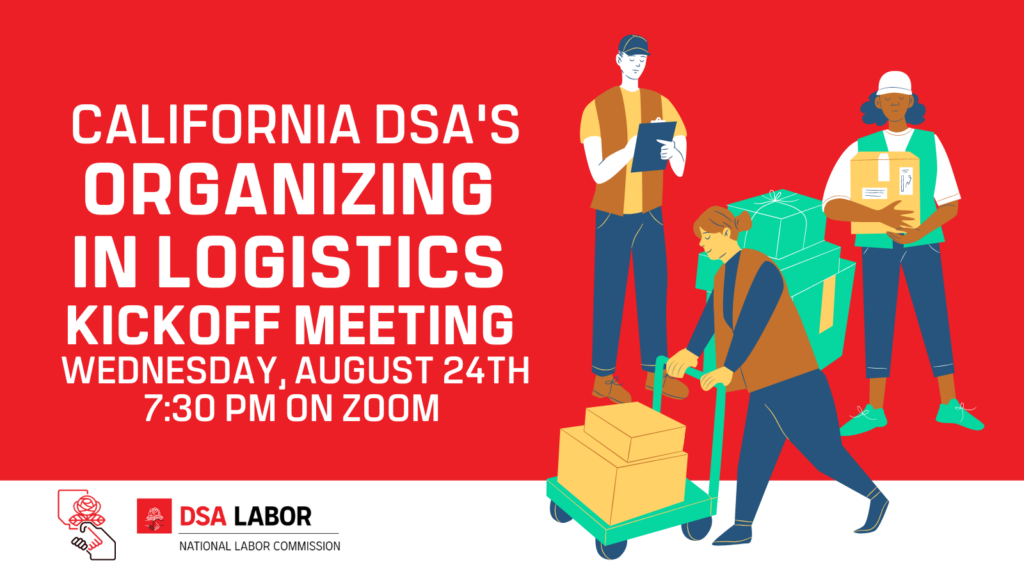 Getting excited about successful grassroots labor organizing efforts at Amazon and Starbucks? Lots of folks are – learn how you can build power together! Join other California DSA chapters tomorrow evening, August 24 at 7:30 p.m. on Zoom – DSA Labor will be discussing how we can support ongoing organizing efforts at Amazon and UPS, with thousands of Amazon workers unionizing in New York City and UPS Teamsters preparing to demand a fair deal when their contract expires next year, a bargaining effort that will affect hundreds of thousands of workers.
Whether you're employed by UPS or Amazon or not, we can all play a part in making sure labor gets its fair share. DSA Labor will discuss how we can get directly involved in supporting organizers – don't miss it! You can RSVP for the Zoom session using the link below.
Two rallies to support San Francisco labor coming up!
Show up to support labor! There will be a rally this Sunday, August 28 at 12:00 p.m. at Pier 33 to celebrate Alcatraz Cruises workers' successful unionization efforts – come out to show the workers that the folks of this city have their backs.
Then, next Sunday, September 4 at 10:00 a.m. at 595 Alabama Street, show up to support Tartine workers as they negotiate their first labor contract. The first one on offer is unacceptable – a five-year contract with no guaranteed raises. We need to be as vocal as possible to let Tartine know that they're going to need to do a lot better than that!