Comrades,

Another COVID wave emerging right after the holidays is causing calamity in the city, and too many of our neighbors are facing a looming eviction crisis. As usual, we're all we've got – so if you're able, join us in helping tell our neighbors how they can access rent relief and fight for their rights!

On Sunday, January 16 at noon in Alamo Square Park at Hayes and Scott, we'll be meeting to distribute flyers in Supervisor Dean Preston's declared eviction-free zone in District 5. The only way the eviction-free zone can live up to its name is if we rise up together to make it happen, and that starts with making sure our neighbors know how to protect themselves from the callousness of their landlords and the indifference of capitalism. Sign up to volunteer or find out how to access rental assistance for yourself here!

Solidarity, DSA SF Comms Committee
Event Calendar
🌹 Tuesday, 1/11 (6:30 p.m.): Intro to DSA (Zoom)
🌹 Wednesday, 1/12 (5:00 p.m.): Phone bank for tenants' rights (Zoom)
🌹 Wednesday, 1/12 (6:45 p.m.): January Chapter Meeting (Zoom)
🌹 Sunday, 1/16 (12:00 p.m.): Eviction-free Zone lit drop (Alamo Square Park at Hayes and Scott)

For more events, click here.
Announcements
Follow-up from ISOC's Haiti Event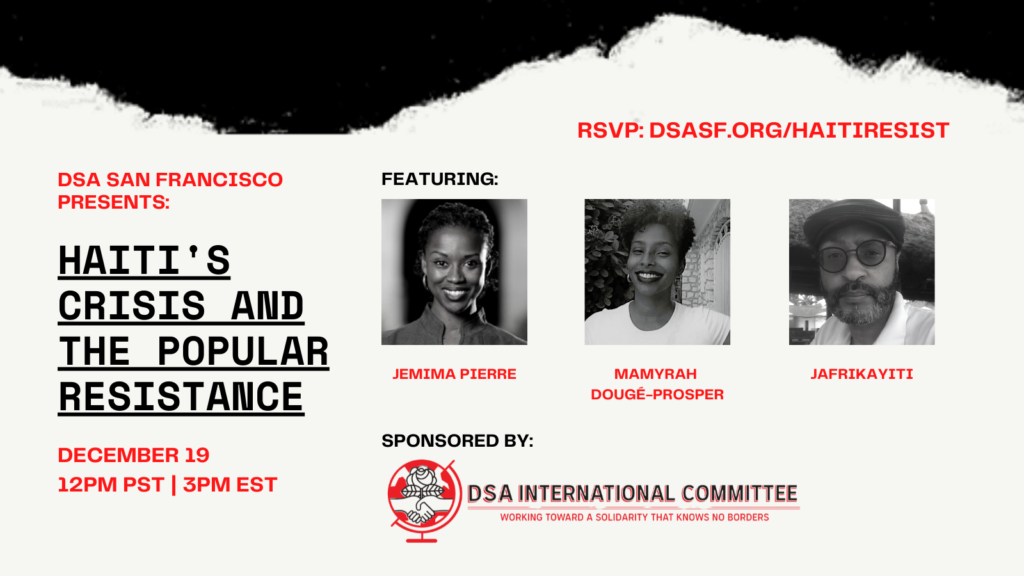 Thank you for joining our panel on Haiti's Crisis and the Popular Resistance on December 19! If you registered but couldn't attend, you can watch the recording here. Some resources (more to come in another email):
Video series from Jafrikayiti
Next Steps:
We appreciate you for joining us and we looking forward to seeing you at the next panel!
Speaking of which, the first International Solidarity meeting of 2022 is scheduled this Thursday 1/23 at 7pm. David Paul will report on his trip to Nicaragua & Venezuela as an election observerAnd that's not all. Register here!
---
Sign a petition for a #2WeekPause to keep teachers and students safe!
With the Omicron surge of COVID cases we're seeing in the city, our teachers and students are facing a crisis. Hundreds of teachers, staff, and students have been absent because of COVID – it's a learning environment that works for no one and is neglectful of everyone's health and safety.

Meanwhile, SFUSD is refusing to meet with union leaders and bargain a new health and safety memorandum of understanding. At the same time, the district is failing to provide adequate PPE, failing to provide adequate testing, failing to provide adequate contact tracing – virtually nothing is being done.

Some of our comrades started a petition for a sickout last Thursday during the first round of negotiations and got almost a thousand signatures and almost 900 workers "out sick" that day.

Bottom line, we need a #2WeekPause for our corrupt, bloated school district to put some BASIC safety measures in place. Sign the petition linked here to support our teachers in demanding the absolute bare minimum from SFUSD!
---
Organize a Healthcare Labor Circle with us!
Help us organize a healthcare labor circle! We are hoping to connect with members who work in healthcare in San Francisco. Our first step would be to organize an informal meet and greet among members to discuss where people work, what issues they face, and what a healthcare labor circle might look like. If you are interested in getting involved in this process please send an email to hansen.weaver@gmail.com.