On Sunday, seventeen members of DSA SF's Homelessness Working Group gathered at UN Plaza to disseminate an educational pamphlet to fellow San Franciscans as they browsed the weekly Farmer's Market. The pamphlet provided information about the realities of homelessness in San Francisco, warned of the dangers of involving police in a homeless-related crisis situation, and listed alternative services that could deliver needed care instead of brutality and senseless displacement. Though the day was scorching, spirits were high as we saw our neighbors quickly take to our message.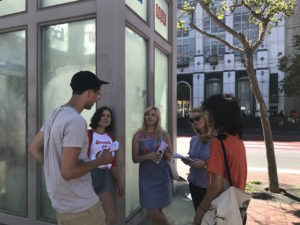 We spoke with hundreds of interested people—a heartening reminder that our fellow citizens are as aware of and troubled by these problems as we are. A number of individuals were grateful to learn that there are resources like the Mobile Crisis Treatment Team (415-355-7555) and the SF Homeless Outreach Team (415-970-4000) available. They had had no other recourse than to call 911 or 311 when they witnessed a crisis, inevitably bringing down the full force of state violence on the marginalized. Now, DSA SF has presented them with a humane alternative.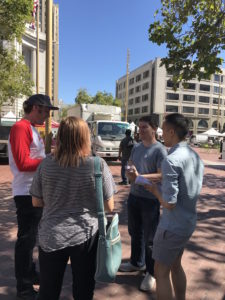 Sunday's campaign was the Homelessness Working Group's first foray into ground game, and it was a highly successful one. With nearly 300 pamphlets distributed, we helped prevent the further oppression of the dispossessed, brought public attention to the callousness of encampment sweeps, and raised the profile of our chapter. The benefits of this action weren't only to the San Francisco citizenry—our own members, pushing through any initial nervousness, soon found themselves uplifted by engaging conversations with sympathetic neighbors, the gratitude of the homeless people and advocates that we spoke to, and a distinct sense of empathy and solidarity. As socialists, our cause is to protect those who have been cast aside by society or ground up in the machinery of the present system. Sunday represented an early and confident step into that arena, cementing our belief that for DSA SF, the future will hold further success in combating the inhumanities of capitalism.