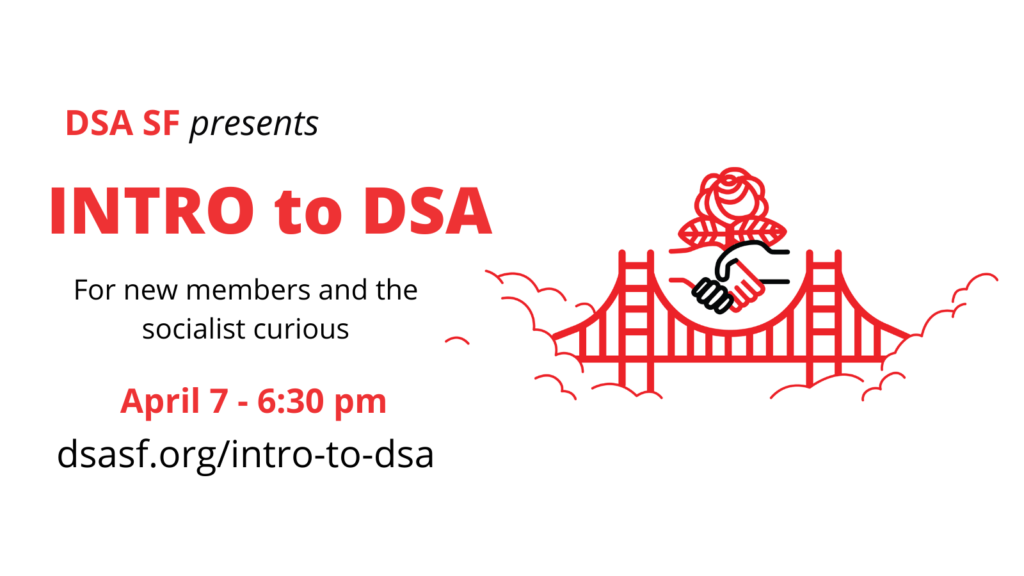 Interested in joining DSA or just curious about socialism? Join us for our upcoming Intro to DSA event on Wednesday, April 7, at 6:30 p.m. and hear what we're doing to build the socialist movement in San Francisco. Register here! There's no time like the present when it comes to fighting for our future and building working-class power. Bring your questions and a friend!
Upcoming Events
Join Homelessness Working Group's Strategy Meeting!
 Join the Homelessness Working Group on Monday, April 26 at 6:30 p.m. to talk about strategy and how we should best navigate the current state of the pandemic and beyond to best support our unhoused neighbors. We'll talk about the state of our current projects and how we can better engage our unhoused neighbors and involve them in the direction of the working group. No need to register – just join us on April 26 on Zoom here.
PRO Act: Phonebank & Save the Date for Bay Area Town Hall
DSA's highest national priority is to pass the PRO Act (Protect the Right to Organize), which would strengthen unions, the power of the working class to organize on the job, and our collective capacity to win a just transition to a green economy for all. This month, DSA called 500k voters to rally support! ?? MORE phonebanks this week here.
Also, SAVE THE DATE: DSA SF, East Bay DSA, and other chapters will hold a Bay Area PRO Act Townhall, with exciting guests to be announced, on Tuesday, April 27 at 6:00 p.m.! Workers & the World Unite!
Take Action This Week to Defend City College!
City College is facing deep staffing cuts for next year. Layoffs are planned to go into effect on May 15. These cuts endanger the college's state funding by sharply reducing enrollment, and also threaten the survival of many programs and departments at the college. A broad coalition is fighting to rebuild CCSF rather than let the downsizing continue!
Things you can do:
Please sign this petition for a Vote of No Confidence in CCSF administration, attend the CCSF student-led rallythis Sunday, April 11 at 1:00 p.m., and visit the Rebuild CCSF website for more actions and resources here.
City College is a vital institution that serves the working class of San Francisco, and we need to speak up for it!  
Healthcare and Labor Panel
Join us for our Healthcare and Labor Panel on Thursday, April 15 from 6:00 to 8:00 p.m.! This will be a panel discussion on raising class consciousness, fostering union militancy, and fighting for Medicare-for-All featuring:
Eunice Balancio, RN, MSN, NNU/CNA
Jamie Dawson, OFNHP/AFT Local 5017
Greg Gabrellas, Secretary-Treasurer of CIR-SEIU
John Pearson, ER Nurse, President of the AHS Chapter of SEIU 1021
We will discuss questions such as: how do we foster class-consciousness among our coworkers? How do we become effective workplace leaders, and how can we use our relationships to foster a militant union? How do we organize into a union where we have none, and how do we reform our unions if the leadership does not represent the rank-and-file's interests? You can register for the Zoom meeting here!
The Future of Medicare for All: What Way Forward?
Join us on Sunday, April 18 from 2:00 to 4:00 p.m. for a panel discussion on the future of Medicare for All and a single-payer health care system that ensures care for all, regardless of wealth or employment status. The panel will include Dr. Susan Rogers, President, of Physicians for a National Health Program; Stephanie Nakajima, Director of Communications for Healthcare-NOW; Shamus Cooke, public sector worker, union activist, and member of Portland DSA; and Michael Lighty, National spokesperson for the DSA Medicare for All Campaign, and will touch on maternal and infant mortality, life expectancy inequities, the need for mass action, and how we can bring about a multi-racial mass movement. Don't miss it! Register here!
Announcements
This Week on San Francisco Independent Journal
This week, SFIJ has three new articles – Dandelion workers and supporters rallied last Wednesday at Dolores Park after announcing their intent to unionize, a group of 35 or so participants organized a car caravan on March 29 to demand the end to the 61-year US embargo of Cuba and the embargo Trump initiated towards Venezuela, and an under-the-radar regulatory body has the ability to greatly improve air quality. Will it do so under pressure from fossil fuel companies? Give them a read!
If you have committee work or another story you want to be publicized by a friendly outlet, please submit tips to writing@dsasf.org.
We Need You to Build Socialism!
We need your help for the following:
DSA SF Membership Drive
Please consider becoming a member of National DSA, or making sure your membership is current, so you can stay up to date with what the National Organization is doing and participate in the member forums. Becoming a member also counts towards DSA SF's delegate count for the August National Convention! As always, no one is turned away for lack of funds, all you need to do is fill out the dues sponsorship form. If you have any other questions or hurdles on membership, feel free to email steering@dsasf.org and we'll figure something out together.