Comrades,
This week, we want to celebrate one of the foundational members of DSA SF – Jenbo! Jenbo has helped build the chapter and champion socialism locally and nationally since DSA SF got started in 2017, serving on Steering Committee in 2018-2019 before representing the chapter on the DSA National Political Committee. During that time, we've seen so many victories for the movement in labor and at the ballot box. We got a socialist Dean Preston elected as district supervisor, helped fight for and win unionization at Anchor Brewing, established tenants' right to counsel, kept tasers out of the hands of cops, and got Prop C passed to secure funding for housing from the pockets of San Francisco's largest businesses.

Through it all, Jenbo has been unwavering in her support of the chapter and the fight for socialism. Here's what comrades had to say:

Jenbo was one of the first comrades I met when I joined DSA SF. Since then, I've seen Jenbo grow and care for our chapter, as well as many of our comrades. I feel lucky to be able to work with her every day to keep up the fight inside and outside City Hall. – Melissa H.

Jenbo is an absolute treasure for DSA in San Francisco, Nationally, and at our Supervisor's office. She's the type to die with her boots on. I know I love her because when we disagree, it kills me. I never care when my enemies disagree with me, but I do when a socialist compass like Jenbo does. I trust her, I LIKE her, I consider her a real and true friend and comrade, which makes me feel very lucky. Jenbo forever, long live Jenbo. – Jen S.
We appreciate you, Jenbo!
Solidarity,
DSA SF Comms Committee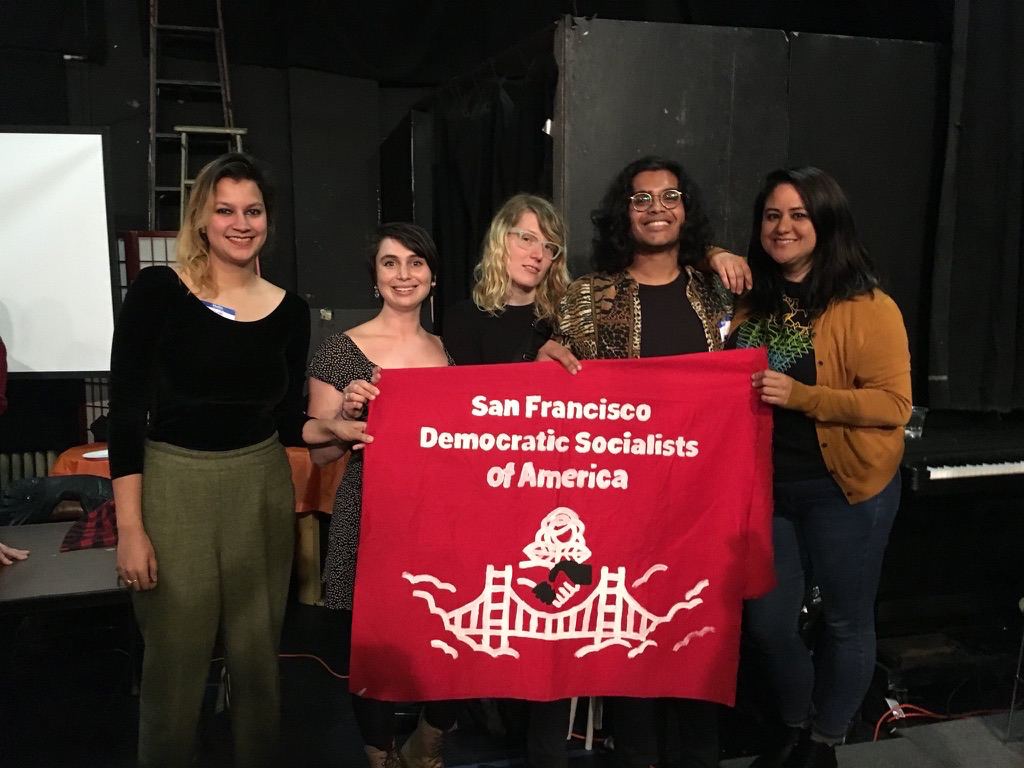 Events
🌹 Wednesday, 7/27 (6:00 p.m.): What is DSA? – an educational discussion (Zoom)
🌹 Friday, 7/29 (11:00 a.m.-12:00 p.m.): Celebrate Medicare's 57th Birthday and Protect Medicare from Wall Street Privatizers (SF Federal Building, 90 7th Street)
🌹 Tuesday, 8/2 (7:00 p.m.-8:30 p.m.): Labor Notes Lessons Discussion and Happy Hour(discussion on Zoom followed by happy hour at Eli's Mile High Club in Oakland at 9:00 p.m.)
🌹 Monday, 8/8 (6:00 p.m.-7:15 p.m.): Ecosocialist Book Club: Olúfẹ́mi O. Táíwò's Reconsidering Reparations – Session One (Zoom)
🌹 Wednesday, 8/10 (6:45 p.m.-9:00 p.m.): DSA SF Chapter Meeting (Zoom and in person, location TBD)
Free Muni Full Service Priority Launch!
The chapter's Free Muni Full Service priority kicked off this past weekend, as we get ready for a long fight to win fair, accessible, and sustainable transit for all San Franciscans. We're fighting for a San Francisco that works for everyone, so that working-class San Franciscans don't have to endure a system that has long neglected lower-income areas, further burdening folks already struggling to survive in an unaffordable city.
We heard from people who will fight alongside us for a more just transit system – District 5 Supervisor Dean Preston, former State Senate candidate Jackie Fielder, SFMTA Citizens' Advisory Council Member and transit advocate Chris Arvin, AC Transit Board At-large candidate Alfred Twu, Vice President of TWU Local 250A Pete Wilson, members of Senior and Disability Action Fran Taylor and Iris Biblowitz, as well as Free Muni Full Service organizers. Together with community members who have been disadvantaged by an expensive, inefficient, and unreliable transit system for too long, we'll be reimagining what transit in San Francisco looks like, then we'll be fighting for it for as long as it takes.
Ready to fight with us? Sign up for Free Muni Full Service updates here, or email freemuni@dsasf.org to get involved!
New to DSA? Find out what it's all about tomorrow!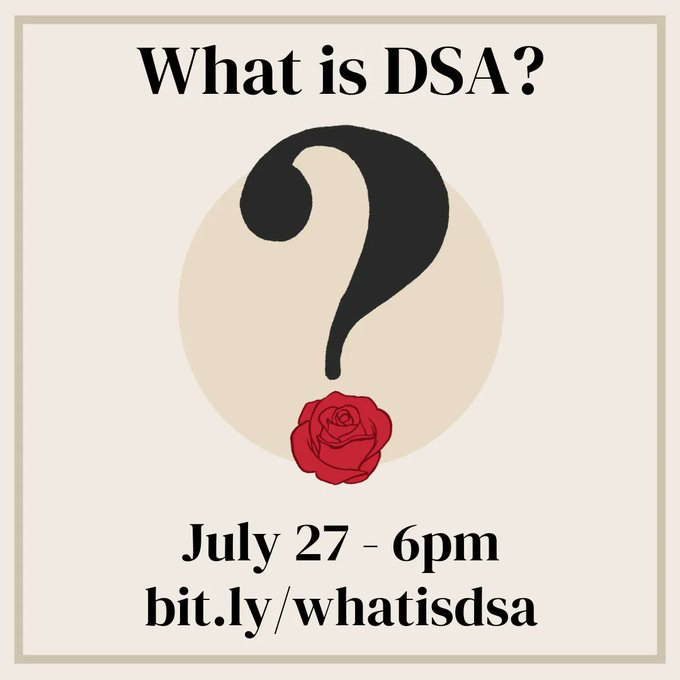 Join us on Zoom tomorrow, July 27 at 6:00 p.m. for our very first 'What is DSA?' discussion – an introduction to what the Democratic Socialists of America are all about, and a chance to discuss with other folks interested in or already in DSA. Whether you're a new member, someone interested in socialism, or just need a refresher on what DSA is all about, feel free to join in!
Learn how we can move the labor movement in the Bay forward!
After the largest-ever Labor Notes Conference last month in Chicago, union activists in the Bay Area are gathering on Zoom (with an in-person happy hour to follow) for Labor Notes Lessons on Tuesday, August 2 from 7:00 p.m. – 8:30 p.m. Union members will share what they learned at the Labor Notes conference in Chicago and plan next steps to build a stronger workers movement in the Bay!
All interested workers are welcome, whether they attended the Labor Notes conference or not.
Hear from rank and file food service workers, transit workers, teachers and more about their takeaways from the Labor Notes Conference, share your own reflections, and learn about how to continue the momentum on a local level by planning a Bay Area Troublemakers' School next year.
Happy hour to follow at 9:00 p.m. at Eli's Mile High Club in Oakland!
Celebrate Medicare's 57th Birthday and Protect Medicare from Wall Street Privatizers
Celebrate a bastion of socialized health care in the Unites States, and demand that the powerful keep Medicare public! Join the Healthcare Committee at the S.F. Federal Building on 90 7th St this Friday, July 29 at 11:00 a.m. – there will be games, music, and food, and we'll be delivering letters to Secretary of Health and Human Services, Xavier Becerra, and to Speaker Nancy Pelosi, demanding they protect Medicare from Wall Street privatizers.
Our next chapter meeting is August 10th!
The August chapter meeting will be August 10 from 6:45 p.m. to 9:00 p.m., location TBD. The meeting will still be accessible on Zoom, as well. More details to come in the next couple of weeks, but register below if you plan to attend virtually!
Reading Groups
Ecosocialist Book Club: Olúfẹ́mi O. Táíwò's Reconsidering Reparations
Please note: the start of the Ecosocialist Committee book club three-part discussion of Olúfẹ́mi O. Táíwò's Reconsidering Reparations has been pushed back a little! The three sessions will now be on August 8, August 15, and August 22 from 6:00 p.m. to 7:15 p.m. on Zoom. Open to all!