When DSA SF endorses a candidate or a ballot measure, we dedicate a significant amount of chapter resources and organizer time to winning that election. We do not endorse a candidate or ballot measure unless our members agree to be a significant part of that campaign. Take a look at our endorsements for November's election. 
Candidate Endorsements
Jackie Fielder (State Senate, District 11)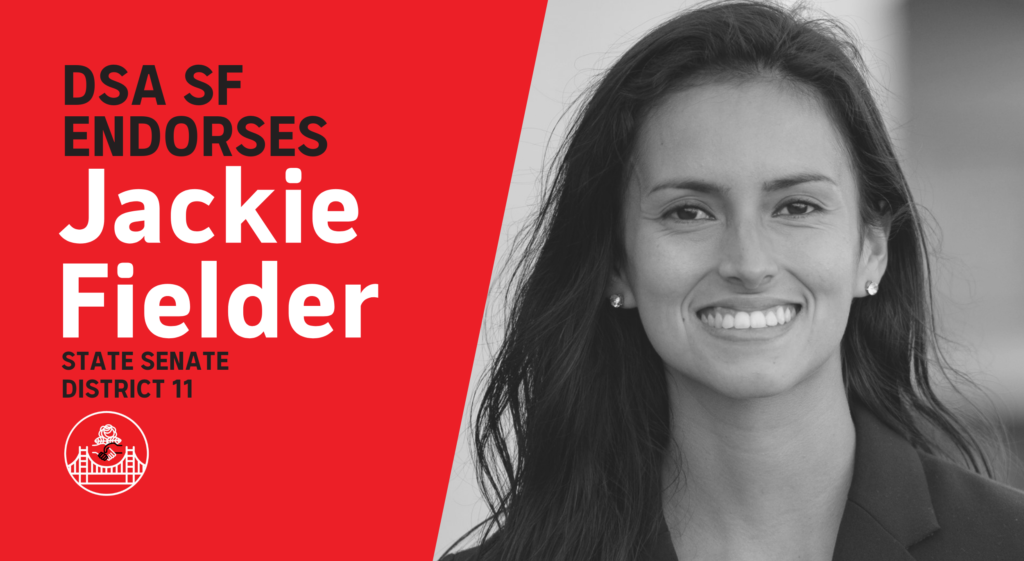 San Francisco is a city in crisis. Corporate politicians for years have put the profits of real estate developers and tech giants over those of working class people hanging on by a thread. During a global pandemic, not one legislator in California's Democratic supermajority proposed single payer healthcare. In an eviction crisis, nobody stood up to call for rent cancellation. It's time for transformative change and to have a true champion of the people fighting for racial, environmental, and economic justice. Jackie Fielder, an Indigenous and Latina educator and community organizer has already taken on the police, fossil fuel titans, and Wall Street to pass groundbreaking legislation to create public banks, and she's running for State Senate to affect change for the people of our district and all of California. She's running to champion a Green New Deal, homes for all, and the end of mass incarceration. We now have the opportunity to vote out Scott Wiener, another corporate Democrat that has consistently defended cops and the corporate status quo while doing the bidding of real estate developers and corporate landlords, and instead elect a true people's champion, Jackie Fielder, to the State Senate.
Jackie has been endorsed by DSA, ILWU, San Francisco Tenants Union, Working Families Party, Our Revolution, United Educators of San Francisco, District 5 Supervisor Dean Preston, AFT 2121, UNITE HERE! Local 2, SF Rising, Bay Rising, and dozens more.
Dean Preston (SF Board of Supervisors, District 5)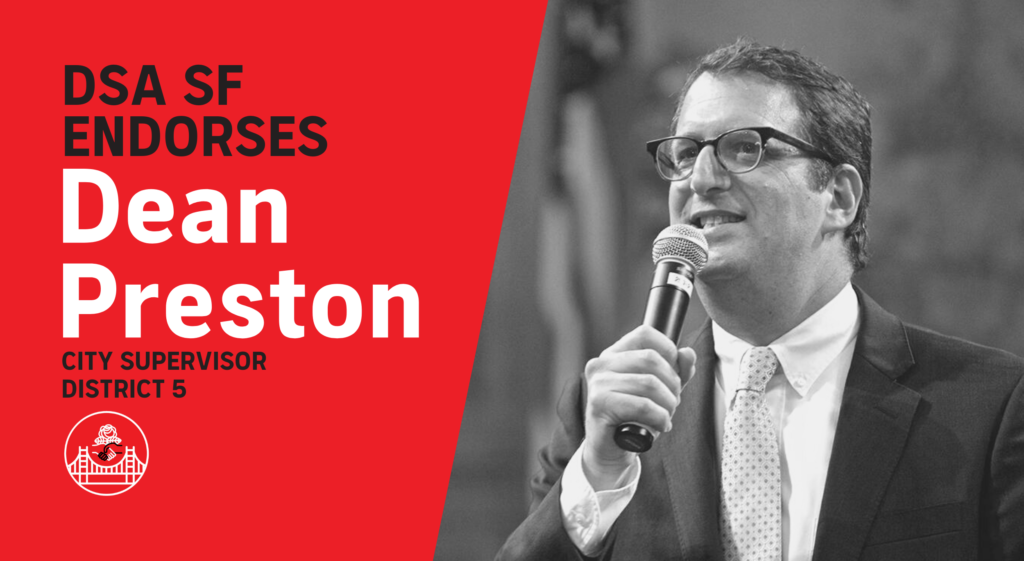 In November of last year Dean and DSASF defeated San Francisco's moderate establishment to elect him as the first Democratic Socialist to the Board of Supervisors in 40 years. Over 11,000 San Franciscans voted for an open and proud Democratic Socialist. And since then, he's used his platform to push issues that our chapter backs and has worked on like a public bank, a green new deal, expanded public housing, and free public transportation to the forefront of policy discussion in San Francisco.
And he's taken DSA into office with him. Dean and most of his staff are DSA members. He's worked hand-in-hand with DSA to support the Tartine Union, distribute hand sanitizer to our homeless neighbors during the ongoing pandemic, and support fellow DSA-endorsed candidates like Jackie Fielder. He has authored legislation that permanently protects anyone from ever getting evicted for rent they missed during the state of emergency because of the financial impacts of Coronavirus, pushed the city to house homeless people in hotels, opened San Francisco's second safe sleeping site, and successfully stopped Muni fare increases for the next two years
Prior to taking office, Dean worked as a tenant attorney and founded California's only statewide tenant organization. He helped lead the fight to save rent control in 2008. In 2018, he wrote and championed Proposition F, our city's groundbreaking law to provide legal representation for all tenants facing eviction, and was an early backer of Proposition C, which tackles our homeless crisis by doubling housing and mental health care to our homeless population.
For the 2020 election, he has already received endorsements from UESF, AFT 2121, ILWU, NUHW, OPEIU Local 29, the Sierra Club, the San Francisco Tenants Union, Unite Here! Local 2, the San Francisco Labor Council, SF Rising, CNA, SEIU 1021, and a bunch more.
Ballot Measure Endorsements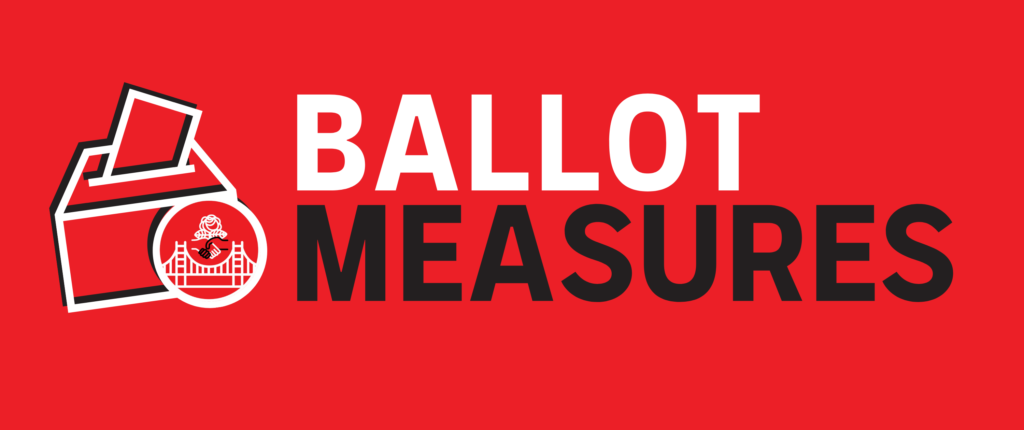 Statewide Ballot Measures
Yes on 15
What does Proposition 15 do?
Prop 15 will amend the section of the California State Constitution altered by Prop 13, passed in 1978, which limited property taxes on commercial real estate. Prop 15 aims to roll back tax restrictions on large corporations' real estate assets by taxing commercial real estate based on its fair market value, rather than its original purchase price. Prop 15 aims to raise $11 billion in new taxes to specifically fund schools, community colleges and local government services. 
Why should we support Yes on 15?
The passage of Prop 13 cemented a right wing status quo that drastically limits funding state wide and restrict local municipalities, while allowing corporations and real estate firms to benefit from huge windfalls by limiting their commercial property tax base to the original purchase price without regard to year over year increases in actual property values. Prop 13 was part of the racist backlash to the social movements of the '60s, the battles to desegregate schools, and the large-scale entry of workers of color into unionized public sector jobs. The conservative movement behind the measure campaigned on saving Californians money, but the very same players behind Prop 13 were also resisting fair housing laws, school busing, and school integration. Prop 13's real objectives were clearly racist and rolling it back will be a major victory for racial justice. Prop 15 is an important step in providing funding for our schools, community colleges and local government service, especially since the covid crisis and failure of state and federal leadership has made school and municipal budgeting all the more dire.
By joining the campaign, DSA SF could further build ties to the multiple unions that support this measure such as SEIU, AFSCME and both major teacher's unions. This campaign offers an unique opportunity for non-union members and non Labor committee members to engage with unions and to understand the political power and importance of unions. There is also potential for collaboration between committees such as Labor and Electoral. 
How do we support Yes on 15?
Comrades can attend weekly organizing calls with the California DSA's statewide labor formation and support statewide events, such as phone banks, house parties and fundraisers. You can also get in touch with the labor committee to help our chapter continue to build relationships with outside labor groups. Find out more about 15 and how to get involved at https://www.yes15.org/ 
Yes on 16
What does Proposition 16 do?
This proposition ends the ban (Prop 209) on affirmative action in California government employment, admissions to public colleges/universities, and government contracting.
Why should we support Yes on 16?
As democratic socialists, we support any way to end structural racism in our institutions, organizations and society. Affirmative Action is a means to end discrimination based on race and gender. California's 24-year ban on affirmative action in government employment, admissions in public colleges, and public contracting is the result of mass confusion over convoluted legal language used in Prop 209. We can see Prop 209's effects showing up to this day in the dramatic decrease of Black and Latinx admissions to UC undergraduate, graduate and professional schools. 
Prop 16 will finally undo that ban and will be one concrete tool to end institutional racism in California that goes beyond slogans. Our own chapter recognizes the value of affirmative action and uses it within its internal policies and structures. If it is good enough inside the DSA, why not the State of California and its people? 
How do we support Yes on 16?
Vote Yes on 16 and support efforts to do voter outreach by talking about Prop 16 to your friends, family, and others. Learn more and get involved at https://voteyesonprop16.org or get in touch with our AfroSocialists and Socialists of Color Provisional Working Group. 
No on 22
What does Proposition 22 do?
Lyft, Uber, DoorDash, InstaCart & Postmates wrote and paid to put Prop 22 on the November ballot to exempt themselves from having to offer their drivers basic worker protections, like paid sick leave and unemployment insurance, by classifying them as contractors instead of employees. 
Why should we oppose Proposition 22?
The five companies have spent $184 million – the most of anything ever on the ballot in California – on Prop 22 to exploit their workers for profit. Prop 22 exempts these app companies from providing the protections that all other CA employers have to provide, like paid sick leave, healthcare, minimum wage, unemployment insurance and workers compensation. It has ramifications for workers rights not only in California, but also for the whole country, and even the rest of the world, because Uber has been attempting to undermine labor protections in other countries as well. 
The app companies have been dominating the airwaves with misinformation, claiming that drivers will lose their flexibility if Prop 22 doesn't pass. There is no California law that prevents companies from providing flexibility to their workers while also giving them basic employee benefits. These companies have been making threats to leave California, but they have previously also threatened to leave New York, Austin, Chicago, and the Phoenix airport, and they are still in operation there. 
How do we support No on 22?
Vote No on Prop 22 and phonebank for No on Prop 22. Many voters are confused by the app companies' deceitful messaging, but as soon as they have conversations with phonebankers, a large majority of voters decide to vote No on Prop 22. Learn more at https://nooncaprop22.com/.
San Francisco Ballot Measures
Yes on E
What does Proposition E do?
Proposition E removes the requirement in the San Francisco charter for SFPD to have a minimum of 1,971 full-duty sworn officers.
Why should we support Yes on E?
The minimum of 1,971 officers is a recommendation from more than 40 years ago and has no basis in concrete data. More importantly, it's a remnant of the racist war on drugs, and the spending tied to it prevents us from allocating resources to the things that actually bring everyone security. Prop E removes this barrier to making meaningful change in our budget – and to abolishing police. We know that police are the enforcement arm that the rich and powerful capitalist class uses to beat the working class – especially Black, Brown, Indigenous, and Trans folks. Public safety does not come from police; it comes from access to stable housing, healthcare, community programs, and other supports. Pass Prop E to pave the way for defunding, disarming, and disbanding the police. 
How do we support Yes on E?
Vote yes on Prop E! Our Defund SFPD Now campaign is running Yes on E, so if you want to defund the police and pass Prop E come join us on Tuesdays at 7 pm. Learn more at https://publicsafetyforeveryone.com/.
Yes on I
What does Proposition I do?
Prop I is a ballot measure that will tax the wealthiest to help those who are struggling the most during the worst economic downturn in modern history. Prop I does one thing: it increases the tax on sales of high value properties, worth $10 million or more, to fund emergency rent relief and permanently affordable housing. 
During the Great Recession of 2008, as real estate values declined, institutional real estate firms, ready with cash to spend, pounced on a market ripe for exploitation. As a result, San Francisco experienced an unprecedented consolidation of private real estate ownership. Forcing rent controlled tenants out of their homes allowed them to reset rents to market value, thereby extracting the profit margins needed to satisfy investors. Speculative real estate investors and corporate landlords have played an integral role in the displacement of black and brown people in San Francisco, completely transforming the profile of who calls this city their home. 
Prop I will prevent the devastating impacts of the current recession by doubling the transfer tax rate for real estate transactions, both residential and commercial, valued at $10 million or more. For properties sold at more than $10m but less than $25m, the tax rate will increase from 2.75% to 5.5%. For properties sold at more than $25m, the tax rate will increase from 3% to 6%. The City Controller has estimated that Prop I will generate $190 million in revenue annually. 
Half of the revenue will go to a Rent Resolution and Relief Fund that will provide grants to landlords who voluntarily waive back rents for their tenants that were due during the COVID-19 crisis. Any funds not granted to landlords will be sent to existing back rent programs. The other half of the revenue will be used to finance the acquisition or creation of permanently affordable social housing. The money will go to land banking, community land trusts, limited equity coops, municipal housing, or other social housing efforts where the City maintains an interest in the property or land, or grants control to the residents, while providing affordable housing opportunities on site. 
Why should we support Yes on I?
DSA should support Prop I because it will tax the rich to establish housing as a human right. Prop I will prevent big real estate companies from exacerbating the housing crisis in our city and will provide badly needed funds for rent relief and to build social housing. 
How do we support Yes on I?
DSA members should vote Yes on Prop I ! The Chamber of Commerce and Realtors have already raised over $1,700,000 to oppose Prop I and have spearheaded a concerted effort to mislead homeowners and small businesses about the impact of the measure. Yes on Prop I urgently needs your help to spread the word about the measure, so join us for our events posted in the weekly DSA newsletter or chip some money to help us beat our opponent's deceitful campaign. Visit the website www.fairrecoverysf.com to volunteer and donate. 
Yes on K
What does Proposition K do?
Prop K clears the main legal hurdle that's in the way of SF creating a municipal social housing system. It provides authorization under Article 34 of the California Constitution for the City of SF to develop up to 10,000 units of low-rent municipally-owned housing. Voter approval is currently required before the City can build or buy even a single unit of municipal social housing.
Why should we support Yes on K?
San Francisco has had an affordable housing crisis for decades, with gentrification and rising rents pushing out much of the City's working class. This has gone hand in hand with the defunding and privatization of the City's federal public housing stock, which was rooted in racism and classism against public housing tenants.
As democratic socialists, we know we have to "decommodify" housing – move it off of the private speculative market – if we want to guarantee affordable housing as a human right.
Yes on K will overcome a segregationist relic of the California Constitution, Article 34, which was narrowly passed in 1950 and requires voter approval for municipal social housing. Article 34 was intended to exclude low-income tenants and people of color – especially Black tenants – out of white communities, and has worsened the housing crisis by blocking housing that serves the needs of working people.
Passing Proposition K is a necessary first step towards overcoming this racist barrier and implementing a municipal social housing program in San Francisco. Although the details of the housing program will have to be worked out legislatively, we can look to models of successful, financially self-sustaining social housing programs in major cities such as Vienna, Singapore, and Barcelona. In Vienna, 62% of residents live in some form of social housing and pay no more than 20-25% of their income in rent. Yes on K paves the way for a municipal social housing program like that in Vienna, which will provide truly affordable housing for working San Franciscans.
How do we support Yes on K?
Help us get the word out about Propositions I and K! Big real-estate interests are lining up heavily against Prop I and shamelessly spreading fear-mongering propaganda. If we can pass Props I and K, we can continue to shape the municipal social housing program legislatively and create model legislation in SF for the rest of the country to follow. Talk to voters with other DSA comrades by finding a Yes on I and K event at https://dsasf.org/events/.